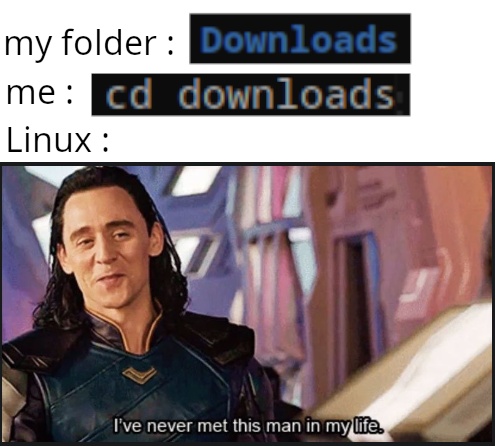 Is Linux confused because the user is already on ~/Downloads or incorrect capitalisation?
It's case-sensitive. so it doesn't get recognized because the user is just not sensitive enough.

That's the joke.
Add this to your .bashrc:
shopt -s cdspell

Thanks to that book cover, there will be at least one attempt to enter the web address AS IT IS SHOWN. Assume: "Rest of Us" is "hopeless WIndows user that spends hundreds and thousands of USD on software that relies on insane copy protection and therefore dreads having to drink the Wine." Otherwise have to keep biting on that apple that stays with only one large chunk off it as its logo. I used to belong to a forum focused on music software which such people do exist.
What do you mean? The address is right. And domain names are case insensitive.