The USA and parts of Europe have insanely fast Internet, but we live on a sleepy island, an overseas department of France in the Caribbean called Guadeloupe. Of course our Internet backbone comes from the USA via Americas II submarine cable which was commissioned in 1999, but has been kept very expensive so only government and the corporate sector could afford it, but they are finally rolling it out to residential.
We had VDSL which has a theoretical limit of 52 Mbps/16 Mbps Asymmetric, although we never saw more than 6 Mbps/.4 Mbps. After 5 years Canal+ and buffering YouTube experience, blurry cable TV and

updates that took the whole night, a door to door canvasser from Orange (France Telecom, who own the land communications infrastructure) proposed us Fiber 600 Mbps Symmetric from a 10Gb link. Of course we said yes! But the whole area has copper wire and there are no fiber optic cables in sight. I knew we were in for a long wait and yet they promised it in 14 days. Was this just a cynical marketing ploy to probe if it is viable for them given our sparse population? Orange had locked us into a virtual contract once we accepted the Fiber box and TV decoder that arrived on our doorstep the next day. The following day a canvasser showed up from Canal+ (the losing ISP) pleading with us to stay offering to undercut Orange's price. But our bad experiences were still too fresh in our minds: hours wasted on hold to talk to a machine telling us to call back later or eventually get a telephone support person trained in denying everything and blaming France Telecom. We eventually got them to send out a technician and the technician plugged in his diagnostic tool in and declared we have 10 Mbps and was gone, even though we could not even open a web browser on any computer in the house. We were left without Internet for a month, and one day it suddenly came back to its old 6 Mbps as before. But these experiences leave a sour taste in your mouth.
Meanwhile, Orange keep sending SMSes with installation appointments and breaking them at the last minute due to technical difficulties. We know those difficulties were that there is no fiber optic infrastructure in the area. A few days after our third broken appointment, I saw shiny new aluminum poles going up along our road, but we had to wait another month for cables to be strung up and an ONT to be installed, but it is thankfully quite close to us. I knew the big day was about to happen. The next day we woke to a flashing router with no Internet, our current ISP found out we were transferring our phone number and just cut us and left us with no house phone or Internet for 8 days. Fortunately we have generous data (which we only used because often the 4G was faster than the local VDSL we have now, we figured we could use mobile hotspot until the fiber was finally rolled out. That turned into 8 days with only our mobile phones burning hot from sharing data, but at least we will have fiber soon enough.
In the past I have asked questions about how to rank Arch mirrors, but it didn't seem to matter what regions or options I chose with such a ratty connection.
I am happy to report,the Fibre Optic was worth the wait and all the pain. We are now being spoiled with 500+ Mbps and we love it.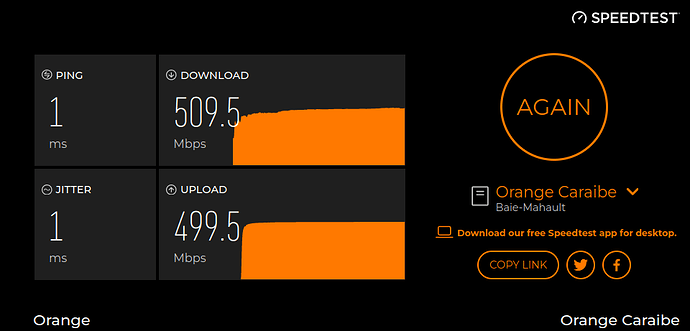 Can some kind soul from the 21st century tell me what optimal ranking options should be given these huge improvements in connectivity? E.g. We are in Guadeloupe, which is overseas department of France. It defaults to check France, but I am geographically much closer to USA.