Do we really need specific big tech news thread?


Not sure. Thought it might be interesting to follow for some on the EnOS-Pub site.
Feel free to have it deleted, if you think this as abhorrent.

Nah i'm not really against it, just a thought out loud…Usually if something hot / important happens there is dedicated thread in pub, but maybe centralized thread is nice too.

Couldn't find one re: the really interesting insights from Twitter (OP), except in the jokes-thread. And that article isn't a joke, but some true insight.
So I created a new thread.

Oh well, that's easy!
You see:
Twatter is a joke

99% of "news" that you'll find now is moral panic and/or MSM harvesting character of certain billionaire
So…It's a daily job to find something real, unless it's already factually happened…At which point everyone knows about it.

Sorry, my eye-sight seems blurred, somewhat.

Since any thread in #lounge:endeavour-pub inevitably turns into a little joke on a regular day or so it seems, here is my contribution: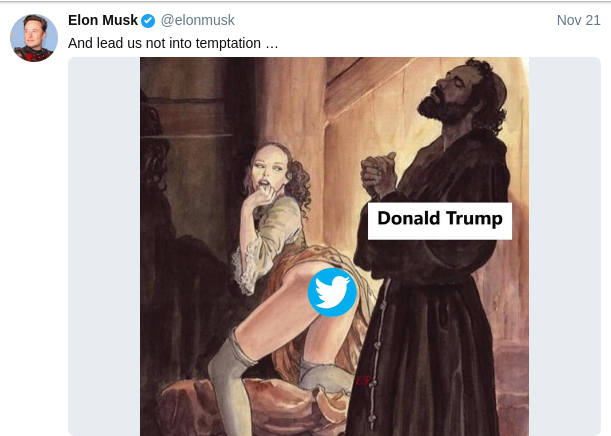 You are welcome!
That's good to know though, i hope all AI-spy tools will
in hell

Until now he resisted. I know 'cause I follow him

But he has had "naughty thoughts":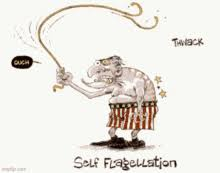 For sure! Currently more than 87 millions follow him on Twitter while it's ~4 millions on Truth Social. It's just a matter of time now.
That's quite tempting! Time will tell!
Unsurprisingly, nothing would surprise me anymore

The only hope for a few some and fewer it seems, as of to-date.
How can it actually be that crypto scammers become billion-dollar businesses before they burst, and then everyone is … surprised?!
Well, there is a very simple explanation for this, which cannot be summed up more beautifully:
While Crypto Bro Scammed Clients, Reporters Scammed Readers.
In fact, this is exactly what it looks like. Regulators aren't the only ones in charge. The press also has a responsibility to expose and warn about scams.
Instead, the press has been invited wholesale by the Crypto-Bros for canapés and champaign to "press events" in the Bahamas or other nice warm islands in the sun. And then the press did publicity for the Crypto-Bros.
An absolute disgrace what a total failure financial journalism has become, and not only regarding these Crypto-Bros!
No worries, there are still Forces of the Good in the game:
PS. wait, did they say

Twitter Account?

Always wanting to be ahead of the news-curve you seem to be? Self-congratulating mode always on?
Did you read up on narcissism in the range of psychology, just lately?
(I know, as I'm an apparent patient myself.)
Hugs, Bro!

That's much better target than usual blame shift

But still it's symptom, source of this disease is gullible idiots who doesn't understand what makes cryptocurrency actually valuable, and instead of using knowledge base and tools to protect themselves, like reading BTC or XMR whitepapers - keep reading MSM crap…Yes, those who still keep trusting their finances to centralized institutions like exchanges or some proxy internet wallets which they doesn't even own…
What makes it even more pathetic, is the fact that exactly the same things happened million of times with banks and other IRL scams before