At one time, the hardinfo package (Sytem Profiler and Benchmark in the app menu) was included in an EnOS install. However, it was dependent on GTK2 and when support for GTK2 went away, so did hardinfo.
The hardinfo (HARDware INFOrmation) devs have updated hardinfo and it again works quite well with EnOS. It is available in the AUR
yay -S hardinfo-git

will install the 0.6 Alpha version works very well for Alpha.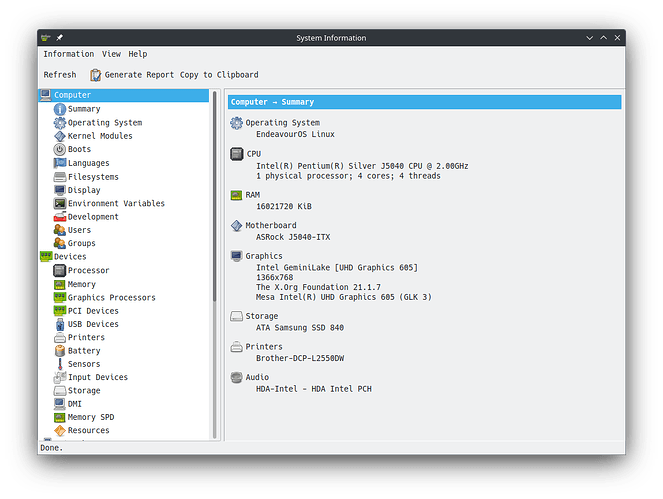 This is the Summary window, which shows Network and Benchmarks options in the bottom of the left panel.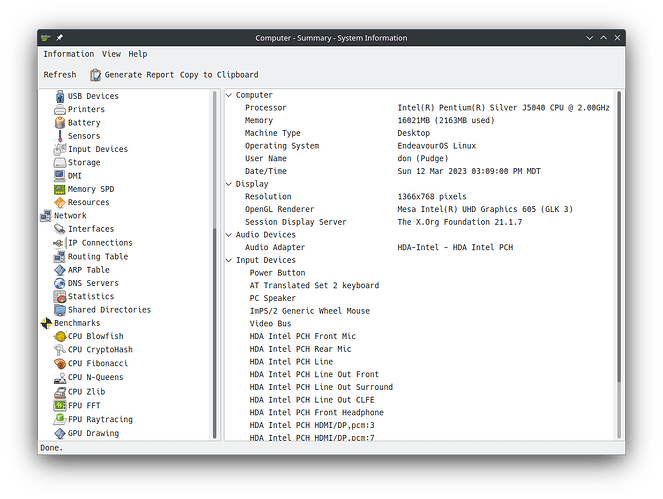 Pudge
Okular has this feature, too.
Where?
P.S. I seriously can't find it, too many settings

A couple of months ago, I found a little module for Python called ' rembg '. It makes use of some AI modules for autodetect and removing background from photos.
There may be more than one way but I usually do it in accessibility->change colors>invert lightness
I don't see Accessibility in Okular
It is under settings->configure okular
Oh, now i see…thx!
Jeez i'd never find it


It's not very accessible of KDE

And you can change the colour for foreground and background. I typically use bright green foreground on black. Very calming

Paulxstretch
(https://sonosaurus.com/paulxstretch/)
What a shame it cannot be built on Arch due to missing "devel" libraries, and I couldn't even build it on Spiral KDE. It's supposed to work on Ubuntu 18.10 and whatever was released with it or after it. Now I'm forced to use the Windows version through Wine, it sucks. In addition it required a download of an extraneous DLL, that's why I preferred "native" Linux build. No big deal, I don't like this programmer (not Nasca Paul) that modified it however.
Video Trimmer : you can cut a part of a video without re-encoding it
Here it builds without issues. It is an AUR package.
Just built
paulxstretch-1.6.0-1-x86_64.pkg.tar.zst

The application work great but sadly some colors are hard-coded and when we use a dark mode for everything, the experience is not great. So i've made a simple fork that provide a better experience in that regards.
Thank you… I had only gone into Arch Linux site, to the standard and AUR package listings looking for the libraries only.

NCMPCPP + MPD
Amazing combination
LLaMA - LLM neural network, open source and can be runned even on raspberry pi. Outputs are on par with such power hoag as ChatGPT.
LlaMA.cpp
Stanford Alpaca - finetuned LLaMA
ChatLLaMA
Dalai - installer and WebUI for LLaMa.