Curious what weather app people are using?
I live dangerously and use russian roulette approach for weather by going out randomly without consulting oracles, if i go out at all

P.S. Usually that ends something like that
I'm not on plasma - but what I use would work…
I set up with conky, and usually conkywx - for a REALLY flexible display for anywhere in the world (at same time if desired). Not for everyone, though - could take some configuring if not to your liking 'out of the box'.
Plasmoids -> Weather Widgets & you are done. You can drag it either inside your panel or your workspaces.
Here is some more info on plasma5 weather widget choices.

I like a clean desktop, are all of these able to be added to my panel next to my clock?
I usually use the xfce4-weather plugin that comes with EndeavourOS. Always run it in Xfce. Works well!
You can use it in Plasma?
I do not know unfortunately. Think it's for Xfce only.
Edit:
Now I saw that the thread was on Plasma

Sorry!
@Christopher67, this is the "weather widget" plasmoid I told you about & here s how it looks inside my plasma panel (yes, that`s a heavily customized plasma desktop

).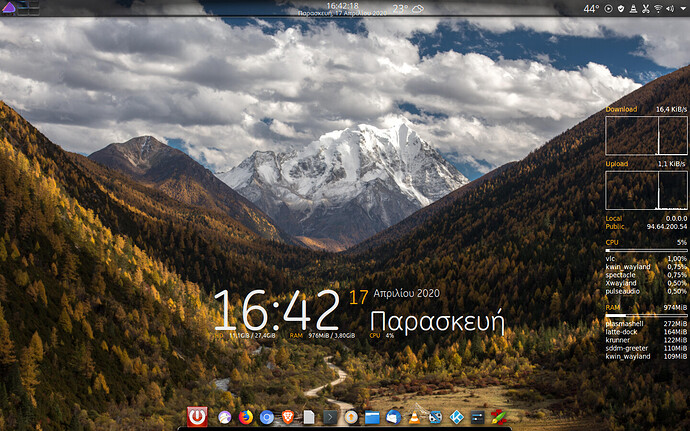 I use curl, btw

Thanks!

inxi -w

In the terminal, type…
curl wttr.in

and watch the magic happen. It's slightly more complicated if you're using a vpn or want a forecast for somewhere other than where your computer thinks you're located. Some details here.
curl wttr.in can also easily used in i3blocks in i3 , mayby with xfce4-genmon plugin also? but there is in xfce already a weather app