endeavouros-2019.12.22-x86_64.iso I am using this particular ISO, I used Etcher to burn the ISO to my USB drive and I booted into EndevourOS. When I booted into this distro I was greeted with some options whether to install endevour, update the app etc.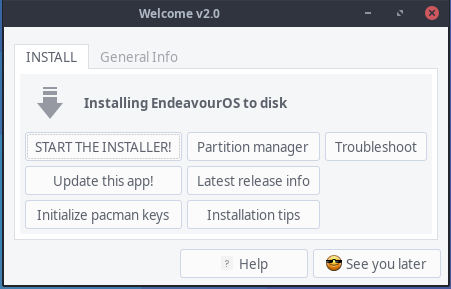 I clicked on install EndevourOS, and the installer started prompted me if I want offline or online installer, I selected online installer.
On the welcome page, it shows what language to install, but beneath it, it showed me waiting for two modules please wait and I waited for like 5 minutes and nothing happened. I tried to restart the installer but the installer would not open up. I restarted my PC and again booted into live mode and I tried to update the app (which worked fine) it still did not work, same issue.
I am able to connect to the Internet just fine but I don't know why the installer is not working. I have installed other distros such as Manjaro with the same installer and it works just fine.
Edit: On VirtualBox, this ISO works just fine. But on my main computer I can't install it at all.