I am trying to install EndeavourOS wiping my existing windows installation. My hard disk is an MBR partitioned drive and I want to install it in BIOS-GPT mode. Hope that makes sense.
So here is the issue:
firstly, my NVIDIA graphics card is not supported with the drivers packaged with the iso. Mine is NVIDIA GT 610 that would require 390xx series drivers as stated during boot. So I am booting with the first default option, from live Pend Drive.

During my first few attempts, I ran into something similar to this Nothing happens when I click on "online" or "offline" in the "Start the installer" menu (solved), and the solution mentioned here actually worked, with the german ISO I got the online installer working

So I continued with the installation, manually partitioned my drive. I had two drives in windows. C: and D:, And I didn't want to loose the data on D: drive. so I chose this option. I partitioned the drives like so:
- 8 MB Unformatted partition with BIOS_GRUB flag
- 32 GB linuxswap partition with SWAP flag
- Rest around 268 GB ext4 partition with mount point / and ROOT flag

So after all is done, and I started the installation, the installation failed while trying to create the root partition. I tried this many times, by manually creating the partitions in gparted, before starting the installation. Choosing replace existing partition during installation, and anything else I could think of. But every time the installation fails at exactly the same point. I have tried the installation in both online and offline mode, both the time got the same result.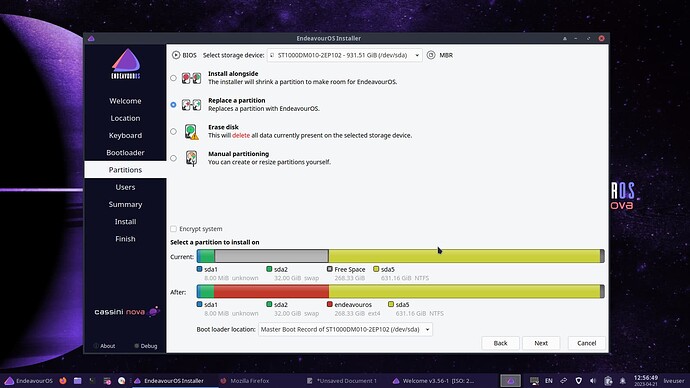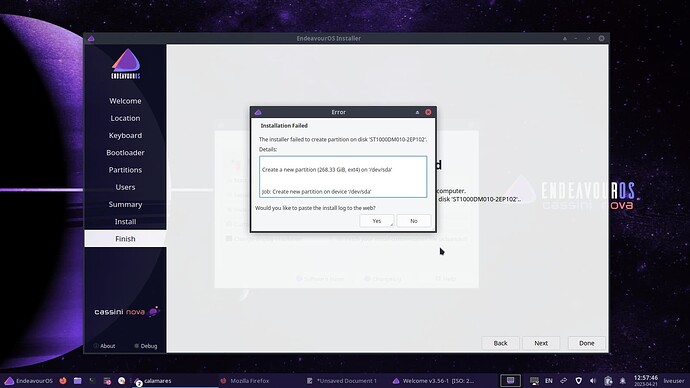 Here is the log files for both mode of installation:
Online mode - https://termbin.com/vh0s
offline mode - https://termbin.com/lf1y
installer log from live session:
cat /var/log/endeavour-install.log | eos-sendlog
response
cat: /var/log/endeavour-install.log: No such file or directory
Hardware information:
Boot log:
Any help would be greatly appreciated. I am pretty new to Arch, and Calamares, so unable to understand the issue.