5.2 update just recently pushed out to my desktop. So far solidifying it's place as my favorite DE.
I use Google Calendar that then syncs to my Evolution Calendar, which then syncs for Gnome to read and it will all show up in my notification center, so I'm always just one click away from seeing what I've added to my calendar. It's been this way for a couple versions of Gnome now, so while it's not 'new' to me, I'm glad you're able to now enjoy a similar workflow feature! I can use either Google Calendar or Evolution to add/change my daily events which is nice, but I need to have Evolution installed for it all to work. Gnome Calendar can do the job as well and is very similar, but in my experience, Evolution's calendar options/settings/customizations are far superior. But if Gnome Calendar works for you, there's absolutely nothing wrong with that! I've just always found Gnome Calendar to be buggy still even know, and prone to crashes on occasion and also limited in many features, which is why I prefer Evolution. I'd be a lot less productive without it that's for sure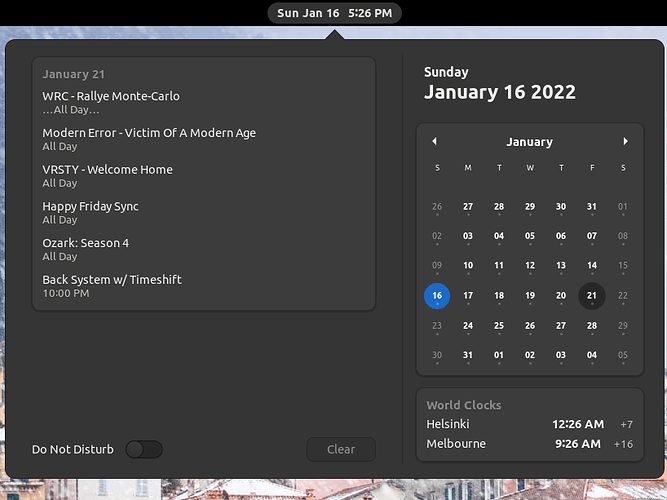 (Just a quick screenshot of how I'm able to see my calendar evens in Gnome, very useful in my opinion)
Definitely my number 2. It's just fantastic.
Installed cinnamon last week on my second laptop. Need to update tomorrow to get all the cinnamon goodness
Mine too.
I wonder what was behind Cinnamon 5.2 hitting the Arch repos so late? Oh well, at least bugs will have been fixed.
I did wind up having to remove my goa-1.0 folder in ~/.config (Well, not delete right away, just rename it to OLD_goa-1.0 just in case) and let it rebuild. I suspect that may be related to the recent Gnome Keyring update though.
Given that Cinnamon is the flagship DE for Mint, I won't begrudge them letting it deploy or their OS first

Me neither, but previously Arch has has pushed the new versions of Cinnamon from the x.x.0 release, rather than x.x.7 as is the case for 5.2.7.
The only thing I don't like about KOrganizer (apart from bad spelling of the name, it might work on EndeavorOS, but on EndeavourOS that is just unacceptable!), is that, in order to install it, I also need to install the following dependencies:
akonadi
akonadi-calendar
akonadi-mime
akonadi-notes
akonadi-search
calendarsupport
eventviews
incidenceeditor
jemalloc
kalarmcal
kcalendarcore
kcalutils
kdav
kdepim-runtime
kdiagram
kidentitymanagement
kimap
kldap
kmailtransport
kmbox
kontactinterface
ksmtp
libkdepim
libkgapi
libkolabxml
mariadb
mariadb-clients
mariadb-libs
pimcommon
qtkeychain-qt5
xerces-c

Some 400 MiB.
I don't want all that bloat.
And that's me, a KDE Plasma user. Imagine those poor souls who have not yet figured out that KDE Plasma is the superior desktop.

They have to pull gigabytes of dependencies, and update them all the time.
I like bloat! It has dependencies.

Edit: Besides if it was 4 GB I'd start to worry but 400 MB? KDE can handle it!
Can I get your output of the following command:
pacman -Qq | wc -l

please?
I wonder how many packages you have installed.
Not that many?
[ricklinux@eos-kde ~]$ pacman -Qq | wc -l
1144
[ricklinux@eos-kde ~]$ 

Edit: Or is too many?
No, I expected much more from a bloat enthusiast!
I have more packages installed than you (only a few more, though)!

I guess that means you suck less than me.
I don't think i suck at all.

Well, if that's true, definitely less than me (but not by much

).
That's BLOAT!!!11

This is bloat for sure. I have 3 DEs
pacman -Qq | wc -l
1363

its pitty orage is death… i used it always could always see what i had on google calendar…