Broke this out into its own topic in the gaming forum, as it got flagged as off-topic in the original place (whatever, I guess, it was really just in passing, but I'll expand on it here).
Anyhoo, I've been playing WoW on Linux for the past 18 months, but for some reason all of a sudden about 3 weeks ago it started throwing up this error: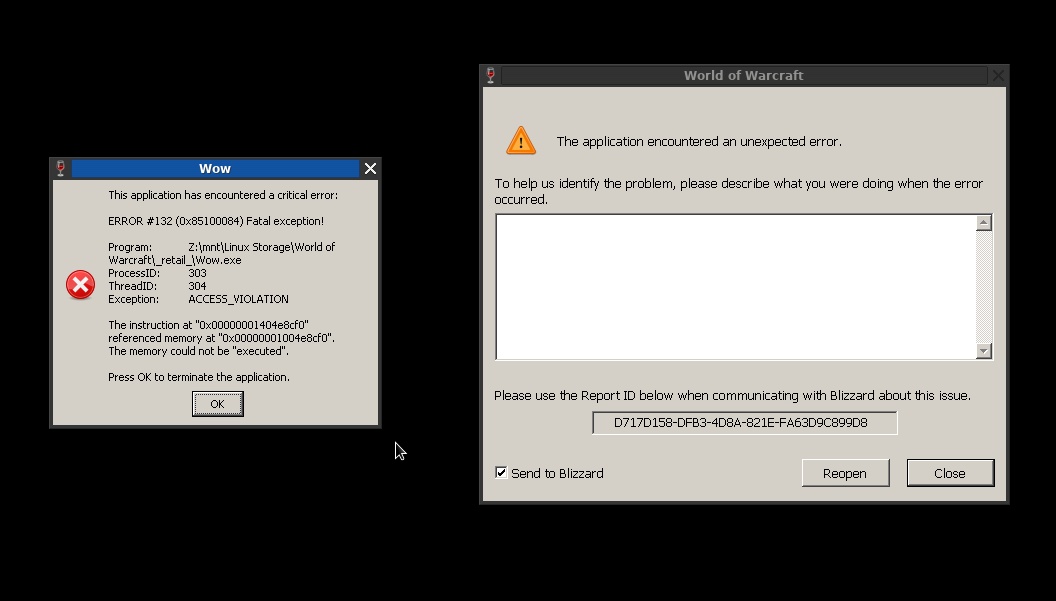 It usually happens after about 10 minutes or so, and it now persists across various distros, game re-installations etc.
Thought it was faulty ram, so bought another 16Gb and swapped it out: Same result.
Thought it might be the GPU: Took it out and ran it on the i7-7700k's built in intel chip - still crashes.
Tried it on different SSD/HDDs, still crashing.
Tried various versions of Wine & DXVK, disabling DXVK/VK3D altogether, even disabling all addons in WoW, but nothing works.
The only components that are still in common are the motherboard and CPU, and I'm tending to think it might be the CPU, because I can see microcode errors when starting any arch-based linux distro (Endeavour/Manjaro/Arch).
Guess I'll have to stick with playing on Windows until I get a new PC, which is depressing. That said I can still use Linux for everything else (browsing/office etc), it's just WoW constantly crashing…
I've had a look at temps, and when the system crashes temps are absolutely normal. Nothing anywhere near hot enough to crash like this, with both CPU and GPU in and around 40-50c. Used a hardware monitor on my 2nd screen, and the DXVK Mangohud to monitor temps 2 different ways, just in case. I've also got my fans set to turbo mode now, keeping everything cool (I use water cooling for the CPU and it's set to TPU2 in the Bios).
Unfortunately the last BIOS update my motherboard had was in April of 2018, which was about 6 months after I bought the parts. Whether I use the XMP settings or manually set everything it still crashes. Interestingly XMP actually underclocks my ram, which is odd. I have (now) 32Gb of 3200 DDR4 ram, which gets set to 2933 by XMP. Still crashes. I've also set it to run at 2133 and still it crashes. But I know it's not the memory per se, because I've run different configurations from 1 stick of 8Gb to swapping out the ram entirely and runnning on the new 16Gb alone. No luck.
As mentioned, the only other issue is that whenever I'm booting an Arch-based distro, such as Endeavour/Manjaro/Vanilla Arch, I get Microcode errors during the OS boot process such as the following, which don't appear during Ubuntu-based distro boots (Xubuntu/Pop!_OS etc), but they may just hide the same messages during boot: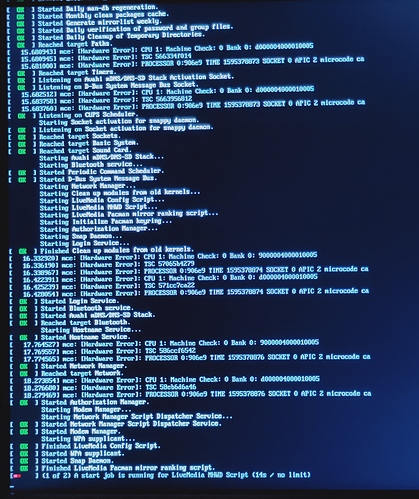 This is an i7-7700k running at 4.2Ghz, turboing when needed to 4.5Ghz. XMP would push that further to 4.8Ghz, but I try to rein it in so it doesn't fry itself.