Was reading forum and found this
This is what happened



click on to see larger image.
What is going on?
Either your network isn't working or you need to resort your mirrors from the welcome application.
If you are working from a TTY and using a wireless connection, perhaps you didn't connect yet?
As a side note, just to be clear about the post your referenced. If you only install plasma-desktop what you get is way beyond what most people would call minimal. That option is for someone who wants minimal to the extreme. Expect to have to add some things to make the DE fully functional.
I have no DE installed. I only selected "Core + Common Packages" during install.
Expect to have to add some things to make the DE fully functional.
That is no problem. As I understand installing plasma-desktop I will instantly get DE.
Btw, why #1 post it says "This image is broken"? You still can click on it and it will open full-sized image.
Well, first, make sure you have a network connection. Does curl ifconfig.co return your IP address?
If you don't, use nmtui to setup a network.
Installing plasma will get you a fully functional DE and DM. It is been a while since I installed plasma-desktop but I think it is the minimal files you need to start plasma. I can test it if you would like.
Because you were missing the e in jpeg. I fixed it.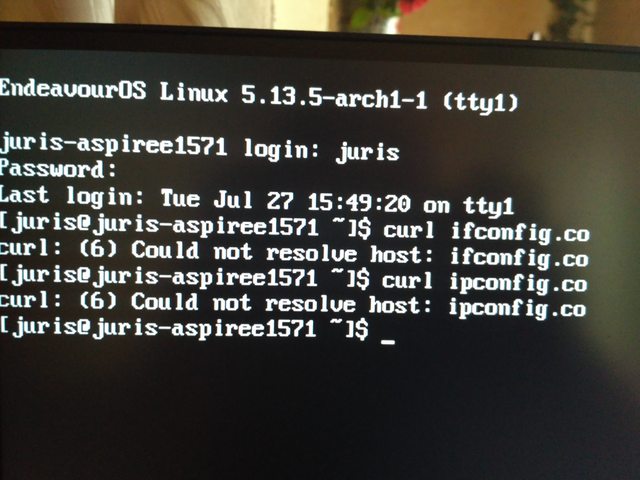 I guess I'm not connected to my Wifi.
I was assuming if I can search for package with sudo pacman -S plasma-desktop and get all that response it comes from internet. I guess I was wrong.
If you don't, use nmtui to setup a network.
Any link or instructions how to use this nmtui?
Just run nmtui. The program is very intuitive, almost like a GUI program (except it's TUI, hence the name
). You get a menu which you navigate with the arrow keys, Enter to select, Esc to exit.
You'll see a list of wireless networks, choose the one you want to connect to, enter the WPA passcode… You know, the normal procedure. If you've ever connected to a WiFi network, this should be very easy.
Once you're done, you can ping archlinux.org to see whether your internet connection works (Ctrl+C to exit).
almost like a GUI program (except it's TUI, hence the name)
Yes, did that was very simple.
sudo pacman -S plasma-desktop installed all what was needed.
Now the big question: how can I start Plasma from terminal?


This is almost certainly what you want.
Installing the KDE config module for SDDM will pull SDDM as a dependency:
sudo pacman -S sddm-kcm

Just reboot and everything should work out of the box.

That should had give me GUI for login? Reboot changed nothing.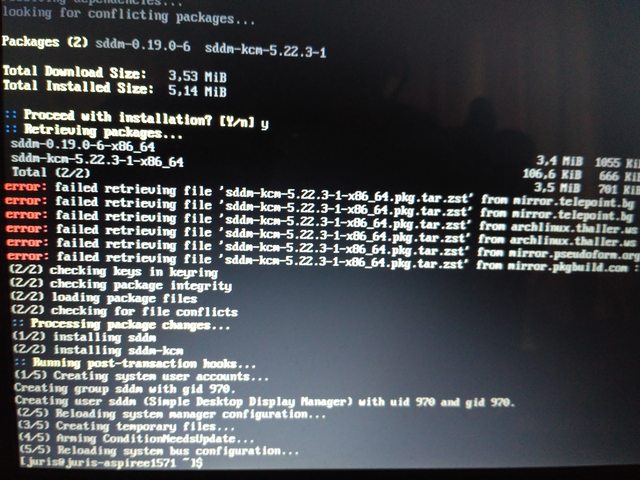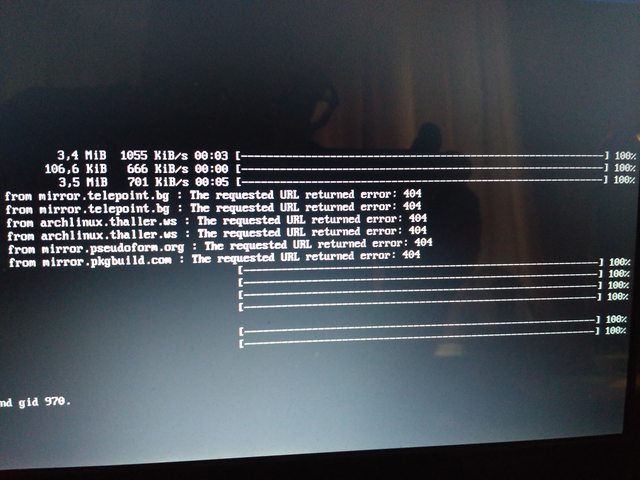 Did you enable it?
sudo systemctl enable --now sddm

This did it.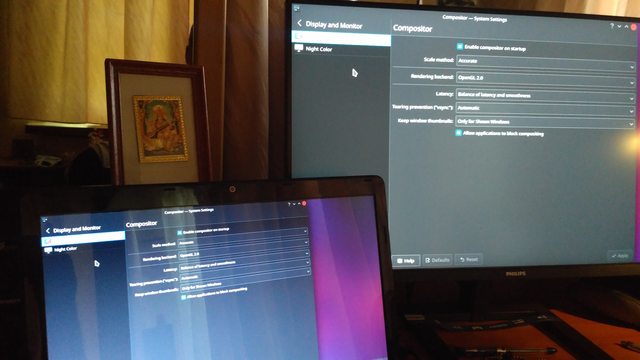 I usually disable laptop screen and have only my 28'' monitor working on 1920x1080 resolution. But now, by default screens are cloned and my monitor is on 1366x768 or whatever resolution laptop screen has.
How to set it like I want?
When I did "full" KDE install in settings there was Display tab and there I configured it.
Do you have the package kscreen installed?
Like I said, what you installed is ultra-minimal so you will probably need to add some things as you go along.
@joekamprad made a list of useful packages for a good KDE experience (still very lean, though not completely minimal):
I recommend checking which of these you're missing and installing them.
There is a decent amount of junk in there. I would narrow it down to at least:
plasma-desktop kinfocenter konsole dolphin plasma-nm kscreen powerdevil sddm sddm-kcm kio-fuse plasma-pa
I would add kate to the list, but yeah, I agree that the rest is probably not needed. Especially not kio-gdrive, no idea why that is even on the list
I would put kate on a list for my system but I don't see it is as a minimal requirement for plasma.

Well, only plasma-desktop is a minimal requirement for Plasma…

I just install plasma.
Remember to clean your /home folder of unneeded cruft, by which I mean .(dot) files like configs, cache etc. If you are using multiple DEs then you need both but if not well…