Greetings lovely community,
After the recent wireplumber (0.4.10-3 -> 0.4.11-1) update just from the other day, I've noticed on at least 2-3 occasions that wireplumber is using an excessive amount of CPU and will have my CPU run high, which also causes my GPU fan to start spinning like there's a wildfire inside my laptop. I can't yet figure out how to reproduce the issue, it seems to happen randomly so far as I can tell for the moment. When it does happen, I'm not doing anything other than browsing in Vivaldi or playing some music in Rhythmbox. Has anyone else noticed this or come across it at all? I haven't seen any high CPU issues mentioned on the Wireplumber GitLab page (yet), so perhaps many users aren't effected by it, I am not sure.
When the wireplumber CPU spike hits, it's constant. The only way I've noticed to stop it, is to close every single application that's open or do a reboot and it goes away. However, it will randomly happen again. It is very odd behavior for sure, I'm positive this is a bug of some kind.
As you can see below, wireplumber is using the most CPU on my system, and at this moment, no audio/video is being played: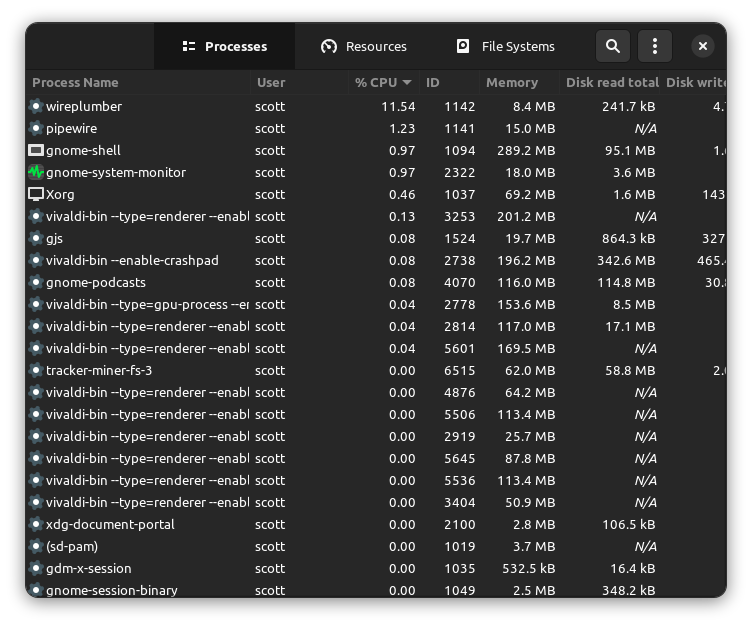 As you can also see below, the CPU is spiking up and down like crazy.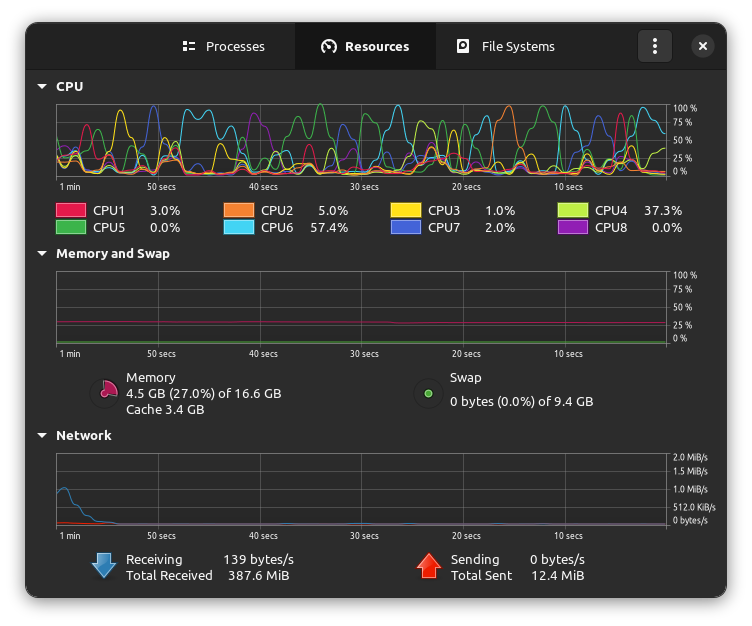 For reference below, under normal use (various apps like Vivaldi, Rhythmbox, Tilix are open): the CPU is not spiking at all:
System Info via inxi -Fxxxza

[scott@EndeavourOS ~]$ inxi -Fxxxza --no-host
System:
  Kernel: 5.18.9-zen1-1-zen arch: x86_64 bits: 64 compiler: gcc v: 12.1.0
    parameters: BOOT_IMAGE=/@/boot/vmlinuz-linux-zen
    root=UUID=8ab413ef-eda4-48cd-a8fb-c75c65bb6667 rw rootflags=subvol=@
    nvidia-drm.modeset=1 quiet
    resume=UUID=e352a98c-ec79-4c56-9ff9-8823a71e8512 loglevel=3 nowatchdog
    nvme_load=YES
  Desktop: GNOME v: 42.3.1 tk: GTK v: 3.24.34 wm: gnome-shell dm: GDM
    v: 42.0 Distro: EndeavourOS base: Arch Linux
Machine:
  Type: Laptop System: Acer product: Aspire E5-576G v: V1.32
    serial: <superuser required>
  Mobo: KBL model: Ironman_SK v: V1.32 serial: <superuser required>
    UEFI: Insyde v: 1.32 date: 10/24/2017
Battery:
  ID-1: BAT1 charge: 11.7 Wh (100.0%) condition: 11.7/62.2 Wh (18.8%)
    volts: 12.6 min: 11.1 model: PANASONIC AS16B5J type: Li-ion
    serial: <filter> status: full
CPU:
  Info: model: Intel Core i5-8250U bits: 64 type: MT MCP arch: Coffee Lake
    gen: core 8 built: 2017 process: Intel 14nm family: 6 model-id: 0x8E (142)
    stepping: 0xA (10) microcode: 0xF0
  Topology: cpus: 1x cores: 4 tpc: 2 threads: 8 smt: enabled cache:
    L1: 256 KiB desc: d-4x32 KiB; i-4x32 KiB L2: 1024 KiB desc: 4x256 KiB
    L3: 6 MiB desc: 1x6 MiB
  Speed (MHz): avg: 3400 high: 3401 min/max: 400/3400 scaling:
    driver: intel_pstate governor: powersave cores: 1: 3401 2: 3400 3: 3400
    4: 3400 5: 3400 6: 3400 7: 3400 8: 3400 bogomips: 28800
  Flags: avx avx2 ht lm nx pae sse sse2 sse3 sse4_1 sse4_2 ssse3 vmx
  Vulnerabilities:
  Type: itlb_multihit status: KVM: VMX disabled
  Type: l1tf
    mitigation: PTE Inversion; VMX: conditional cache flushes, SMT vulnerable
  Type: mds mitigation: Clear CPU buffers; SMT vulnerable
  Type: meltdown mitigation: PTI
  Type: mmio_stale_data mitigation: Clear CPU buffers; SMT vulnerable
  Type: spec_store_bypass
    mitigation: Speculative Store Bypass disabled via prctl
  Type: spectre_v1
    mitigation: usercopy/swapgs barriers and __user pointer sanitization
  Type: spectre_v2 mitigation: Retpolines, IBPB: conditional, IBRS_FW,
    STIBP: conditional, RSB filling
  Type: srbds mitigation: Microcode
  Type: tsx_async_abort status: Not affected
Graphics:
  Device-1: Intel UHD Graphics 620 vendor: Acer Incorporated ALI driver: i915
    v: kernel arch: Gen9.5 process: Intel 14nm built: 2016-20 ports:
    active: eDP-1 empty: DP-1,HDMI-A-1 bus-ID: 00:02.0 chip-ID: 8086:5917
    class-ID: 0300
  Device-2: NVIDIA GP108M [GeForce MX150] vendor: Acer Incorporated ALI
    driver: nvidia v: 515.57 alternate: nouveau,nvidia_drm non-free: 515.xx+
    status: current (as of 2022-06) arch: Maxwell process: TSMC 28nm
    built: 2014-19 pcie: gen: 3 speed: 8 GT/s lanes: 4 bus-ID: 01:00.0
    chip-ID: 10de:1d10 class-ID: 0302
  Device-3: Chicony HD WebCam type: USB driver: uvcvideo bus-ID: 1-7:4
    chip-ID: 04f2:b571 class-ID: 0e02
  Display: x11 server: X.Org v: 21.1.3 with: Xwayland v: 22.1.2
    compositor: gnome-shell driver: X: loaded: modesetting,nvidia gpu: i915
    display-ID: :1 screens: 1
  Screen-1: 0 s-res: 1920x1080 s-dpi: 96 s-size: 508x286mm (20.00x11.26")
    s-diag: 583mm (22.95")
  Monitor-1: eDP-1 mapped: eDP-1-1 model: Najing CEC Panda LM156LF1L03
    built: 2017 res: 1920x1080 hz: 60 dpi: 142 gamma: 1.2
    size: 344x194mm (13.54x7.64") diag: 395mm (15.5") ratio: 16:9
    modes: 1920x1080
  OpenGL: renderer: NVIDIA GeForce MX150/PCIe/SSE2 v: 4.6.0 NVIDIA 515.57
    direct render: Yes
Audio:
  Device-1: Intel Sunrise Point-LP HD Audio vendor: Acer Incorporated ALI
    driver: snd_hda_intel v: kernel alternate: snd_soc_skl bus-ID: 00:1f.3
    chip-ID: 8086:9d71 class-ID: 0403
  Sound Server-1: ALSA v: k5.18.9-zen1-1-zen running: yes
  Sound Server-2: PulseAudio v: 16.1 running: no
  Sound Server-3: PipeWire v: 0.3.54 running: yes
Network:
  Device-1: Intel Dual Band Wireless-AC 3168NGW [Stone Peak] driver: iwlwifi
    v: kernel pcie: gen: 1 speed: 2.5 GT/s lanes: 1 bus-ID: 03:00.0
    chip-ID: 8086:24fb class-ID: 0280
  IF: wlan0 state: up mac: <filter>
  Device-2: Realtek RTL8111/8168/8411 PCI Express Gigabit Ethernet
    vendor: Acer Incorporated ALI driver: r8169 v: kernel pcie: gen: 1
    speed: 2.5 GT/s lanes: 1 port: 3000 bus-ID: 04:00.1 chip-ID: 10ec:8168
    class-ID: 0200
  IF: enp4s0f1 state: down mac: <filter>
Bluetooth:
  Device-1: Intel Wireless-AC 3168 Bluetooth type: USB driver: btusb v: 0.8
    bus-ID: 1-5:3 chip-ID: 8087:0aa7 class-ID: e001
  Report: rfkill ID: hci0 rfk-id: 2 state: up address: see --recommends
Drives:
  Local Storage: total: 238.47 GiB used: 138.52 GiB (58.1%)
  SMART Message: Unable to run smartctl. Root privileges required.
  ID-1: /dev/sda maj-min: 8:0 vendor: SK Hynix model: HFS256G39TND-N210A
    size: 238.47 GiB block-size: physical: 4096 B logical: 512 B
    speed: 6.0 Gb/s type: SSD serial: <filter> rev: 1P10 scheme: GPT
Partition:
  ID-1: / raw-size: 229.37 GiB size: 229.37 GiB (100.00%)
    used: 138.51 GiB (60.4%) fs: btrfs dev: /dev/sda2 maj-min: 8:2
  ID-2: /boot/efi raw-size: 300 MiB size: 299.4 MiB (99.80%)
    used: 576 KiB (0.2%) fs: vfat dev: /dev/sda1 maj-min: 8:1
  ID-3: /home raw-size: 229.37 GiB size: 229.37 GiB (100.00%)
    used: 138.51 GiB (60.4%) fs: btrfs dev: /dev/sda2 maj-min: 8:2
  ID-4: /var/log raw-size: 229.37 GiB size: 229.37 GiB (100.00%)
    used: 138.51 GiB (60.4%) fs: btrfs dev: /dev/sda2 maj-min: 8:2
Swap:
  Kernel: swappiness: 60 (default) cache-pressure: 100 (default)
  ID-1: swap-1 type: partition size: 8.8 GiB used: 0 KiB (0.0%)
    priority: -2 dev: /dev/sda3 maj-min: 8:3
Sensors:
  System Temperatures: cpu: 67.0 C pch: 59.5 C mobo: N/A gpu: nvidia
    temp: 57 C
  Fan Speeds (RPM): N/A
Info:
  Processes: 311 Uptime: 57m wakeups: 1 Memory: 15.5 GiB used: 5 GiB (32.3%)
  Init: systemd v: 251 default: graphical tool: systemctl Compilers:
  gcc: 12.1.0 Packages: 1267 pacman: 1214 lib: 329 flatpak: 53 Shell: Bash
  v: 5.1.16 running-in: tilix inxi: 3.3.19