Top, Htop, Btop, Bpytop or do you use something else?
99% of the time System Monitor gets my fix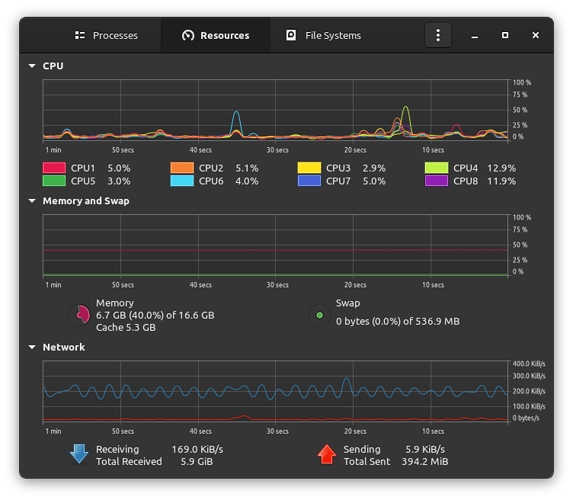 The other 1% of the time where I'm trying to troubleshoot something, I'll just hit up htop
I use whatever is installed.

htop tends to be a good compromise between performance and functionality but all of them are fine.
That being said, I mostly only use those for checking CPU load. I tend to use ps_mem to look at per application memory consumption and iotop to see what is causing disk related bottlenecks.
from the cmd line, I prefer glances.
For GUI based monitoring in general I use telegraf to push metrics into Grafana/Influx.
I hardly ever need to use any of the mentioned monitors. I have %CPU, %RAM, and CPU temp always in view in my waybar panel. They're in light grey text if all is well and then change color if there's a spike.
If I can't figure out the issue, I use top.
In most cases htop. But sometimes also glances.
Since glances is preinstalled at EOS, I started it in the terminal on a trial basis. It worked, but I got the following message:
You are using Glances version 3.2.4, however version 3.2.4.2 is available.
You should consider upgrading using: pip install --upgrade glances

When I ran pip install --upgrade glances
I got the message: bash: pip: Command not found.
Otherwise I use htop.
htop most of the time.
when i need more detailed stats (like ongoing uploads/downloads throughput and more) i use bashtop
Sure. But strangely enough, not glances. There were also never error messages during the updates that glances could not be updated with.
You should never use pip to upgrade something provided by a package. That will cause problems and usually break your ability to update the system.
I would just wait for the package to be updated.
Agreed. IMHO, pip/pip3 should only be used to manage Python modules.
On an Arch-based distro, it should only be used to manage them in a localized fashion such as a pyenv or similar. You should never use it with sudo to manage system-wide modules.
Yep. pip/pip3 will install for the local user only. And, I agree that it is considered a best practice to use the pip/pip3 cmd from either pyenv or virtualenv. I use the later for better separation of modules between projects.
Gee - nobody here uses conky for this? It just sits there, under all others, but available without an additional command when a question occurs… saves opening even a terminal (and I'm on drop-down mode).
For those who don't know my conkys, here's the 'main' one:

Yes - the date's old - but current at the time, and still running now… Added bonus - calendar, weather, package information, and a music playing display with cover art…
I'm noob and I use htop and, sometimes, system monitor (GUI). I've just tried glances and got same message than @Balder, but, pacman says it's up to date:
# Checking version
[triby@eos ~]$: glances --version
Glances v3.2.4 with PsUtil v5.9.0
Log file: /home/triby/.local/share/glances/glances.log

# Message after executing
[triby@eos ~]$: glances
You are using Glances version 3.2.4, however version 3.2.4.2 is available.
You should consider upgrading using: pip install --upgrade glances

# Searching on pacman
[triby@eos ~]$: pacman -Ss glances
community/glances 3.2.4-2 [instalado]
    CLI curses-based monitoring tool

I don't understand.

3.2.4.2 is different than 3.2.4-2.
The thing after the dash is the pkgrel, it isn't part of the upstream version.