Hi everyone,
Love Endeavour OS as I've been using it for a few weeks now but lately I've decided to upgrade my soundcard. Everything was working fine with my AE-5 before but as soon as I install my new AE-7 I'm unable to boot into EOS. This applies to the live disk usb drive as well. Even tried ubuntu live disk and still does not boot. There is something happening with that particular sound card and linux. Wondering if anyone has any idea on a workaround or fix. I`ve been googling for a while now and it seems that the AE-7 is supported in the latest kernels. Windows does not have any issues with it.
EOS: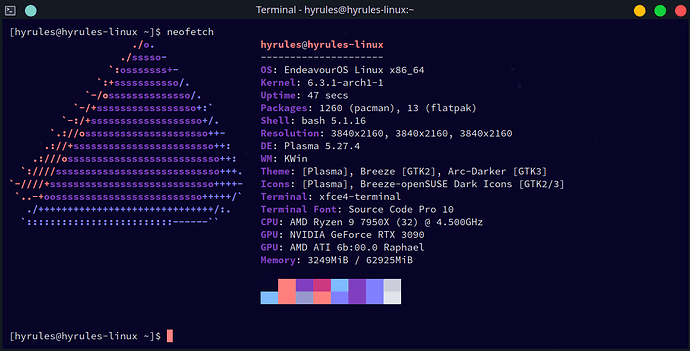 Hardware is as following :
AMD Ryzen 7950x
ASUS X670E Pro Art Creator Wifi (BIOS 1202)
GSkillz 64 GB DDR 6000
Asus rog strix 3090 Gaming OC 24G
2 TB Samsung 990 PRO (windows)
1 TB Samsung 990 PRO (EOS)
4 TB Sabrent Rocket 4 plus (Games)
Soundblaster AE-7

here are some screen capture of the errors at boot. Does not go all the way to desktop and eventually does boot loop.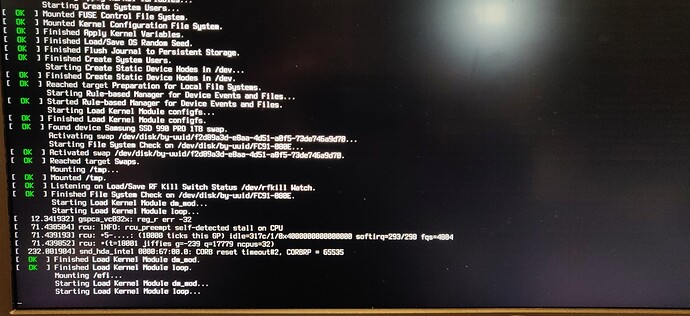 if you take a look at the screenshot you can see that there is an error about snd_hda_intel which is an intel sound card which I don't have. (nvidia HDA ?) My onboard soundcard is disabled. I've even tried disabling the onboard video card but the error is still there. Also tried to disable acpi power mode in the modprobe.d folder but this error still happens. I`ve seen one other post on reddit with a user that has this issue but he ended up trading is AE-7 for an AE-5.
In the end if I reinstall my AE-5 I can go back to the desktop but I would rather use the AE-7 as the sound quality is much better.
Any help would be appreciated.
Thanks