Bonsoir,
Is it possible to put the trash can on Gnome desktop ?..and how ?
Many thanks in advance,
PJN
In vanilla ɢɴᴏᴍᴇ it's impossible, I don't think it lets you have any icons on desktop. Maybe there is some extension for it, I don't know…
It's very easy in KDE Plasma, of course.
Thank you !
But i like Gnome…!
Cordialement,
PJN
If a desktop icon is not a must, a keyboard shortcut for nautilus trash:/// might perhaps fit the bill?
Either you like GNOME v44 or one which is as late as possible without trash can or anything else on desktop.
Or you could check out Spiral Linux which allows it but has GNOME v3.36.

Of course this was strange to me, I couldn't have desktop icons with Debian "Wheezy" because I didn't know about "dot-desktop" files and that sort of thing back in 2014…
I like desktop icons without Gnome.

So…
There are no stupid questions, only the answers could be


Admit that it is still practical to have just enough to clean up on your desktop

Anyway, many thanks for your comments
PJN
What's the purpose of even having a desktop if you can't utterly clutter it with icons, to your heart's desire? Let's just admit that ɢɴᴏᴍᴇ fails at most basic of functionality, that it is not fit for any use case, and that it is time to retire it and forget about it. It did spawn a few nice forks with good potential, and I am grateful to it for that, but keeping it on life support with crudely put together extensions is just getting cruel at this point.
I don't agree with your point of view.
Gnome is very easy to use while being very elegant.
The other environment look, to my taste, too much like "ouinedaube".



sure you talk about Gnome !




.
we all different + have different taste in DE. No one that fit all ( choice wonder full thing )

Gnome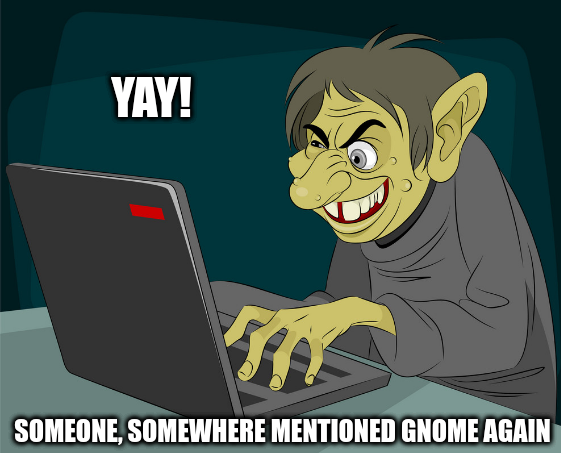 I like Gnome on someone else's desktop.

May I add, seen from "Share Your Desktop" thread.
The ones with Budgie, however, are even more interesting. LOL at "ouinedaube". Someone then is way more organized than I am: knows exactly where to put downloaded files or almost doesn't download at all, doesn't have to copy and move thousands of files a day, doesn't have to tweak configuration regularly, must have the app menu taking up the whole screen, if forced to use the terminal must be told which program does what if it's not installed etc.
Nothing wrong with that but I must feel I am more in control of my system than that.
No one cares!

About? KDE? This is a gnome thread