Believe it or not, I have 2 pacman.conf files:

I believe I can delete the non-highlighted one (please confirm) as glib2 is not in there.
In the highlighted file there is this: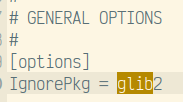 probably due to the downgrade as per the last line in @eso's step 1 above.
So, what should I do next?