Hello everyone. As the title suggests, I am about to begin conversation on traditional foods/drinks.
Here, in India, summer had arrived and is in early phase where temperature of my location is nearing 40 degrees !!.

In next 15-20 days it is expected that temperature will soar further, taking the temperature above 45 degrees. In India, due to varying geographical locations, every state experiences different style of summer. Thus, different cultures had derived different tradidional ways to counter it.
Below I am sharing An India map which shows variety of natural drinks which is used different states.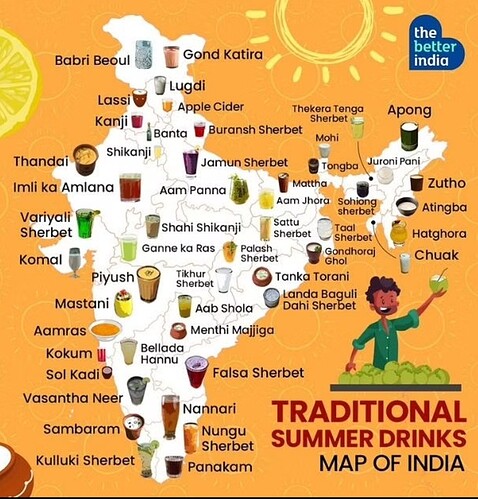 As you can see, there are variety of drinks across India. All these drinks are enjoyed even in nearby Festival( Holi ).
I want to know, what are the TRADITIONAL FOOD/DRINK(NON-BEER BASED) of your region which are regional specific ?
In short, TRADITIONAL( or SEASONAL) CUISINES WHICH ARE REGIONAL SPECIFIC.