That look nice place for live
I lived there for 20 years when i was married to 1st wife I still go and visit.
My laptop has garbed it's winter shroud…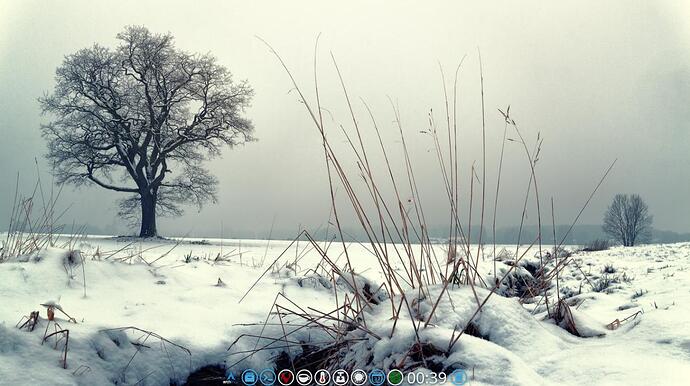 BTW, I hate that Simply White Circles, simply isn't white circles any longer.
Raspberry Pi 4b 4GB running EndeavourOS Budgie from a USB device, no micro SD card.
2 GHZ clock speed (1.5 Ghz default) 750 Mhz GPU speed (500 Mhz default)
28 degrees C CPU temp at idle.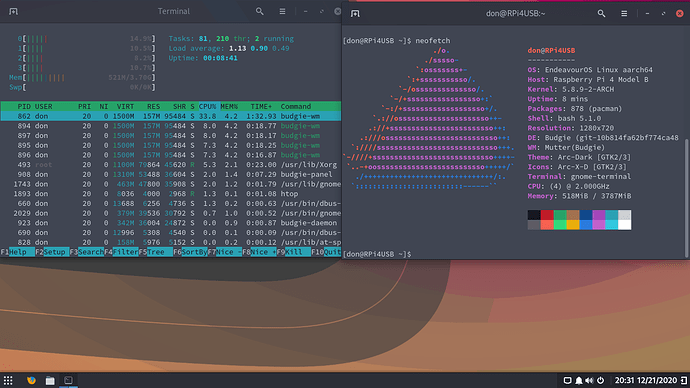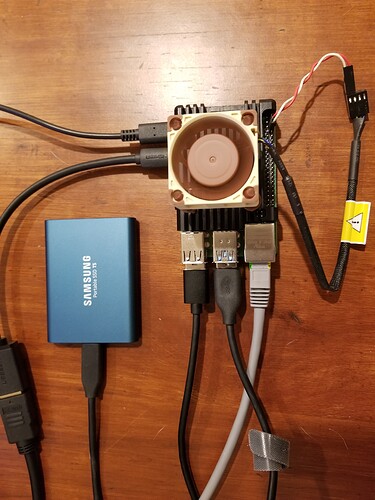 Running off a Samsung T500 500GB USB 3
Pudge
…When the biggest problem is where to fit all the ports.
That little fan must be buzzing like annoying mosquito
kernel from official archarm repo?
That little fan is very quiet in this setup. The fan sits about 3 feet from my ear and I don't even notice it.
EDIT: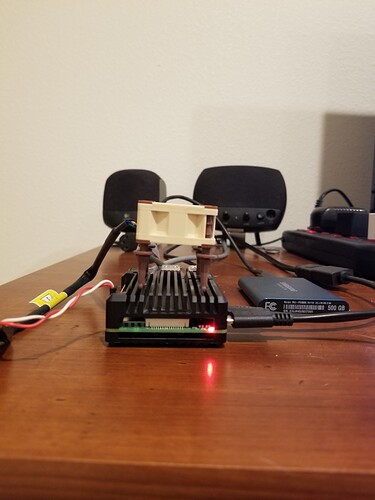 Notice the fan sits up in the air on silicon mounts that come with the fan. If you hold a fan up in the air with your fingers, it is very quiet. Put it into a case and it's noisy. Two reasons. Holding in the air = no backpressure. In most instances, put the fan in a case = considerable back pressure. The other reason for fan noise, in most instances, most fans transmit mechanical vibrations to the case. The silicon mounts eliminate this, and put the fan away from the heatsink to reduce back pressure. Looks funny, but effective.
Pudge
you make me decide . I buy one now
it look fun
That's interesting, for Pi


And how good is the cooling with such long silicon stands? (i mean with fan vs without)
@Shjim The RPi 4's are fun little computers. I have used several in various places.
The Argon One Pi Case also has the fan a distance away from the heat sink. It works like the standard heat sink and fan system you use in your computer. It is all about airflow. Despite the distance between the fan and the heat sink, the fan is still pushing cool air onto the heat sink. This causes the heat to dissipate. Sometimes I have found that having the fan a little distance away from the heat sink is more efficient than having it right next to it.
In the setup shown above, with the fan is about 10 degrees C cooler at idle, and about 7 to 8 degrees C cooler at moderate load.
Sorry it took so long to reply, I had to dig through my notes to find this.
EDIT:
Write up on how to achieve USB boot is in the works.
Pudge
usb boot that interesting. i wait to read
but i no take cable management lesson from you

it from nadiaholmquist … close enough

just notice your post
can you share the wallpaper please?
Note: I THINK this is the right one; I had to look around because the first two places I downloaded it from had compressed it so it was blotchy.