I'm trying to setup a hp printer but it gives a cups network error.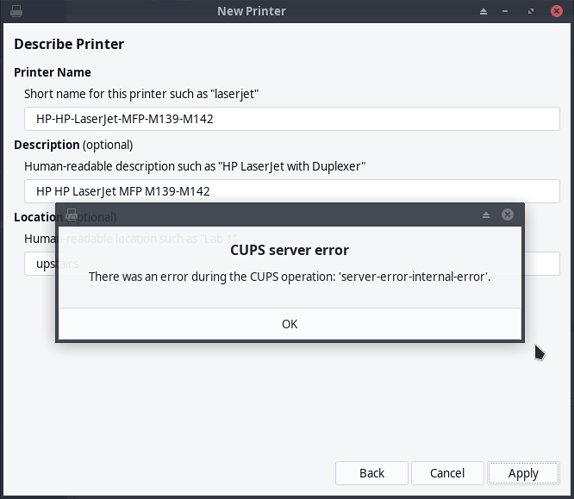 When I try to run hp-setup I get this:
[kiran@kiran-81w4 ~]$ sudo hp-setup -i
HP Linux Imaging and Printing System (ver. 3.22.10)
Printer/Fax Setup Utility ver. 9.0
Copyright (c) 2001-18 HP Development Company, LP
This software comes with ABSOLUTELY NO WARRANTY.
This is free software, and you are welcome to distribute it
under certain conditions. See COPYING file for more details.
(Note: Defaults for each question are maked with a '*'. Press to accept the default.)
---
SELECT CONNECTION (I/O) TYPE
Num Connection Description
Type
---
0* usb Universal Serial Bus (USB)
1 net Network/Ethernet/Wireless (direct connection or JetDirect)
2 par Parallel Port (LPT:)
Enter number 0…2 for connection type (q=quit, enter=usb*) ? 1
Using connection type: net
error: No device selected/specified or that supports this functionality.
[kiran@kiran-81w4 ~]$