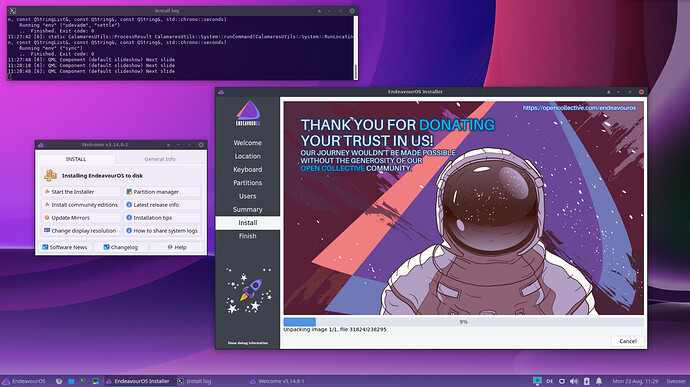 I love the scifi/neon/astronaut theme
Thank you for the fantastic convenience tools from your repo!
yay looking forward too it

That wallpaper and the installer background. Gobble Gobble!
Like the new installer background.

Thanks guys!!
I just got the mail offering me as a backer to test it early, but I won't have time until next weekend so…
I'll probably give it a test run this afternoon and make sure all is well.
I'll probably remember to download it and put it on a USB about a month or 2 after it's out. I'm not very good at getting releases downloaded and copied over quickly. Mostly when I find that it fails to install on something, then I'm like "Oh, I should see if there's updated installer".
THIS one you will want to try out - even in a VM. The rocketship is not just for show!
i've been inside looking at the new online Calamares config
likes the new fashion
name: "system-defaults"
name: "X-system"
name: "GPU drivers"
name: "Network"
name: "packages management"
name: "desktop integration"
name: "filesystem"
name: "fonts"
name: "audio"
name: "hardware"
name: "power"
name: "EndeavourOS Apps"
name: "EndeavourOS applications selection"
name: "Firefox language package"
name: "LTS Kernel in addition"
is very much looking forward to the new EOS release
looks really good
good work EOS Team
Cant wait to get that iso! Friday is perfect for distro hoping back to eos!
Very Cool! Can't wait to try it out.
is there a test (beta) iso i can try to test?

we do testing internal, and currently we are preparing the release ISO so no testing before release sry

As we do prepare all the structure changes on GitHub and inside the code to merge to main branches.
okay then i have to wait

Is worth the wait to get the new Millenium Endeavour ISO which blasts you into the EndeavourOS universe at Hyper Network Speed.

A tip to make the wait worth while: measure the time to install any DE in online mode with the current EndeavourOS ISO. You'll see!
I say no more.
I anxiously await
i have run with endeavouros-2021.04.17-x86_64.iso
and really liked endeavouros
many of my screenshots in share your desktop are with endeavouros
and I only run with wm not DE
right now i'm testing archlabs for a friend now
I only have a computer and do not run with the vm as I can not make it work optimally
so on friday i delete everything on my computer and start over with endeavouros new release
not good English i know
If your machine has say 8 GB of RAM or more, then you could make simple distro hopping tests in a virtual machine.
It is easy and quite fast after getting to know how to do the whole thing.
Sure it doesn't show everything about a distro, but gives a general idea of it.
I will do a reinstall with the new ISO tomorrow. Got stuck watching let's plays of Roguebook today, as you do.