XD thanks bro i appreciate that
Are you running on Wayland?
Can you logout, click on the little session icon close to the login and you should have the option to select x11 or xorg. Nvidia and Optimus don't work on Wayland to my knowledge.
Edit: something like that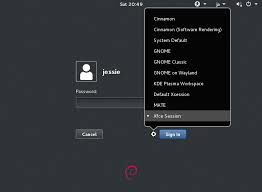 I am not sure about gdm-prime. Maybe that when you click on your icon it appears somewhere left or right bottom side.
click on your username and it will come
oh now it is working thank you so much guys <3
Easy peasy then

you can mark the thread as solved, whichever post you think solved your problem. So that someone finds easily the answer in the future.
I don't think so. You just gained knowledge how to switch from Wayland and xorg, and that hybrid graphics work generally better on xorg.
Some useful info to learn more with time…https://wiki.archlinux.org/title/wayland
this was the solution
and not this
Edit: just in case others should use this solution
You should try Envycontrol, it is simple af and plays nicely with GNOME. You also won't have to replace GDM with GDM Prime.
This topic was automatically closed 2 days after the last reply. New replies are no longer allowed.