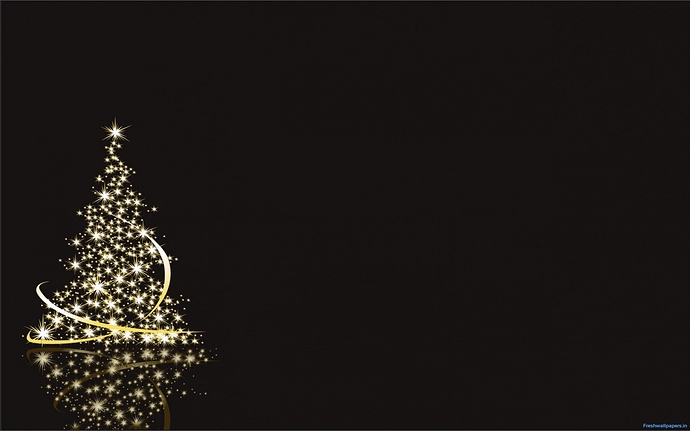 Christmas is nearing and another year is about to close. I've said it before butI'll say it again: 2019 was a year for the books for us.
It actually feels like last week when I proposed to keep the community feeling on another platform when Antergos announced their end.
As you know, when Joe, Fernando and Manuel joined me the course of the direction changed.
Now we're here 7 months later down the road with a distro that made a dream start and an excellent community.
We are grateful to the core community members that followed us from Antergos and also the ones who joined us after EndeavourOS was launched.
Your input, whether it's helping another community member, donating or helping in the development, has surpassed our expectations. Thank you all so much for this fantastic year.
Having said that, I want to thank some individuals for their continuous drive and support:
@fernandomaroto, @joekamprad, @manuel
Thank you for putting up with me, you kept sticking with me even when I was unrealistic, impatient, panicking or angry.
I can't express how grateful I am for the work you did and are doing, it certainly is a privilege to be on this journey with you at my side.
We did it and we certainly can be proud of what we did, I love you guys!!!
When we still were on the Antergos forum, I approached you to join us. Your answer was that you were too busy and couldn't commit to a project like this.
When we lost our original visual designer (due to my impatience) you came through and gave EndeavourOS it's branding.
Thank you for giving us that valuable gift and EndeavourOS is as much your baby as it is for Joe, Fernando, Manuel and me.
You approached me before we had a website to put the Spanish Endeavour Telegram group as part of your group and ever since it is rolling smooth, without us having to worry that our Spanish community is taken care of.
Muchos gracias, senor.
@Ringo, thank you for your effortless input on the forum but most importantly on Telegram. You've been with us since the early beginning and never stopped showing your support.
@Ricklinux, like Ringo you've been with us since the early beginnings and your support in the forum and also behind the scene is priceless. Thank you so much for showing up every day and for sharing your knowledge with the community.
@FredBezies, What can I say to you? Without your testing and advice, EndeavourOS wouldn't be in the current state. Thank you for finding time for us in your busy Linux life.
@Pudge and @Resiliencia We go a long way, thank you for coming along with us and for your input and effort (Pudge thank you for the advice you gave me, that I could use for Discovery.)
@FLVAL You joined us recently and you already contributed for a year. Thank you for your advice and for keeping Endeavour in the right orbit.
@anotherusername and @UncleMez Thank you for your enthusiasm and your valuable input. You've joined recently and we hope you stay with us for a while.
@FLVAL, @folgui, @juanprm, @VlPo, @VanQuijote, @Xterminator, @patryk, @Anticupidon and @DevNul
Without you, Endeavour announcements were only available in English. Thank you so much for taking the time to translate my waterfall of words, I call announcements.
Moses Narrow
Thank you for joining and helping bring more technical articles to Discovery, I have a feeling we can make great things together.
Thank you so much in finding time to sort out the legal stuff.
To show you our appreciation we have a gift for you.
This weekend we will release the community development release of the net-installer
Keep an eye out on the announcement.
MERRY CHRISTMAS EVERYONE