Oh…! I thought all the "kio" family will be there in Arch repos.
I just tested a fix that the recoll maintainer did. It works great now.
I also reached out to the AUR maintainer to see if he would add me as a maintainer or orphan it so I could pick it up and keep the AUR package up to date.
I really do not know how to thank you @dalto for all what you are doing, for all what I am learning from you.
This is great news.
I hope EOS would consider including recoll and the fix for BTRFS at least instead of Baloo so everything works perfect.
Can I do it?
Or better wait?
I can give you a working PKGBUILD but it might make sense to wait for him to actually release the changes instead of building off the unreleased code.
It is up to you though.
Either way, I will be offline for an hour or two while I make some network changes here.
Sure, this is definitely better… a 3 months old noob like me should not attempt to build … else… (I have already messed up more than enough)
Take your time… no problem… I will wait for the official release!
You are working on Sunday?
To be clear, the network at my house.
My network setup is slightly more complicated than what is probably typical in most homes.
Since my wife and I both at work from home, I have two internet connections. They are configured in two separate failover groups with some traffic being routed over each group.
Then I have 7 different lan segments with firewall rules managing traffic between them.
It isn't a huge deal but I replaced my router/firewall and getting it setup and tested is just time consuming.
OMG!!! I count myself lucky as we are 4 at home and sharing the WiFi! Some times I need to restart the router… too much for me!

This is not a huge deal!
Well, for pros, if they say so!
I didn't even understand some of what you said

This is now updated in AUR.
You should be able to install it with:
yay -S kio_recoll

It seems to be working cleanly here.
Results are also quite fast. Let me know if it works for you.

I just installed… working great with Dolpin.
@dalto , you are a great man… an asset to EOS.

P.S.
Though I marked it solved, but for recoll to work with Dolphin I have to put "recoll: search term" in the address bar.
I wish if there is a way to just search normally as it used to be with Baloo or with text files.
That would require the kde project to make modifications to dolphin itself which seems unlikely.
I did it though (sort of):
Dolphin → Configure → Configure Dolphin → Startup → "Show on startup" I put in the field just recoll:
So, whenever I start Dolphin, I just click the address bar and write my search phrase.
This is a bit more convenient.
What do you think?
UPDATE:
I even added "recoll:" to places… so if I want to search I click recoll from the left and search.
You are amazing @dalto.
You made a lot of effort and was so patient with me. I highly apreciate all what you do/did.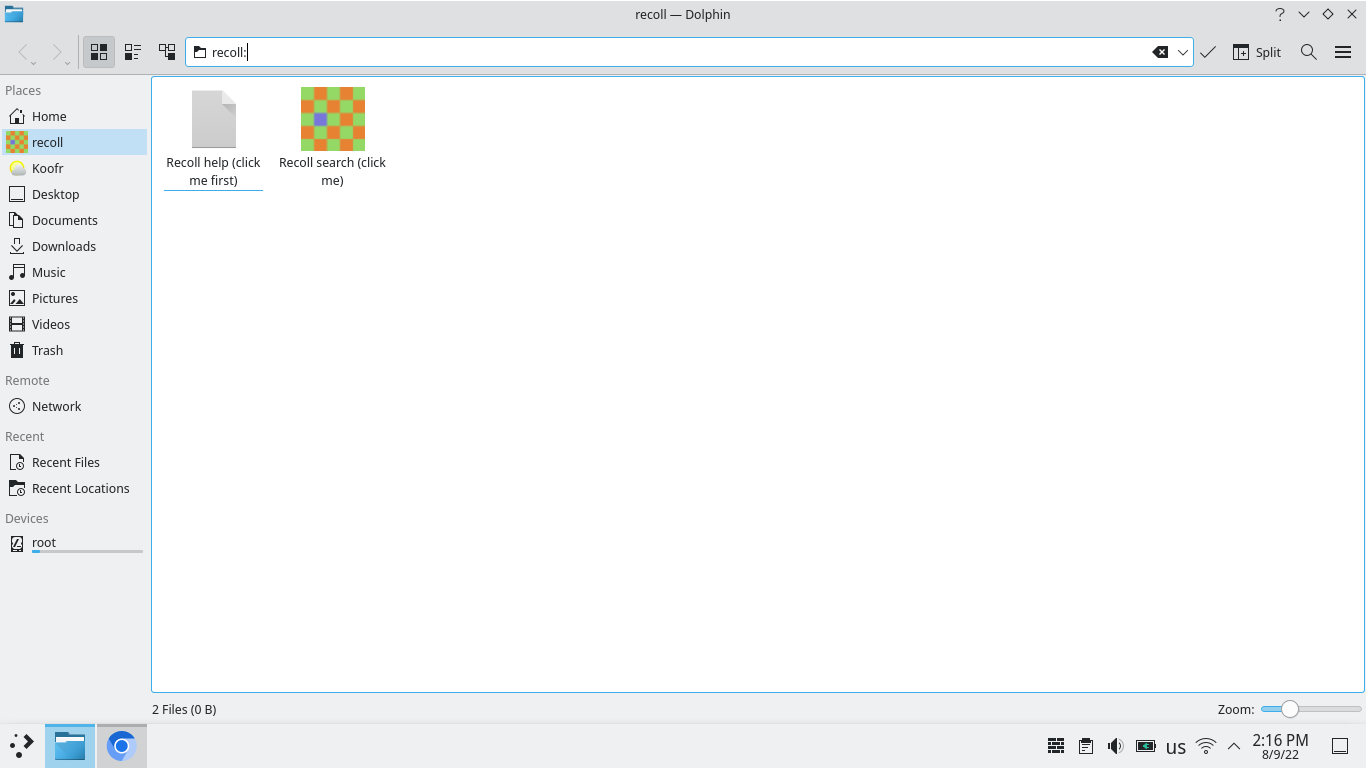 Just to think loud with you.
I am now dreaming of having the next ISO/Update/Upgrade to include this solution.
disable Baloo
install Recoll and its kio stuff
Have a working BTRFS with file indexing and search without the hassles of Baloo.
There is not much chance of this happening.
EOS provides a minimally opinionated installation meaning that we ship almost everything with the upstream defaults. From there, users are encouraged to customize their install to match their preferences.
I see, at least I hope users can do it now anyway!
Just to update you guys,
JF (Recoll developer), emailed me (in reply to my brief email that I did the above) inquiring how I made it so that he can include it in the documentation.
I gave him details and link to this post above.
I am glad I am contributing something to the opensource community.
Very nice and helpful discussions took place in this topic. I am grateful to you, as I also learned few things from @dalto and @Kresimir . Thanks.
Oh no, thanks a lot… I was seeking help mainly.
Yes… they contributed a lot and helped me a lot.
Both are big assets to the community and to EndeavourOS.
I thank @dalto and @Kresimir a lot for their contributions, their help to me and most of all their patience with a few days old noob, that is me!
This topic was automatically closed 2 days after the last reply. New replies are no longer allowed.