5.15 is shown in the package instead. I wanna move to 6.1 LTS a lot.
Kernel 6.1-lts is in testing repo. take a look here
6.1 is the latest stable kernel. As soon as kernel 6.2 is released, it will be the latest stable kernel and 6.1 will become the LTS kernel.
This is only in "testing". Lets see when it gets promoted to stable.
The latest and lts will never be the same kernel. 6.1 won't get the lts label officially until the 6.2 hits latest.
that might have been true in the past, but this time they are kind of in a hurry:
ll
total 12
drwxr-xr-x 2 root root 4096 Feb 19 10:22 6.1.12-1-ck
drwxr-xr-x 2 root root 4096 Feb 19 10:23 6.1.12-1-lts
drwxr-xr-x 2 root root 4096 Feb 19 10:23 6.1.12-arch1-1

Reason:
Still true. Currently in Arch Core - Linux 6.1; LTS 5.15. You're looking at the testing Repos.

You can see if you include testing repo they would be the same which makes sense.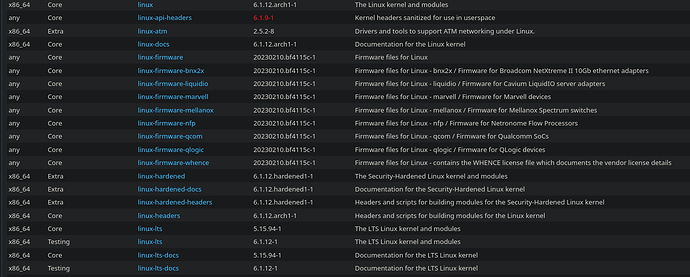 Arch isn't going to just "be in a hurry" to release the kernel. That would be a first, and a strange thing for them to do. You can't have the latest and long term kernel the same. That doesn't make sense.
Thanks for the feedback, I'll wait until 6.2 is released and 6.1 becomes LTS
It usually goes pretty quick. You'll be there very soon.

I am always on testing. The last changes in LTS Kernel version, they didn't even update in testing before the new kernel arrived. But this time they did, because of the Bug report I linked. My guess is that LTS 6.1.12 will arrive in stable latest tomorrow, while 6.2 will only come to stable by the end of the week, earliest.
that is also true for testing, and yet, they still did this time …
We will see. I don't ever recall that happening in the last 4-5 years of me using Arch. . . but I can't say it's never happened. I'd have to ask some of the great minds that have been doing this far longer than me.
@Stagger_Lee - This seems odd, and like something you would remember - do you ever recall the latest and lts being the same kernel at the same time before?
Eh, maybe it's happened, but I don't recall it.
It might have happened that linux-lts was at the same version as linux for a few hours, but I don't recall it ever being more than that.
I also don't remember LTS ever being the same version as mainline. And I update several times a day…

Fair enough. I figured if anyone would remember that, it'd be you. Your ability to remember these kinds of things has always baffled me.
On the flip side, I don't recall frogs having the best long term memory, so, while it's helpful, I'm not surprised you wouldnt' remember. hahahaha

@fbodymechanic look at that FROGGE looking in top left corner, clearly trying to remember something…