Thanks @pebcak, so I only have…


I sent Jan Steffens an email offering help.
What's wrong with this picture?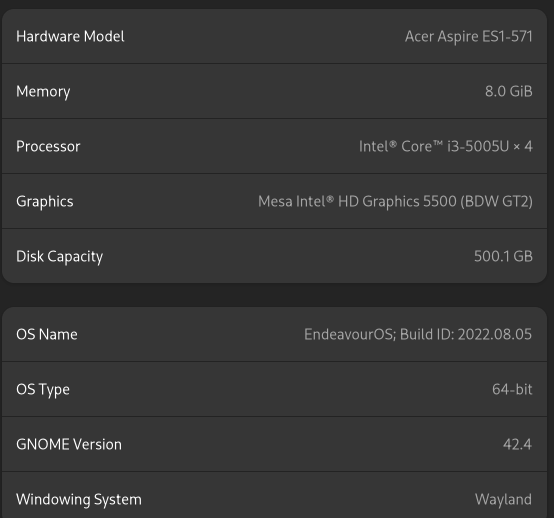 I have still not heard back from Jan Steffens in over a week.
It's not kde?

You mean the version mismatch? I'm not absolutely sure, but what gnome control center shows is not the version of gnome-shell, but the version of the gnome-desktoppackage (could be another package as well - not sure)
[ricklinux@kde-plasma ~]$ pacman -Ss gnome-shell
endeavouros/arc-gtk-theme-eos 20220405-1
    A flat theme with transparent elements for GTK 2,3,4 and Gnome-Shell
extra/gnome-shell 1:42.5-1 (gnome) <<<<<<
    Next generation desktop shell
extra/gnome-shell-extensions 42.3-1 (gnome)
    Extensions for GNOME shell, including classic mode
community/arc-gtk-theme 20220405-1
    A flat theme with transparent elements for GTK 2,3,4 and Gnome-Shell
community/arc-solid-gtk-theme 20220405-1
    A flat theme for GTK 3, GTK 2 and Gnome-Shell (without transparency)
community/gnome-shell-extension-appindicator 44-1
    AppIndicator/KStatusNotifierItem support for GNOME Shell
community/gnome-shell-extension-gtile 50-1
    A window tiling extension for Gnome
community/mailnag-gnome-shell 40.0-2
    Mailnag GNOME Shell extension
[ricklinux@kde-plasma ~]$ 

can confirm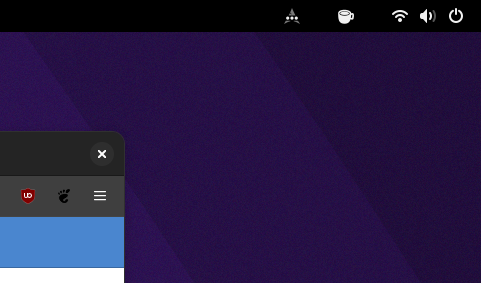 strange… re-install the packages maybe?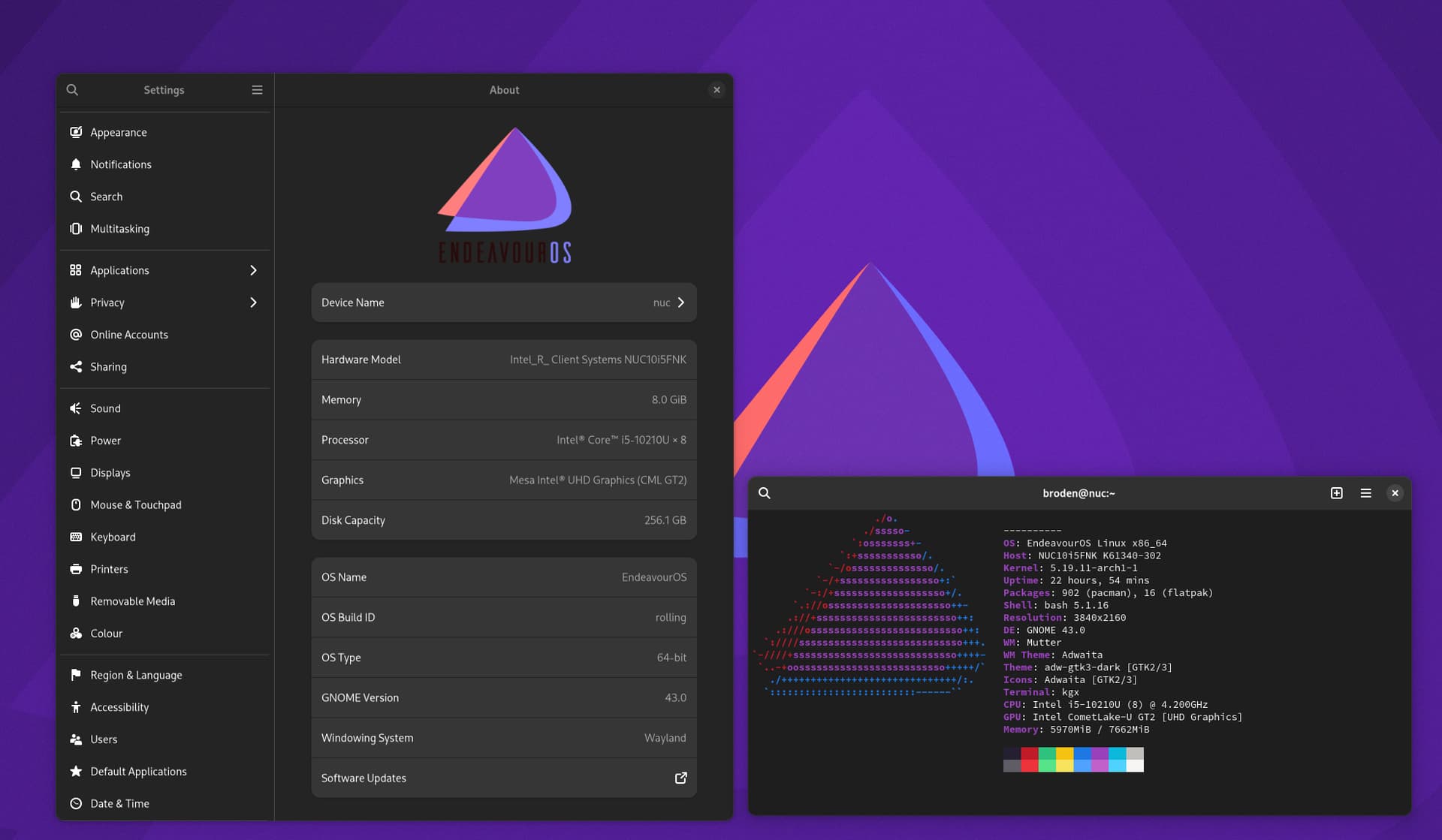 all good over here in 43 land!
WebKit isn't Safari Rendering engine lol Safari uses WebKit yes, but its not tied to Safari. It was originally a KDE project.
Also Vilvaldi uses a fork of WebKit FYI, Blink is literally WebKit but with Google sauce. XD


![Screenshot from 2022-09-29 12-50-31|690x193]
Here is Gnome Web (a.k.a. Epiphany). Maybe the site is not detecting properly.


So you both are right. From the same page (Wikipedia):
WebKit's HTML and JavaScript engine started as a fork of the KHTML and KJS libraries from KDE,[1][9] and has since been further developed by KDE contributors, Apple, Google, Nokia,[9] Bitstream, BlackBerry, Sony, Igalia, and others.[10] WebKit supports macOS, Windows, Linux, and various other Unix-like operating systems.[11] On April 3, 2013, Google announced that it had forked WebCore, a component of WebKit, to be used in future versions of Google Chrome and the Opera web browser, under the name Blink.[12][13]

WebKit is available under the BSD 2-Clause license[14][8] with the exception of the WebCore and JavaScriptCore components, which are available under the GNU Lesser General Public License. As of March 7, 2013, WebKit is a trademark of Apple, registered with the U.S. Patent and Trademark Office.[15]
Also see:
Epiphany uses the Safari user agent as its the most compatible with the browser due to more similar features. You can make it think Epiphany is FireFox or Chrome if you want to, chrome usually works fine but Firefox user agent breaks things in Epiphany as FF use the only non WebKit based engine.
Epiphany is 100% from scratch built on WebKit. Using this logic the PS5 and Switch browsing engines are Safari because they're also WebKit

have just read our ego on the fly …
Yeah I'm not sure the how or the why Apple has trademarked WebKit as a name and logo. The current WebKit 2 is open source and usable by projects that want to so idk.
Yes and no, Epiphany shares features with Safari but they're not the same browser no.
There is a thing named user-agent in all browsers that can be changed with some browser like Firefox, or with addons… it tells the website you call which browser you have, or which settings for websites you can optimally prefer… study user-agent.