Also. Where is gnome 43? Come on Arch, it's taking you too long. This is stupid.
Later:
Gnome 43 is broken and sucks, why did you let it hit the repos so fast. This is stupid.
Typically said by users who don't package or maintain anything themselves; always found it a bit out of touch. If you really want something, by all means help out to make it happen.
I know you jest, I'm willing to bet Gnome 43 will be a significantly better release than 42 was, but that's just my own gut feeling more than anything. Most of the Fedora 37 Beta worked just fine for me, other than some occasional freezes in Overview, but that can be blamed on my Nvidia card…
Ok let me package that thing!
I'm just pointing out, the world is basically just people who hate things the way they were and those who hate the way things are now.
Like people who hated unity at launch, love it now that Ubuntu ditched it. But it has a come back as official distro

There's actually very little I don't like.
I don't like deepin cause outside of debian 2005 it doesn't work. I don't love pantheon cause you can't do ANYTHING with it. And I don't like Manjaro.
I am grateful that these things are made available to me for free! It's easy to rant but not contribute. I wish I could contribute more.
Be a tester. Anyone who can install, can test. The more hardware the better.
Bonus, you get to try things before the masses

I have lots of hardware if I combine home and work, not kidding. Do you mean eos iso? or gnome?
EVERYONE loves testers. Find bugs, it's helpful for everyone. Contact @joekamprad if you're interested.
If I had skills he needs, I would gladly help. Actually, I will still email him.
Gnome43 is getting better, as it seems on Fedora Rawhide, at least. Extensions are catching up to be working better by the hour…
Today, upgraded my Fedora 36 to Rawhide on my old iMac (2009) and, after deleting gnome-software and running dnf-dragora instead it runs great on Xfce-DE, and on Gnome43.
The dash-to-dock gnome-shell extension doesn't crash anymore there, as opposed to my VM-install (VirtualBox on MacOS 10.13.6 host, Fedora Rawhide guest).
Just "some" news from the "front-line"…

I tried Gnome 43 on the nightly build in Boxes, and its still missing quite a few features, but I am sure they will be there by the first point release. I normally don't upgrade until the first or second point release anyway.
Epiphany is yet to integrate the WebExtension API support, so I won't be using GNOME Web (Epiphany) until they do. Even then, I am not sure this Safari rendering engine is the way forward, so Vivaldi remains my daily driver.
Given Gnome for Arch has only one maintainer, we could be in for quite a wait anyway. 42 serves me well for now, and taking the leap to 43 right now would hinder my workflow, so I am quite happy to stay where I am, at least for now.
Porting so many packages to GTK4 has been a feat in itself. Fully resizable Nautilus windows is a neat feature, although I spend most of my time in Ranger.
GNOME devs put a lot of work into Wayland from the beginning and I am sure it will pay off in terms of adoption, but I am not so sure the Nvidia crowd will be so excited about it. Wayland is working flawlessly for me, but then, I don't have Nvidia.
They say, you either love GNOME or hate it, and overall, I think GNOME is moving in a good direction, so by 43.1, I am sure it will have been worth the wait.
Over the weekend I learned that, by accident Fedora Rawhide's newest kernel broke my WiFi on the MacBook Pro 8,2.
Trying to fix it was impossible after all, so I rolled back to Fedora 36, which was not really an easy ride. Yet I wanted to omit a fresh install by any means.
In the end, I succeeded and now am back on F36 with everything working well. So, back on Gnome 42.4 on Xorg as main DE on that machine: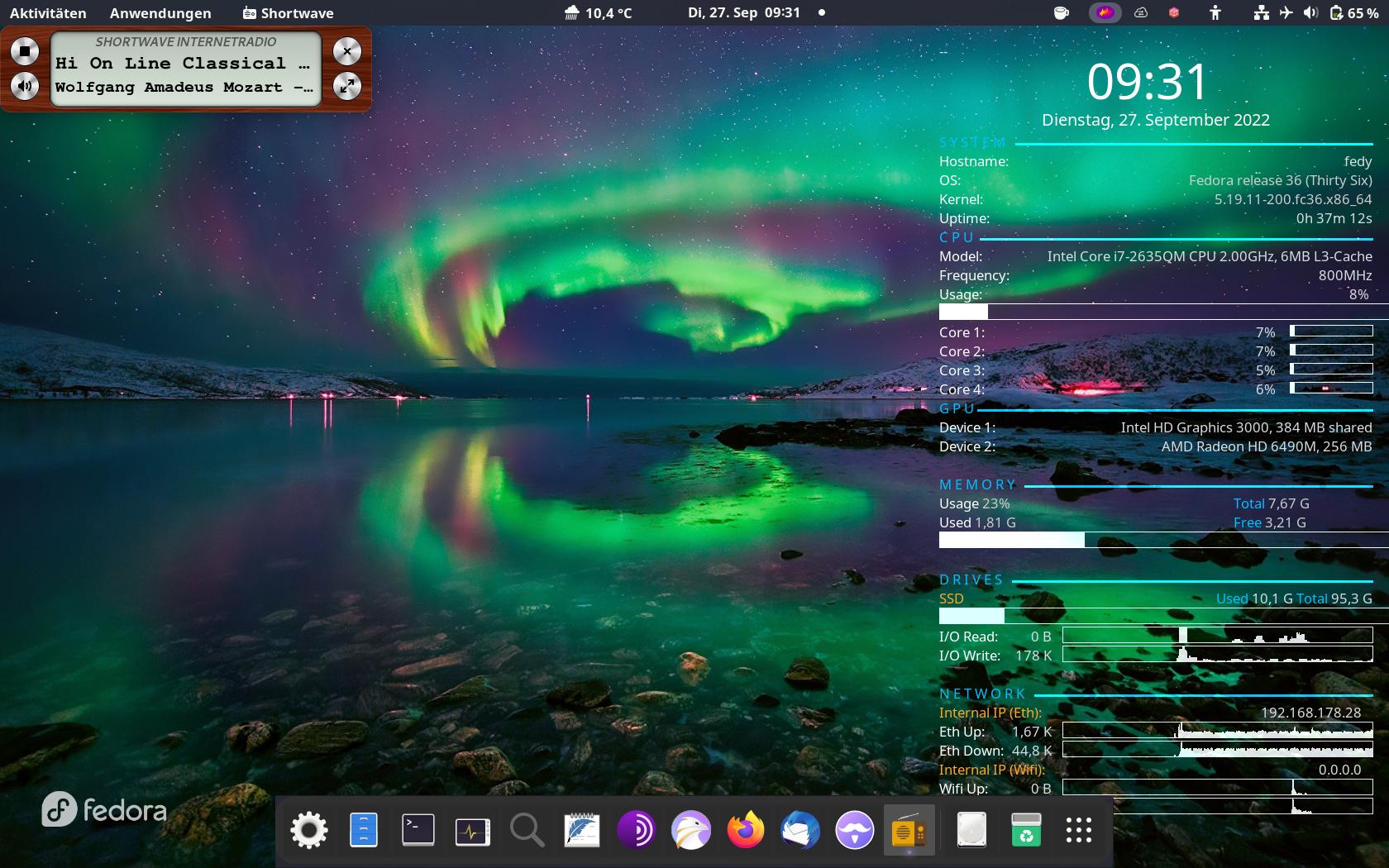 I yet have to check my iMac and see what happens there with Rawhide. So far there hadn't been any issues.
I have a Late 2016 iMac on Monterey and I am sure Apple has no plans to fix all the bugs in Monterey for Intel users. Could the iMac could be a candidate for a Linux build with Gnome 43?
If so, which OS would you suggest for maximum hardware compatibility like wireless and bluetooth etc?
I guess so, if you familiarize yourself with the ins'n'outs of the whole matter. A place to start your research could be my post here:
I have a Late 2009 iMac running on Fedora-Rawhide with Gnome 43 and Xfce in parallel…
If you have any specific questions, don't hesitate to ask me, or PM.
Just had this update
Package                                   Old Version                   New Version  
community/gnome-shell-extension-appindicator  42-1                          43-1

So perhaps it is working now on GNOME 43?
My Arch systems are still on 42.