Forgive any lack of / poor terminology, I'm new to Linux.
I created a live USB of Endeavour using Rufus on my main driver so that I could dual boot it onto my laptop with Win10 on a separate partition. Freed up around 300GB on my disk, disabled secure boot control in the ASUS laptop's UEFI, and set the USB as my first option to boot into.
Booted up, got to the pre-install screen (i.e. selecting proprietary or default drivers, EFI shell, and rebooting into firmware interface), chose default drivers, and ended up on this screen: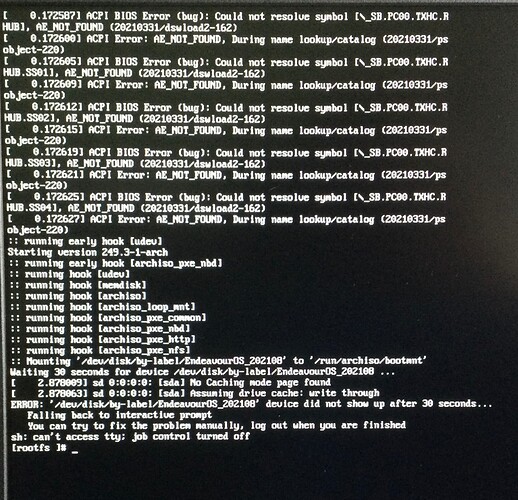 I had a similar issue when trying to install Manjaro on the same laptop, where it fails to find a device and gives the sh: can't access tty; job control turned off message, except in Manjaro's case it mentioned not being able to identify a specific UUID.
Any idea what keeps causing this or what I could do about it? I've booted Endeavour into a vm on my main driver and everything went perfectly, I don't know why I get so much grief from my laptop?
Thank you and sorry if I explained the issue poorly.