Greetings lovely community,
Been using pipewire for a couple months, some minor hiccups along the way, but it's more or less worked decent enough (still needs some work if I'm honest). Recently I've been having some audio issues since last week and I think it's because of the pipewire 1:0.3.52-1 update from June 10'th. My current issue is whenever I play some music (I'm always using a bluetooth UE Boom 2 speaker) in Rhythmbox, pause it, then say play a podcast in Gnome Podcast, the audio jumps to 100% for less than a second before going back to the correct volume I had it at which is around 30% volume. This is extremely jarring and unsettling to say the least. Sometimes when I'm pausing/unpausing/skipping audio in Rhythmbox, this same effect will happen where the audio jumps to 100% and then immediately drops back down to the correct audio level that it should be at.
If I'm just playing music continually, the effect does not happen. It seems to only be reproducible when starting/stopping some type of audio. This issue was not happening over a week ago, so I believe it's more than likely a bug/regression in pipewire, but I would like to try downgrading just to be sure if I can reproduce it or not. I'm running wireplumber as well, but this issue also happens when testing it on pipewire-media-session too. I didn't see this exact issue up on Pipewire's git page, so I figured I might as well try a downgrade first.
When using my bluetooth on Gnome, under Sound settings, this is my configuration for it. I can use either SBC or SBC-XQ codecs as they produce the best audio quality, and from my limited testing for this issue, it seems it happens more frequently under SBC so I've opted to use SBC-XQ instead, but the issue still does happen on both unfortunately.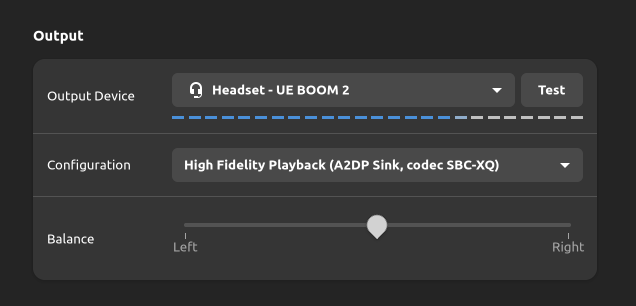 Admittedly, I've never had the need to downgrade a package before, so I'm wondering if there's anything I need to do or consider besides running downgrade pipewire ? Pipewire is required by mutter, wireplumber, and a few others. Will downgrading pipewire also downgrade any of it's dependencies too or no? Would just really like to downgrade pipewire to see if that is indeed the problematic package or not. This issue also happens on Zen, LTS, and Linux kernels btw. Thanks for any helpful advice!
[scott@EndeavourOS ~]$ pacman -Qi pipewire
Name            : pipewire
Version         : 1:0.3.52-1
Description     : Low-latency audio/video router and processor
Architecture    : x86_64
URL             : https://pipewire.org
Licenses        : MIT  LGPL
Groups          : None
Provides        : libpipewire-0.3.so=0-64
Depends On      : alsa-card-profiles  libdbus-1.so=3-64  libncursesw.so=6-64
                  libsndfile.so=1-64  libudev.so=1-64  libusb-1.0.so=0-64
                  libasound.so=2-64  libsystemd.so=0-64  libbluetooth.so=3-64
                  libsbc.so=1-64  libldacBT_enc.so=2-64  libfreeaptx.so=0-64
                  libfdk-aac.so=2-64  liblilv-0.so=0-64
                  libwebrtc_audio_processing.so=1-64
Optional Deps   : pipewire-docs: Documentation
                  pipewire-session-manager: Session manager [installed]
                  pipewire-alsa: ALSA configuration [installed]
                  pipewire-jack: JACK support [installed]
                  pipewire-pulse: PulseAudio replacement [installed]
                  gst-plugin-pipewire: GStreamer plugin [installed]
                  pipewire-zeroconf: Zeroconf support
                  pipewire-v4l2: V4L2 interceptor
                  pipewire-x11-bell: X11 bell
                  realtime-privileges: realtime privileges with rt module
                  rtkit: realtime privileges with rtkit module [installed]
Required By     : gst-plugin-pipewire  mutter  pipewire-jack  pipewire-pulse
                  wireplumber  xdg-desktop-portal
Optional For    : sdl2
Conflicts With  : None
Replaces        : None
Installed Size  : 8.03 MiB
Packager        : David Runge <dvzrv@archlinux.org>
Build Date      : Thu 09 Jun 2022 08:06:12 AM EDT
Install Date    : Fri 10 Jun 2022 12:45:59 PM EDT
Install Reason  : Installed as a dependency for another package
Install Script  : Yes
Validated By    : Signature

These are all the packages that got updated on June 10th if that helps narrow anything down a bit:
[2022-06-10T14:08:02-0400] [ALPM] upgraded linux-zen-headers (5.18.2.zen1-1 -> 5.18.3.zen1-1)
[2022-06-10T14:08:00-0400] [ALPM] upgraded linux-zen (5.18.2.zen1-1 -> 5.18.3.zen1-1)
[2022-06-10T14:07:58-0400] [ALPM] upgraded egl-wayland (2:1.1.9+r3+g582b2d3-1 -> 2:1.1.10-1)
[2022-06-10T14:07:58-0400] [ALPM] upgraded linux-headers (5.18.2.arch1-1 -> 5.18.3.arch1-1)
[2022-06-10T14:07:56-0400] [ALPM] upgraded linux (5.18.2.arch1-1 -> 5.18.3.arch1-1)
[2022-06-10T12:45:59-0400] [ALPM] upgraded lib32-mesa (22.1.1-1 -> 22.1.1-2)
[2022-06-10T12:45:59-0400] [ALPM] upgraded smbclient (4.16.1-3 -> 4.16.1-4)
[2022-06-10T12:45:59-0400] [ALPM] upgraded pipewire-pulse (1:0.3.51-1 -> 1:0.3.52-1)
[2022-06-10T12:45:59-0400] [ALPM] upgraded pipewire-jack (1:0.3.51-1 -> 1:0.3.52-1)
[2022-06-10T12:45:59-0400] [ALPM] upgraded pipewire-alsa (1:0.3.51-1 -> 1:0.3.52-1)
[2022-06-10T12:45:59-0400] [ALPM] upgraded libcups (1:2.4.2-2 -> 1:2.4.2-3)
[2022-06-10T12:45:59-0400] [ALPM] upgraded ldb (2:2.5.0-1 -> 2:2.5.1-1)
[2022-06-10T12:45:59-0400] [ALPM] upgraded tdb (1.4.6-1 -> 1.4.7-1)
[2022-06-10T12:45:59-0400] [ALPM] upgraded tevent (1:0.11.0-3 -> 1:0.12.1-1)
[2022-06-10T12:45:59-0400] [ALPM] upgraded talloc (2.3.3-3 -> 2.3.4-1)
[2022-06-10T12:45:59-0400] [ALPM] upgraded gst-plugin-pipewire (1:0.3.51-1 -> 1:0.3.52-1)
[2022-06-10T12:45:59-0400] [ALPM] upgraded mesa (22.1.1-1 -> 22.1.1-2)
[2022-06-10T12:45:59-0400] [ALPM] upgraded pipewire (1:0.3.51-1 -> 1:0.3.52-1)
[2022-06-10T12:45:59-0400] [ALPM] upgraded alsa-utils (1.2.6-1 -> 1.2.7-1)
[2022-06-10T12:45:59-0400] [ALPM] upgraded alsa-lib (1.2.6.1-1 -> 1.2.7-2)
[2022-06-10T12:45:59-0400] [ALPM] upgraded alsa-ucm-conf (1.2.6.3-1 -> 1.2.7-1)
[2022-06-10T12:45:58-0400] [ALPM] upgraded alsa-card-profiles (1:0.3.51-1 -> 1:0.3.52-1)
[2022-06-10T12:45:58-0400] [ALPM] upgraded wireless-regdb (2022.04.08-1 -> 2022.06.06-1)
[2022-06-10T12:45:58-0400] [ALPM] upgraded linux-lts-headers (5.15.45-1 -> 5.15.46-1)
[2022-06-10T12:45:56-0400] [ALPM] upgraded linux-lts (5.15.45-1 -> 5.15.46-1)