I tried to compile kernels myself to use (5.9.2, 5.10.186, 5.15.120) with help of the arch wiki
I had a hard time because of unusual errors but eventually got a working kernel. But neither of the Kernels I compiled I can get into the Desktop Environment I am always stuck at
[ ok ] reached target graphical interface
After that I logged into tty to see whats up but I couldnt really find out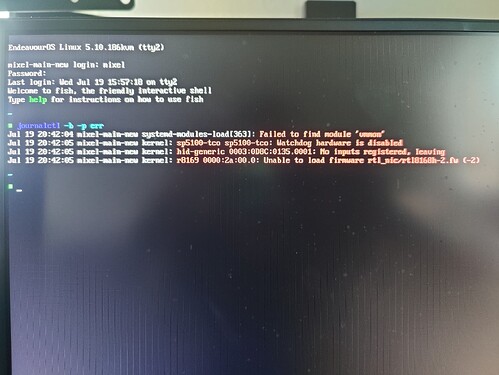 I found out that
vmmon
belongs to VMWare which I dont really care about so I can safely ignore that.
About the other once I have no clue expect the
unable to load firmware
which belongs to my ethernet adapter I think.
On the older Kernel (5.9.2) I get additional Errors/Warnings about EDAC amd64: Error: F0 not found but since these are gone with newer versions I dont think that these are the root cause.
I installed xf86-video-fbdev and xf86-video-vesa which let me use startx but that only gave me 3 broken white consoles scattered around my screen
Also here is an example log I generated with kernel 5.9.2
NOTE
I can start any Kernel that was precompiled with no issue whatsoever but not once I compiled myself
Specs
DE: Plasma 5.27.6
CPU: AMD Ryzen 7 5800X (16) @ 3.800GHz
GPU: AMD ATI Radeon RX 6700XT
Memory: 32GB
MB: B550