Hello.
I wanted to reproduce as closely as possible Xfce version of EndeavourOS but with Mate as a basis.
Here is the result, not a 100% perfect copy, but it better than nothing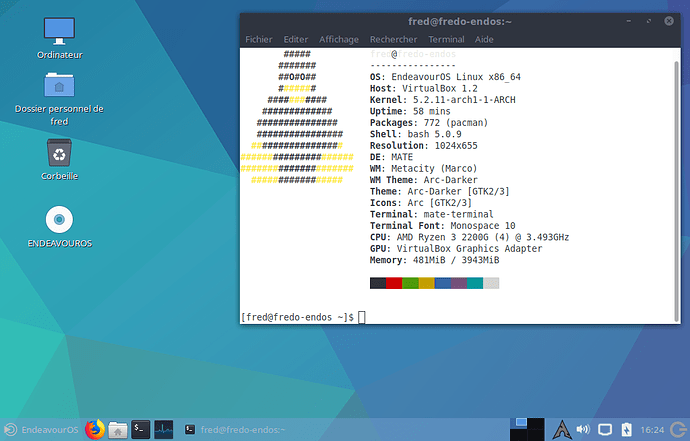 And another screenshot: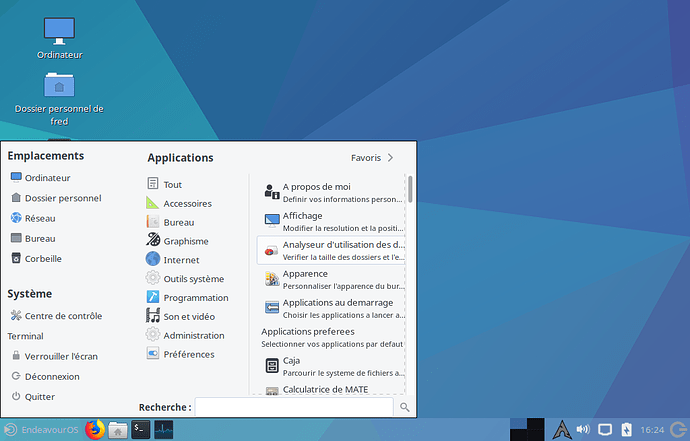 First of all, install EndeavourOS!

Install Mate using wiki: https://endeavouros.com/docs/pacman/how-to-install-desktop-environments-offline-install-users/
Logout and login into Mate. Let's start morphing Mate!
Remove bottom panel and move top panel to the bottom.
Go to system menu / Preferences / Appearance. In Theme tab, select custom theme and modify it:
Ark darker for both controls and windows border
Arc icon in Icon
In Fonts, replace Sans Regular by Noto Sans Regular in each font setting, but not for Sans Bold.
For background, I added it from /usr/share/endeavouros/endeavouros-wallpaper.png
Time to add icons in bottom panel. Right click on bottom panel, add to panel and select applications launcher in this order:
Mozilla Firefox
Caja
Mate-terminal
System monitor
After this add a separator, and then a windows list and a workspace selector.
Right-click on workspace selector and in preferences, in "Show all workspaces" set 2 lines. Add a logout or a shutdown widget and move it on the right of the panel. You'll have to unlock every single component before moving it into place.
Right-click on clock and preferences. In general, uncheck show date.
In order to show energy icon, go to System / Preferences / Hardware / Energy management, and in general tab, check "always show an Icon"
Last part in the bottom panel, the menu. I build from AUR mate-menu package. Remove menu and replace it by Mate-Menu. I tried to replace icon, but it needed a svg icon to work, so… I just changed the name of the menu. Right click on menu button / Preferences / General.
For panel transparency, set it to 45/50%, and select the first blue color in choose colour dialog box.
I removed xfce4, xfce4-goodies, galculator and file-roller. In startup applications, I added an entry for Kalu.
And here it is. Besides icon menu, this is not too bad! Hope you like it!