what do you have as a font, you can take a screenshot
Specifically check Settings>Appearance>Fonts
Hello @zoli62 As @JR29 is asking what font is it actually set to use in the terminal? Also as @beardedragon has said you can change the font in the preferences of the terminal. Choose a font that is suitable and this will fix the issue. We welcome you to EndeavourOS.

Noto sans font is set in the settings.
@JR29 What is this showing? That the text is okay?
Qu'est-ce que cela montre? Le texte est d'accord?
it's the same font as him, but me the theme is dark breeze
@zoli62 So try the Dark Breeze as @JR29 is showing which is using the same Font and see. He has posted his settings.
I've tried to set up multiple themes, but the situation remains the same. I would add that this system was originally installed as Antergos Linux on the internal hard drive of a Toshiba Satellite laptop. Then when I switched to SSD on this machine, it was removed. Now connected to the USB port of an HP desktop computer, it serves as an external bootable hard drive, a quasi test machine.
So it was originally Antergos. Did you convert it over to EndeavourOS? Or Arch and remove Antergos packages and repos?
I converted it directly to EndeavourOs. Of course I removed the Antergos packages and repos. My machine in the production environment has no such problem.
@zoli62 I have all the same settings as @JR29 on my KDE Plasma and no issue so i don't know because it is a standard KDE install. You may have different software packages and settings or something else.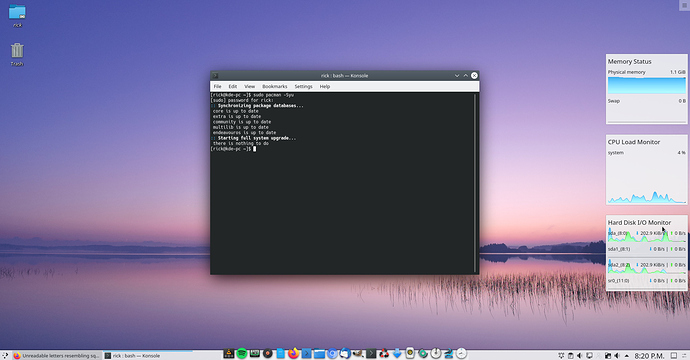 The problem was solved by setting the dejavu font. This was just one of the usual KDE quirks.
I kept getting this too. I finally gave up because i already have a good install from previous which actually is the best install of KDE Plasma i have ever had on any distro and it is mint. The graphical bug isn't the only issue. Try launching something from the start menu.
we will wait for the net install
That is my suggestion too.