Hi!
I'm not sure what's happening here: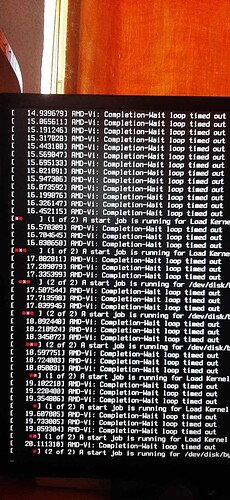 This only happens after i turn on IOMMU in the BIOS. If it's disabled, the system boots normally, and all the PCI devices are recognized.
This is an ASrock B550m PRO4 motherboard, Ryzen 5 5600g CPU and 2 GPUS, one in each PCIE slot, a Nvidia 1060 3GB, and an AMD R7 260x 1GB…
I used to run this setup but without the nvidia card, the iGPU for the host, and the PCIE card for the guest. Worked just fine.
Now i've put the nvidia card as my main one for the host, and the second PCIE slot for the guest (doesn't need full lanes, just for so Affinity can run), and i get this error.
If it boots, all the USB devices are disabled.
WIthout IOMMU, everything's fine.
I flashed the latest BIOS.
The bootloader is GRUB, but this happeens to systemd-boot as well when i tried it.
How do i fix this? I kinda need the virtualization to work with the GPU passthrough.
Thanks for reading!