Please note that the distro described below is not the lightweight Trisquel-mini LXDE distro that caused so much consternation amongst the EndeavourOS community for being just as described - lightweight.

This is the standard offering with the MATE desktop, the default. Based on the popular fork of GNOME 2.x, this edition provides a classic desktop environment matching the user experience of previous Trisquel releases. Trisquel GNU/Linux is a fully free operating system for home users, small enterprises and educational centers.
(For those KDE fans; there is a special Triskel KDE version – note spelling.)
Please note that there are no references to being "lightweight" even though at idle you can expect less than 350MiB RAM used – with many useful apps loaded - less resource use than EOS Xfce offline install with just LibreOffice and Welcome panel…!
It has been my everyday tool for a couple of years working faultlessly on my old HP G60 3MiB RAM Intel(R) Core™2 Duo CPU T5800 @ 2.00GHz Hitachi 2.5 inch SATA hard disk drive. Now replaced with SSD which has speeded boot up and app launches considerably.
It has had a well deserved rest over past month awaiting v10 as I am using Endeavour Xfce on a better specified Dell Latitude i7 – though smaller screen and no number pad.
There is little point reviewing Trisquel MATE further here as DistroWatch has tested it and reviewed here….
… except to mention v10 coming soon (testing cdbuilds link below) and highlight the excellent Abrowser, 50 languages, and special edition of LibreOffice from the Document Foundation and Trisquel.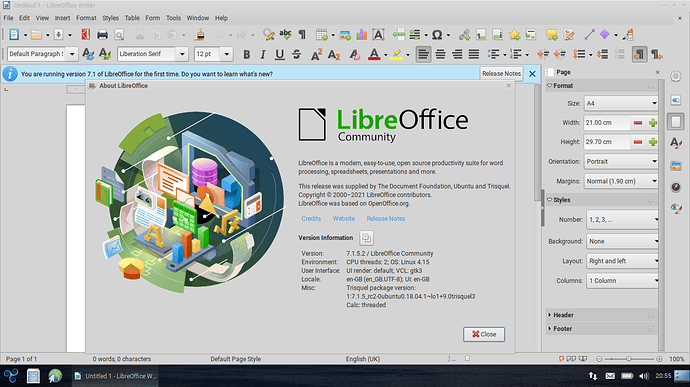 New development server at last thanks to FsF and donations of more shoe string…!
https://cdbuilds.trisquel.org/
You do not have to buy into – excuse the pun – the FsF gnu-linux ethos of "free" software for ALL but I found the ethos well cool at the time being free of commercial crap and proprietary blobs.
Oh; did I mention that Trisquel Mate is so reliable to the point of being boring? Great if you need to get through some workflow…! RMS uses it on a …pad.
As a footnote please check your hardware at h-node webpage for compatibility with "free" software. You can ignore this but you may find that you need a compatible Wifi card or just plug in a USB Wifi adaptor from Thinkpenguin or elsewhere. I have not needed to change anything on four disparate computers!