So i'm still learning with tiling window manager. I'm testing i3 and BSPWM, while testing it i found some problems. What happened is every time i open a terminal like xfce4-terminal the display just start tearing.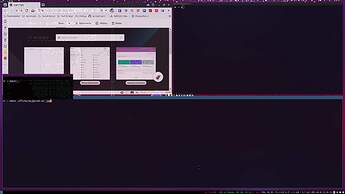 And also it usually happened when i leave the terminal open and started typing on it and it started tearing.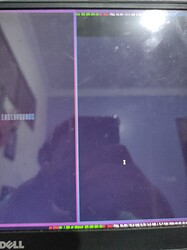 So for teminal i tested with termite, xfce4-terminal, gnome-terminal, and rxvt-unicode. And only rxvt-unicode is save from screentearing.
For the compositor i use picom, and the config is just a copy from /etc/xdg/picom.conf and changed the config to provide a debug log and it's backend to "glx" from "xrender". For starting it, i just add picom without any option. So what are the solution to this problem ?
Logs :
 [ 06/04/21 22:23:11.292 atom_getter DEBUG ] Atom _NET_WM_WINDOW_OPACITY is 483
[ 06/04/21 22:23:11.292 atom_getter DEBUG ] Atom _NET_FRAME_EXTENTS is 392
[ 06/04/21 22:23:11.292 atom_getter DEBUG ] Atom WM_STATE is 436
[ 06/04/21 22:23:11.292 atom_getter DEBUG ] Atom _NET_WM_NAME is 398
[ 06/04/21 22:23:11.292 atom_getter DEBUG ] Atom _NET_WM_PID is 399
[ 06/04/21 22:23:11.292 atom_getter DEBUG ] Atom WM_NAME is 39
[ 06/04/21 22:23:11.292 atom_getter DEBUG ] Atom WM_CLASS is 67
[ 06/04/21 22:23:11.292 atom_getter DEBUG ] Atom WM_TRANSIENT_FOR is 68
[ 06/04/21 22:23:11.292 atom_getter DEBUG ] Atom WM_WINDOW_ROLE is 389
[ 06/04/21 22:23:11.292 atom_getter DEBUG ] Atom WM_CLIENT_LEADER is 384
[ 06/04/21 22:23:11.293 atom_getter DEBUG ] Atom _NET_ACTIVE_WINDOW is 390
[ 06/04/21 22:23:11.293 atom_getter DEBUG ] Atom _COMPTON_SHADOW is 484
[ 06/04/21 22:23:11.293 atom_getter DEBUG ] Atom _NET_WM_WINDOW_TYPE is 414
[ 06/04/21 22:23:11.293 atom_getter DEBUG ] Atom _NET_WM_WINDOW_TYPE_DESKTOP is 435
[ 06/04/21 22:23:11.293 atom_getter DEBUG ] Atom _NET_WM_WINDOW_TYPE_DOCK is 454
[ 06/04/21 22:23:11.293 atom_getter DEBUG ] Atom _NET_WM_WINDOW_TYPE_TOOLBAR is 452
[ 06/04/21 22:23:11.293 atom_getter DEBUG ] Atom _NET_WM_WINDOW_TYPE_MENU is 419
[ 06/04/21 22:23:11.293 atom_getter DEBUG ] Atom _NET_WM_WINDOW_TYPE_UTILITY is 423
[ 06/04/21 22:23:11.293 atom_getter DEBUG ] Atom _NET_WM_WINDOW_TYPE_SPLASH is 453
[ 06/04/21 22:23:11.293 atom_getter DEBUG ] Atom _NET_WM_WINDOW_TYPE_DIALOG is 416
[ 06/04/21 22:23:11.293 atom_getter DEBUG ] Atom _NET_WM_WINDOW_TYPE_NORMAL is 420
[ 06/04/21 22:23:11.293 atom_getter DEBUG ] Atom _NET_WM_WINDOW_TYPE_DROPDOWN_MENU is 418
[ 06/04/21 22:23:11.293 atom_getter DEBUG ] Atom _NET_WM_WINDOW_TYPE_POPUP_MENU is 421
[ 06/04/21 22:23:11.293 atom_getter DEBUG ] Atom _NET_WM_WINDOW_TYPE_TOOLTIP is 422
[ 06/04/21 22:23:11.293 atom_getter DEBUG ] Atom _NET_WM_WINDOW_TYPE_NOTIFICATION is 463
[ 06/04/21 22:23:11.293 atom_getter DEBUG ] Atom _NET_WM_WINDOW_TYPE_COMBO is 415
[ 06/04/21 22:23:11.293 atom_getter DEBUG ] Atom _NET_WM_WINDOW_TYPE_DND is 417
[ 06/04/21 22:23:11.293 atom_getter DEBUG ] Atom _NET_WM_STATE is 401
[ 06/04/21 22:23:11.293 atom_getter DEBUG ] Atom _NET_WM_STATE_FULLSCREEN is 404
[ 06/04/21 22:23:11.293 atom_getter DEBUG ] Atom _NET_WM_BYPASS_COMPOSITOR is 485
[ 06/04/21 22:23:11.293 atom_getter DEBUG ] Atom _GTK_FRAME_EXTENTS is 486
[ 06/04/21 22:23:11.294 atom_getter DEBUG ] Atom COMPTON_VERSION is 494
[ 06/04/21 22:23:11.295 atom_getter DEBUG ] Atom _NET_WM_CM_S0 is 394
[ 06/04/21 22:23:11.296 init_overlay DEBUG ] overlay = 0x00000244
[ 06/04/21 22:23:11.393 glx_has_extension INFO ] Found GLX extension GLX_SGI_video_sync.
[ 06/04/21 22:23:11.393 glx_has_extension INFO ] Found GLX extension GLX_SGI_swap_control.
[ 06/04/21 22:23:11.393 glx_has_extension INFO ] Found GLX extension GLX_OML_sync_control.
[ 06/04/21 22:23:11.393 glx_has_extension INFO ] Found GLX extension GLX_MESA_swap_control.
[ 06/04/21 22:23:11.393 glx_has_extension INFO ] Found GLX extension GLX_EXT_swap_control.
[ 06/04/21 22:23:11.393 glx_has_extension INFO ] Found GLX extension GLX_EXT_texture_from_pixmap.
[ 06/04/21 22:23:11.393 glx_has_extension INFO ] Found GLX extension GLX_ARB_create_context.
[ 06/04/21 22:23:11.393 glx_has_extension INFO ] Found GLX extension GLX_EXT_buffer_age.
[ 06/04/21 22:23:11.445 file_watch_init DEBUG ] Starting watching for file changes
[ 06/04/21 22:23:11.445 file_watch_add DEBUG ] Adding "/home/qiraht/.config/picom/picom.conf" to watched files
[ 06/04/21 22:23:11.445 gl_has_extension INFO ] Missing GL extension GL_GREMEDY_string_marker.
[ 06/04/21 22:23:11.445 add_win DEBUG ] Adding window 0x00400037
[ 06/04/21 22:23:11.445 add_win DEBUG ] Adding window 0x00400038
[ 06/04/21 22:23:11.445 add_win DEBUG ] Adding window 0x0040003a
[ 06/04/21 22:23:11.445 add_win DEBUG ] Adding window 0x0040003c
[ 06/04/21 22:23:11.445 add_win DEBUG ] Adding window 0x0040003e
[ 06/04/21 22:23:11.445 add_win DEBUG ] Adding window 0x00400040
[ 06/04/21 22:23:11.445 add_win DEBUG ] Adding window 0x00400042
[ 06/04/21 22:23:11.445 add_win DEBUG ] Adding window 0x00400044
[ 06/04/21 22:23:11.445 add_win DEBUG ] Adding window 0x00400048
[ 06/04/21 22:23:11.445 add_win DEBUG ] Adding window 0x00400046
[ 06/04/21 22:23:11.445 add_win DEBUG ] Adding window 0x00c00003
[ 06/04/21 22:23:11.445 add_win DEBUG ] Adding window 0x01000001
[ 06/04/21 22:23:11.445 add_win DEBUG ] Adding window 0x00e0000c
[ 06/04/21 22:23:11.445 add_win DEBUG ] Adding window 0x0040005b
[ 06/04/21 22:23:11.445 add_win DEBUG ] Adding window 0x01200001
[ 06/04/21 22:23:11.445 add_win DEBUG ] Adding window 0x01400001
[ 06/04/21 22:23:11.445 add_win DEBUG ] Adding window 0x01800001
[ 06/04/21 22:23:11.445 add_win DEBUG ] Adding window 0x01600001
[ 06/04/21 22:23:11.445 session_init DEBUG ] Initial stack:
[ 06/04/21 22:23:11.445 session_init DEBUG ] 0x01600001
[ 06/04/21 22:23:11.445 session_init DEBUG ] 0x01800001
[ 06/04/21 22:23:11.445 session_init DEBUG ] 0x01400001
[ 06/04/21 22:23:11.445 session_init DEBUG ] 0x01200001
[ 06/04/21 22:23:11.445 session_init DEBUG ] 0x0040005b
[ 06/04/21 22:23:11.445 session_init DEBUG ] 0x00e0000c
[ 06/04/21 22:23:11.445 session_init DEBUG ] 0x01000001
[ 06/04/21 22:23:11.445 session_init DEBUG ] 0x00c00003
[ 06/04/21 22:23:11.445 session_init DEBUG ] 0x00400046
[ 06/04/21 22:23:11.445 session_init DEBUG ] 0x00400048
[ 06/04/21 22:23:11.445 session_init DEBUG ] 0x00400044
[ 06/04/21 22:23:11.445 session_init DEBUG ] 0x00400042
[ 06/04/21 22:23:11.445 session_init DEBUG ] 0x00400040
[ 06/04/21 22:23:11.445 session_init DEBUG ] 0x0040003e
[ 06/04/21 22:23:11.445 session_init DEBUG ] 0x0040003c
[ 06/04/21 22:23:11.445 session_init DEBUG ] 0x0040003a
[ 06/04/21 22:23:11.445 session_init DEBUG ] 0x00400038
[ 06/04/21 22:23:11.445 session_init DEBUG ] 0x00400037
[ 06/04/21 22:23:11.445 handle_pending_updates DEBUG ] Delayed handling of events, entering critical section
[ 06/04/21 22:23:11.445 fill_win DEBUG ] Managing window 0x01600001
[ 06/04/21 22:23:11.445 fill_win DEBUG ] Managing window 0x01800001
[ 06/04/21 22:23:11.445 fill_win DEBUG ] Managing window 0x01400001
[ 06/04/21 22:23:11.446 fill_win DEBUG ] Managing window 0x01200001
[ 06/04/21 22:23:11.446 fill_win DEBUG ] Managing window 0x0040005b
[ 06/04/21 22:23:11.446 map_win_start DEBUG ] Mapping (0x0040005b "(null)")
[ 06/04/21 22:23:11.446 win_recheck_client DEBUG ] (0x0040005b): client 0x00e00006
[ 06/04/21 22:23:11.446 win_on_factor_change DEBUG ] Window 0x0040005b ((null)) factor change
[ 06/04/21 22:23:11.446 win_determine_shadow DEBUG ] Determining shadow of window 0x0040005b ((null))
[ 06/04/21 22:23:11.446 win_determine_shadow DEBUG ] Shadow disabled by wintypes
[ 06/04/21 22:23:11.446 win_on_factor_change DEBUG ] Window mode changed to 0
[ 06/04/21 22:23:11.446 win_on_factor_change DEBUG ] Window 0x0040005b (i3bar for output eDP-1) factor change
[ 06/04/21 22:23:11.446 win_determine_shadow DEBUG ] Determining shadow of window 0x0040005b (i3bar for output eDP-1)
[ 06/04/21 22:23:11.446 win_determine_shadow DEBUG ] Shadow disabled by wintypes
[ 06/04/21 22:23:11.446 win_on_factor_change DEBUG ] Window mode changed to 0
[ 06/04/21 22:23:11.446 map_win_start DEBUG ] Window (0x0040005b) has type dock
[ 06/04/21 22:23:11.447 win_determine_shadow DEBUG ] Determining shadow of window 0x0040005b (i3bar for output eDP-1)
[ 06/04/21 22:23:11.447 win_determine_shadow DEBUG ] Shadow disabled by wintypes
[ 06/04/21 22:23:11.447 map_win_start DEBUG ] Window 0x0040005b has opacity 0,000000, opacity target is 1,000000
[ 06/04/21 22:23:11.447 win_set_flags DEBUG ] Set flags 9 to window 0x0040005b (i3bar for output eDP-1)
[ 06/04/21 22:23:11.447 win_on_factor_change DEBUG ] Window 0x0040005b (i3bar for output eDP-1) factor change
[ 06/04/21 22:23:11.447 win_determine_shadow DEBUG ] Determining shadow of window 0x0040005b (i3bar for output eDP-1)
[ 06/04/21 22:23:11.447 win_determine_shadow DEBUG ] Shadow disabled by wintypes
[ 06/04/21 22:23:11.447 win_on_factor_change DEBUG ] Window mode changed to 0
[ 06/04/21 22:23:11.447 win_skip_fading DEBUG ] Skipping fading process of window 0x0040005b (i3bar for output eDP-1)
[ 06/04/21 22:23:11.447 fill_win DEBUG ] Managing window 0x00e0000c
[ 06/04/21 22:23:11.447 fill_win DEBUG ] Managing window 0x01000001
[ 06/04/21 22:23:11.447 fill_win DEBUG ] Managing window 0x00c00003
[ 06/04/21 22:23:11.447 fill_win DEBUG ] Managing window 0x00400046
[ 06/04/21 22:23:11.447 fill_win DEBUG ] Managing window 0x00400048
[ 06/04/21 22:23:11.447 fill_win DEBUG ] Managing window 0x00400044
[ 06/04/21 22:23:11.447 fill_win DEBUG ] Managing window 0x00400042
[ 06/04/21 22:23:11.447 fill_win DEBUG ] Managing window 0x00400040
[ 06/04/21 22:23:11.447 fill_win DEBUG ] Managing window 0x0040003e
[ 06/04/21 22:23:11.447 fill_win DEBUG ] Managing window 0x0040003c
[ 06/04/21 22:23:11.447 fill_win DEBUG ] Managing window 0x0040003a
[ 06/04/21 22:23:11.447 fill_win DEBUG ] Managing window 0x00400038
[ 06/04/21 22:23:11.448 fill_win DEBUG ] Managing window 0x00400037
[ 06/04/21 22:23:11.448 win_clear_flags DEBUG ] Clear flags 9 from window 0x0040005b (i3bar for output eDP-1)
[ 06/04/21 22:23:11.448 handle_pending_updates DEBUG ] Exited critical section
[ 06/04/21 22:23:11.448 redirect_start DEBUG ] Redirecting the screen.
[ 06/04/21 22:23:11.448 redirect_start DEBUG ] Screen redirected.
[ 06/04/21 22:23:11.448 _draw_callback DEBUG ] Re-run _draw_callback
[ 06/04/21 22:23:11.448 atom_getter DEBUG ] Atom _XROOTPMAP_ID is 455
[ 06/04/21 22:23:11.449 glx_find_fbconfig DEBUG ] Looking for FBConfig for RGBA8880, depth 24
[ 06/04/21 22:23:11.458 glx_bind_pixmap DEBUG ] depth 24, tgt 0x20dc, rgba 0
[ 06/04/21 22:23:11.478 glx_find_fbconfig DEBUG ] Looking for FBConfig for RGBA8880, depth 24
[ 06/04/21 22:23:11.495 glx_bind_pixmap DEBUG ] depth 24, tgt 0x20dc, rgba 0
[ 06/04/21 22:23:11.500 ev_handle DEBUG ] event  MapNotify serial 0x000006ca window 0x00000244 "(Overlay)"
[ 06/04/21 22:23:11.500 ev_handle DEBUG ] event     Expose serial 0x000006ca window 0x00000244 "(Overlay)"
[ 06/04/21 22:23:11.500 ev_handle DEBUG ] event CreateNoti serial 0x000006dd window 0x01200002 "(Failed to get title)"
[ 06/04/21 22:23:11.500 add_win DEBUG ] Adding window 0x01200002
[ 06/04/21 22:23:11.500 ev_handle DEBUG ] event ReparentNo serial 0x000006df window 0x01200002 "(Failed to get title)"
[ 06/04/21 22:23:11.500 ev_reparent_notify DEBUG ] Window 0x01200002 has new parent: 0x00e00006, override_redirect: 0
[ 06/04/21 22:23:11.500 destroy_win_start DEBUG ] Destroying 0x01200002 "(null)", managed = 0
[ 06/04/21 22:23:11.500 ev_reparent_notify DEBUG ] Window 0x01200002 doesn't have WM_STATE property, it is probably not a client window. But we will listen for property change in case it gains one.
[ 06/04/21 22:23:11.500 ev_handle DEBUG ] event CreateNoti serial 0x000006df window 0x01a00001 "(Failed to get title)"
[ 06/04/21 22:23:11.500 add_win DEBUG ] Adding window 0x01a00001
[ 06/04/21 22:23:11.500 ev_handle DEBUG ] event CreateNoti serial 0x000006e5 window 0x02000001 "(Failed to get title)"
[ 06/04/21 22:23:11.500 add_win DEBUG ] Adding window 0x02000001
[ 06/04/21 22:23:11.500 ev_handle DEBUG ] event CreateNoti serial 0x000006e7 window 0x02200001 "(Failed to get title)"
[ 06/04/21 22:23:11.500 add_win DEBUG ] Adding window 0x02200001
[ 06/04/21 22:23:11.500 ev_handle DEBUG ] event CreateNoti serial 0x000006e7 window 0x02400001 "(Failed to get title)"
[ 06/04/21 22:23:11.501 add_win DEBUG ] Adding window 0x02400001
[ 06/04/21 22:23:11.501 handle_pending_updates DEBUG ] Delayed handling of events, entering critical section
[ 06/04/21 22:23:11.501 fill_win DEBUG ] Managing window 0x02400001
[ 06/04/21 22:23:11.501 fill_win DEBUG ] Managing window 0x02200001
[ 06/04/21 22:23:11.501 fill_win DEBUG ] Managing window 0x02000001
[ 06/04/21 22:23:11.501 fill_win DEBUG ] Managing window 0x01a00001
[ 06/04/21 22:23:11.502 handle_pending_updates DEBUG ] Exited critical section
[ 06/04/21 22:23:11.524 ev_handle DEBUG ] event CreateNoti serial 0x00000709 window 0x01e00001 "(Failed to get title)"
[ 06/04/21 22:23:11.524 add_win DEBUG ] Adding window 0x01e00001
[ 06/04/21 22:23:11.524 handle_pending_updates DEBUG ] Delayed handling of events, entering critical section
[ 06/04/21 22:23:11.524 fill_win DEBUG ] Managing window 0x01e00001
[ 06/04/21 22:23:11.524 handle_pending_updates DEBUG ] Exited critical section
[ 06/04/21 22:23:11.535 ev_handle DEBUG ] event PropertyNo serial 0x00000713 window 0x01200002 "(Failed to get title)"
[ 06/04/21 22:23:11.535 ev_handle DEBUG ] event PropertyNo serial 0x00000713 window 0x01200002 "(Failed to get title)"
[ 06/04/21 22:23:11.551 ev_handle DEBUG ] event CreateNoti serial 0x0000071a window 0x02a00001 "(Failed to get title)"
[ 06/04/21 22:23:11.551 add_win DEBUG ] Adding window 0x02a00001
[ 06/04/21 22:23:11.551 ev_handle DEBUG ] event CreateNoti serial 0x0000071b window 0x01200007 "(Failed to get title)"
[ 06/04/21 22:23:11.551 add_win DEBUG ] Adding window 0x01200007
[ 06/04/21 22:23:11.551 handle_pending_updates DEBUG ] Delayed handling of events, entering critical section
[ 06/04/21 22:23:11.551 fill_win DEBUG ] Managing window 0x01200007
[ 06/04/21 22:23:11.551 fill_win DEBUG ] Managing window 0x02a00001
[ 06/04/21 22:23:11.551 handle_pending_updates DEBUG ] Exited critical section
[ 06/04/21 22:23:11.564 ev_handle DEBUG ] event CreateNoti serial 0x0000072a window 0x03200002 "(Failed to get title)"
[ 06/04/21 22:23:11.564 add_win DEBUG ] Adding window 0x03200002
[ 06/04/21 22:23:11.564 ev_handle DEBUG ] event CreateNoti serial 0x0000072a window 0x03200004 "(Failed to get title)"
[ 06/04/21 22:23:11.564 add_win DEBUG ] Adding window 0x03200004
[ 06/04/21 22:23:11.564 handle_pending_updates DEBUG ] Delayed handling of events, entering critical section
[ 06/04/21 22:23:11.564 fill_win DEBUG ] Managing window 0x03200004
[ 06/04/21 22:23:11.564 fill_win DEBUG ] Managing window 0x03200002
[ 06/04/21 22:23:11.564 handle_pending_updates DEBUG ] Exited critical section
[ 06/04/21 22:23:11.580 ev_handle DEBUG ] event CreateNoti serial 0x0000073a window 0x01c00001 "(Failed to get title)"
[ 06/04/21 22:23:11.580 add_win DEBUG ] Adding window 0x01c00001
[ 06/04/21 22:23:11.580 ev_handle DEBUG ] event CreateNoti serial 0x0000073a window 0x02800001 "(Failed to get title)"
[ 06/04/21 22:23:11.580 add_win DEBUG ] Adding window 0x02800001
[ 06/04/21 22:23:11.580 ev_handle DEBUG ] event CreateNoti serial 0x0000073a window 0x03000001 "(Failed to get title)"
[ 06/04/21 22:23:11.580 add_win DEBUG ] Adding window 0x03000001
[ 06/04/21 22:23:11.580 ev_handle DEBUG ] event CreateNoti serial 0x0000073a window 0x02e00001 "(Failed to get title)"
[ 06/04/21 22:23:11.580 add_win DEBUG ] Adding window 0x02e00001
[ 06/04/21 22:23:11.580 ev_handle DEBUG ] event CreateNoti serial 0x0000073a window 0x02c00001 "(Failed to get title)"
[ 06/04/21 22:23:11.580 add_win DEBUG ] Adding window 0x02c00001
[ 06/04/21 22:23:11.581 handle_pending_updates DEBUG ] Delayed handling of events, entering critical section
[ 06/04/21 22:23:11.581 fill_win DEBUG ] Managing window 0x02c00001
[ 06/04/21 22:23:11.581 fill_win DEBUG ] Managing window 0x02e00001
[ 06/04/21 22:23:11.581 fill_win DEBUG ] Managing window 0x03000001
[ 06/04/21 22:23:11.581 fill_win DEBUG ] Managing window 0x02800001
[ 06/04/21 22:23:11.581 fill_win DEBUG ] Managing window 0x01c00001
[ 06/04/21 22:23:11.581 handle_pending_updates DEBUG ] Exited critical section
[ 06/04/21 22:23:11.621 ev_handle DEBUG ] event PropertyNo serial 0x0000074b window 0x01200002 "(Failed to get title)"
[ 06/04/21 22:23:11.653 ev_handle DEBUG ] event CreateNoti serial 0x00000751 window 0x03400001 "(Failed to get title)"
[ 06/04/21 22:23:11.653 add_win DEBUG ] Adding window 0x03400001
[ 06/04/21 22:23:11.653 handle_pending_updates DEBUG ] Delayed handling of events, entering critical section
[ 06/04/21 22:23:11.654 fill_win DEBUG ] Managing window 0x03400001
[ 06/04/21 22:23:11.654 handle_pending_updates DEBUG ] Exited critical section
[ 06/04/21 22:23:11.655 ev_handle DEBUG ] event CreateNoti serial 0x00000759 window 0x03600001 "(Failed to get title)"
[ 06/04/21 22:23:11.655 add_win DEBUG ] Adding window 0x03600001
[ 06/04/21 22:23:11.655 handle_pending_updates DEBUG ] Delayed handling of events, entering critical section
[ 06/04/21 22:23:11.655 fill_win DEBUG ] Managing window 0x03600001
[ 06/04/21 22:23:11.655 handle_pending_updates DEBUG ] Exited critical section
[ 06/04/21 22:23:11.667 ev_handle DEBUG ] event CreateNoti serial 0x00000765 window 0x03a00001 "(Failed to get title)"
[ 06/04/21 22:23:11.667 add_win DEBUG ] Adding window 0x03a00001
[ 06/04/21 22:23:11.667 handle_pending_updates DEBUG ] Delayed handling of events, entering critical section
[ 06/04/21 22:23:11.667 fill_win DEBUG ] Managing window 0x03a00001
[ 06/04/21 22:23:11.667 handle_pending_updates DEBUG ] Exited critical section
[ 06/04/21 22:23:11.683 ev_handle DEBUG ] event ConfigureN serial 0x0000076c window 0x03200002 "(Failed to get title)"
[ 06/04/21 22:23:11.683 ev_configure_notify DEBUG ] { send_event: 2356, id: 0x03200002, above: 0x01200007, override_redirect: 1 }
[ 06/04/21 22:23:11.683 restack_above DEBUG ] Restack 0x03200002 ((null)), old_below: 0x01200007, new_below: 0x01200007
[ 06/04/21 22:23:11.683 ev_handle DEBUG ] event ConfigureN serial 0x0000076c window 0x03200002 "(Failed to get title)"
[ 06/04/21 22:23:11.683 ev_configure_notify DEBUG ] { send_event: 2356, id: 0x03200002, above: 0x01200007, override_redirect: 1 }
[ 06/04/21 22:23:11.683 restack_above DEBUG ] Restack 0x03200002 ((null)), old_below: 0x01200007, new_below: 0x01200007
[ 06/04/21 22:23:11.683 ev_handle DEBUG ] event CreateNoti serial 0x0000076c window 0x03c00001 "(Failed to get title)"
[ 06/04/21 22:23:11.683 add_win DEBUG ] Adding window 0x03c00001
[ 06/04/21 22:23:11.683 handle_pending_updates DEBUG ] Delayed handling of events, entering critical section
[ 06/04/21 22:23:11.691 fill_win DEBUG ] Managing window 0x03c00001
[ 06/04/21 22:23:11.692 handle_pending_updates DEBUG ] Exited critical section
[ 06/04/21 22:23:11.693 ev_handle DEBUG ] event CreateNoti serial 0x00000773 window 0x03e00001 "(Failed to get title)"
[ 06/04/21 22:23:11.693 add_win DEBUG ] Adding window 0x03e00001
[ 06/04/21 22:23:11.693 handle_pending_updates DEBUG ] Delayed handling of events, entering critical section
[ 06/04/21 22:23:11.693 fill_win DEBUG ] Managing window 0x03e00001
[ 06/04/21 22:23:11.694 handle_pending_updates DEBUG ] Exited critical section
[ 06/04/21 22:23:11.696 ev_handle DEBUG ] event CreateNoti serial 0x0000077a window 0x03800001 "(Failed to get title)"
[ 06/04/21 22:23:11.696 add_win DEBUG ] Adding window 0x03800001
[ 06/04/21 22:23:11.696 handle_pending_updates DEBUG ] Delayed handling of events, entering critical section
[ 06/04/21 22:23:11.697 fill_win DEBUG ] Managing window 0x03800001
[ 06/04/21 22:23:11.697 handle_pending_updates DEBUG ] Exited critical section
[ 06/04/21 22:23:11.700 ev_handle DEBUG ] event CreateNoti serial 0x00000781 window 0x04000001 "(Failed to get title)"
[ 06/04/21 22:23:11.700 add_win DEBUG ] Adding window 0x04000001
[ 06/04/21 22:23:11.700 handle_pending_updates DEBUG ] Delayed handling of events, entering critical section
[ 06/04/21 22:23:11.701 fill_win DEBUG ] Managing window 0x04000001
[ 06/04/21 22:23:11.701 handle_pending_updates DEBUG ] Exited critical section
[ 06/04/21 22:23:11.701 ev_handle DEBUG ] event ConfigureN serial 0x00000788 window 0x03200002 "(Failed to get title)"
[ 06/04/21 22:23:11.701 ev_configure_notify DEBUG ] { send_event: 2356, id: 0x03200002, above: 0x04000001, override_redirect: 1 }
[ 06/04/21 22:23:11.701 restack_above DEBUG ] Restack 0x03200002 ((null)), old_below: 0x01200007, new_below: 0x04000001
[ 06/04/21 22:23:11.701 ev_handle DEBUG ] event  MapNotify serial 0x00000788 window 0x03200002 "(Failed to get title)"
[ 06/04/21 22:23:11.701 win_set_flags DEBUG ] Set flags 64 to window 0x03200002 ((null))
[ 06/04/21 22:23:11.701 handle_pending_updates DEBUG ] Delayed handling of events, entering critical section
[ 06/04/21 22:23:11.702 map_win_start DEBUG ] Mapping (0x03200002 "(null)")
[ 06/04/21 22:23:11.702 win_recheck_client DEBUG ] (0x03200002): client self (override-redirected)
[ 06/04/21 22:23:11.703 win_on_factor_change DEBUG ] Window 0x03200002 ((null)) factor change
[ 06/04/21 22:23:11.703 win_determine_shadow DEBUG ] Determining shadow of window 0x03200002 ((null))
[ 06/04/21 22:23:11.703 win_set_shadow DEBUG ] Updating shadow property of window 0x03200002 ((null)) to 1
[ 06/04/21 22:23:11.703 win_on_factor_change DEBUG ] Window mode changed to 0
[ 06/04/21 22:23:11.703 win_on_factor_change DEBUG ] Window 0x03200002 (Dunst) factor change
[ 06/04/21 22:23:11.703 win_determine_shadow DEBUG ] Determining shadow of window 0x03200002 (Dunst)
[ 06/04/21 22:23:11.703 win_on_factor_change DEBUG ] Window mode changed to 0
[ 06/04/21 22:23:11.703 map_win_start DEBUG ] Window (0x03200002) has type notification
[ 06/04/21 22:23:11.703 win_determine_shadow DEBUG ] Determining shadow of window 0x03200002 (Dunst)
[ 06/04/21 22:23:11.703 map_win_start DEBUG ] Window 0x03200002 has opacity 0,000000, opacity target is 1,000000
[ 06/04/21 22:23:11.703 win_set_flags DEBUG ] Set flags 9 to window 0x03200002 (Dunst)
[ 06/04/21 22:23:11.703 win_on_factor_change DEBUG ] Window 0x03200002 (Dunst) factor change
[ 06/04/21 22:23:11.703 win_determine_shadow DEBUG ] Determining shadow of window 0x03200002 (Dunst)
[ 06/04/21 22:23:11.703 win_on_factor_change DEBUG ] Window mode changed to 0
[ 06/04/21 22:23:11.703 win_clear_flags DEBUG ] Clear flags 64 from window 0x03200002 (Dunst)
[ 06/04/21 22:23:11.703 win_clear_flags DEBUG ] Clear flags 9 from window 0x03200002 (Dunst)
[ 06/04/21 22:23:11.703 handle_pending_updates DEBUG ] Exited critical section
[ 06/04/21 22:23:11.705 ev_handle DEBUG ] event ShapeNotif serial 0x000007a7 window 0x03200002 "Dunst"
[ 06/04/21 22:23:11.705 win_set_flags DEBUG ] Set flags 9 to window 0x03200002 (Dunst)
[ 06/04/21 22:23:11.705 win_on_factor_change DEBUG ] Window 0x03200002 (Dunst) factor change
[ 06/04/21 22:23:11.705 win_determine_shadow DEBUG ] Determining shadow of window 0x03200002 (Dunst)
[ 06/04/21 22:23:11.705 win_on_factor_change DEBUG ] Window mode changed to 0
[ 06/04/21 22:23:11.705 handle_pending_updates DEBUG ] Delayed handling of events, entering critical section
[ 06/04/21 22:23:11.705 win_clear_flags DEBUG ] Clear flags 9 from window 0x03200002 (Dunst)
[ 06/04/21 22:23:11.705 handle_pending_updates DEBUG ] Exited critical section
[ 06/04/21 22:23:11.708 ev_handle DEBUG ] event CreateNoti serial 0x000007b5 window 0x04200001 "(Failed to get title)"
[ 06/04/21 22:23:11.708 add_win DEBUG ] Adding window 0x04200001
[ 06/04/21 22:23:11.708 ev_handle DEBUG ] event ConfigureN serial 0x000007b5 window 0x03200002 "Dunst"
[ 06/04/21 22:23:11.708 ev_configure_notify DEBUG ] { send_event: 2356, id: 0x03200002, above: 0x04200001, override_redirect: 1 }
[ 06/04/21 22:23:11.708 restack_above DEBUG ] Restack 0x03200002 (Dunst), old_below: 0x04000001, new_below: 0x04200001
[ 06/04/21 22:23:11.708 handle_pending_updates DEBUG ] Delayed handling of events, entering critical section
[ 06/04/21 22:23:11.708 fill_win DEBUG ] Managing window 0x04200001
[ 06/04/21 22:23:11.708 handle_pending_updates DEBUG ] Exited critical section
[ 06/04/21 22:23:11.730 glx_find_fbconfig DEBUG ] Looking for FBConfig for RGBA8888, depth 32
[ 06/04/21 22:23:11.735 glx_bind_pixmap DEBUG ] depth 32, tgt 0x20dc, rgba 1
[ 06/04/21 22:23:11.736 glx_find_fbconfig DEBUG ] Looking for FBConfig for RGBA8888, depth 32
[ 06/04/21 22:23:11.742 glx_bind_pixmap DEBUG ] depth 32, tgt 0x20dc, rgba 1
[ 06/04/21 22:23:11.813 ev_handle DEBUG ] event CreateNoti serial 0x000007f6 window 0x04400001 "(Failed to get title)"
[ 06/04/21 22:23:11.813 add_win DEBUG ] Adding window 0x04400001
[ 06/04/21 22:23:11.813 ev_handle DEBUG ] event ConfigureN serial 0x000007f6 window 0x03200002 "Dunst"
[ 06/04/21 22:23:11.813 ev_configure_notify DEBUG ] { send_event: 2356, id: 0x03200002, above: 0x04400001, override_redirect: 1 }
[ 06/04/21 22:23:11.813 restack_above DEBUG ] Restack 0x03200002 (Dunst), old_below: 0x04200001, new_below: 0x04400001
[ 06/04/21 22:23:11.813 ev_handle DEBUG ] event CreateNoti serial 0x000007f6 window 0x03000002 "(Failed to get title)"
[ 06/04/21 22:23:11.813 add_win DEBUG ] Adding window 0x03000002
[ 06/04/21 22:23:11.814 ev_handle DEBUG ] event ConfigureN serial 0x000007f6 window 0x03200002 "Dunst"
[ 06/04/21 22:23:11.814 ev_configure_notify DEBUG ] { send_event: 2356, id: 0x03200002, above: 0x03000002, override_redirect: 1 }
[ 06/04/21 22:23:11.814 restack_above DEBUG ] Restack 0x03200002 (Dunst), old_below: 0x04400001, new_below: 0x03000002
[ 06/04/21 22:23:11.814 ev_handle DEBUG ] event ReparentNo serial 0x000007f6 window 0x03000002 "(Failed to get title)"
[ 06/04/21 22:23:11.814 ev_reparent_notify DEBUG ] Window 0x03000002 has new parent: 0x00e00006, override_redirect: 0
[ 06/04/21 22:23:11.814 destroy_win_start DEBUG ] Destroying 0x03000002 "(null)", managed = 0
[ 06/04/21 22:23:11.814 ev_reparent_notify DEBUG ] Window 0x03000002 doesn't have WM_STATE property, it is probably not a client window. But we will listen for property change in case it gains one.
[ 06/04/21 22:23:11.814 handle_pending_updates DEBUG ] Delayed handling of events, entering critical section
[ 06/04/21 22:23:11.814 fill_win DEBUG ] Managing window 0x04400001
[ 06/04/21 22:23:11.814 handle_pending_updates DEBUG ] Exited critical section
[ 06/04/21 22:23:11.835 ev_handle DEBUG ] event CreateNoti serial 0x00000805 window 0x02000002 "(Failed to get title)"
[ 06/04/21 22:23:11.835 add_win DEBUG ] Adding window 0x02000002
[ 06/04/21 22:23:11.835 ev_handle DEBUG ] event ConfigureN serial 0x00000805 window 0x03200002 "Dunst"
[ 06/04/21 22:23:11.836 ev_configure_notify DEBUG ] { send_event: 2356, id: 0x03200002, above: 0x02000002, override_redirect: 1 }
[ 06/04/21 22:23:11.836 restack_above DEBUG ] Restack 0x03200002 (Dunst), old_below: 0x04400001, new_below: 0x02000002
[ 06/04/21 22:23:11.836 ev_handle DEBUG ] event ClientMess serial 0x00000805 window 0000000000 ""
[ 06/04/21 22:23:11.836 ev_handle DEBUG ] event CreateNoti serial 0x00000805 window 0x04600001 "(Failed to get title)"
[ 06/04/21 22:23:11.836 add_win DEBUG ] Adding window 0x04600001
[ 06/04/21 22:23:11.836 ev_handle DEBUG ] event ConfigureN serial 0x00000805 window 0x03200002 "Dunst"
[ 06/04/21 22:23:11.836 ev_configure_notify DEBUG ] { send_event: 2356, id: 0x03200002, above: 0x04600001, override_redirect: 1 }
[ 06/04/21 22:23:11.836 restack_above DEBUG ] Restack 0x03200002 (Dunst), old_below: 0x02000002, new_below: 0x04600001
[ 06/04/21 22:23:11.836 handle_pending_updates DEBUG ] Delayed handling of events, entering critical section
[ 06/04/21 22:23:11.836 fill_win DEBUG ] Managing window 0x04600001
[ 06/04/21 22:23:11.836 fill_win DEBUG ] Managing window 0x02000002
[ 06/04/21 22:23:11.836 handle_pending_updates DEBUG ] Exited critical section
[ 06/04/21 22:23:11.880 ev_handle DEBUG ] event PropertyNo serial 0x00000819 window 0x03000002 "(Failed to get title)"
[ 06/04/21 22:23:11.920 ev_handle DEBUG ] event PropertyNo serial 0x0000081c window 0x03000002 "(Failed to get title)"
[ 06/04/21 22:23:11.920 ev_handle DEBUG ] event PropertyNo serial 0x0000081c window 0x03000002 "(Failed to get title)"
[ 06/04/21 22:23:11.921 ev_handle DEBUG ] event UnmapNotif serial 0x0000081c window 0000000000 ""
[ 06/04/21 22:23:11.921 ev_handle DEBUG ] event PropertyNo serial 0x0000081c window 0x03000002 "(Failed to get title)"
[ 06/04/21 22:23:11.921 ev_handle DEBUG ] event CreateNoti serial 0x0000081c window 0x03000006 "(Failed to get title)"
[ 06/04/21 22:23:11.921 add_win DEBUG ] Adding window 0x03000006
[ 06/04/21 22:23:11.921 ev_handle DEBUG ] event UnmapNotif serial 0x0000081c window 0000000000 ""
[ 06/04/21 22:23:11.921 ev_handle DEBUG ] event DestroyNot serial 0x0000081c window 0x03000006 "(Failed to get title)"
[ 06/04/21 22:23:11.921 destroy_win_start DEBUG ] Destroying 0x03000006 "(null)", managed = 0
[ 06/04/21 22:23:11.921 handle_pending_updates DEBUG ] Delayed handling of events, entering critical section
[ 06/04/21 22:23:11.921 handle_pending_updates DEBUG ] Exited critical section
[ 06/04/21 22:23:11.935 ev_handle DEBUG ] event CreateNoti serial 0x00000827 window 0x04800001 "(Failed to get title)"
[ 06/04/21 22:23:11.935 add_win DEBUG ] Adding window 0x04800001
[ 06/04/21 22:23:11.935 ev_handle DEBUG ] event ConfigureN serial 0x00000827 window 0x03200002 "Dunst"
[ 06/04/21 22:23:11.935 ev_configure_notify DEBUG ] { send_event: 2356, id: 0x03200002, above: 0x04800001, override_redirect: 1 }
[ 06/04/21 22:23:11.935 restack_above DEBUG ] Restack 0x03200002 (Dunst), old_below: 0x04600001, new_below: 0x04800001
[ 06/04/21 22:23:11.935 ev_handle DEBUG ] event CreateNoti serial 0x00000829 window 0x04a00004 "(Failed to get title)"
[ 06/04/21 22:23:11.935 add_win DEBUG ] Adding window 0x04a00004
[ 06/04/21 22:23:11.935 ev_handle DEBUG ] event ConfigureN serial 0x0000082b window 0x03200002 "Dunst"
[ 06/04/21 22:23:11.935 ev_configure_notify DEBUG ] { send_event: 2356, id: 0x03200002, above: 0x04a00004, override_redirect: 1 }
[ 06/04/21 22:23:11.935 restack_above DEBUG ] Restack 0x03200002 (Dunst), old_below: 0x04800001, new_below: 0x04a00004
[ 06/04/21 22:23:11.935 handle_pending_updates DEBUG ] Delayed handling of events, entering critical section
[ 06/04/21 22:23:11.935 fill_win DEBUG ] Managing window 0x04a00004
[ 06/04/21 22:23:11.938 fill_win DEBUG ] Managing window 0x04800001
[ 06/04/21 22:23:11.938 handle_pending_updates DEBUG ] Exited critical section
[ 06/04/21 22:23:11.947 ev_handle DEBUG ] event PropertyNo serial 0x00000835 window 0x00000934 "(Root window)"
[ 06/04/21 22:23:11.947 atom_getter DEBUG ] Atom _XSETROOT_ID is 529
[ 06/04/21 22:23:11.947 ev_handle DEBUG ] event PropertyNo serial 0x00000835 window 0x00000934 "(Root window)"
[ 06/04/21 22:23:11.947 ev_handle DEBUG ] event PropertyNo serial 0x00000835 window 0x00000934 "(Root window)"
[ 06/04/21 22:23:11.947 ev_handle DEBUG ] event PropertyNo serial 0x00000835 window 0x00000934 "(Root window)"
[ 06/04/21 22:23:11.980 ev_handle DEBUG ] event CreateNoti serial 0x0000083c window 0x0300000b "(Failed to get title)"
[ 06/04/21 22:23:11.980 add_win DEBUG ] Adding window 0x0300000b
[ 06/04/21 22:23:11.980 handle_pending_updates DEBUG ] Delayed handling of events, entering critical section
[ 06/04/21 22:23:11.980 fill_win DEBUG ] Managing window 0x0300000b
[ 06/04/21 22:23:11.981 handle_pending_updates DEBUG ] Exited critical section
[ 06/04/21 22:23:12.033 ev_handle DEBUG ] event CreateNoti serial 0x0000084e window 0x04c00001 "(Failed to get title)"
[ 06/04/21 22:23:12.033 add_win DEBUG ] Adding window 0x04c00001
[ 06/04/21 22:23:12.033 ev_handle DEBUG ] event ConfigureN serial 0x0000084e window 0x03200002 "Dunst"
[ 06/04/21 22:23:12.033 ev_configure_notify DEBUG ] { send_event: 2356, id: 0x03200002, above: 0x04c00001, override_redirect: 1 }
[ 06/04/21 22:23:12.033 restack_above DEBUG ] Restack 0x03200002 (Dunst), old_below: 0x04a00004, new_below: 0x04c00001
[ 06/04/21 22:23:12.033 ev_handle DEBUG ] event     Expose serial 0x0000084e window 0x00000244 "(Overlay)"
[ 06/04/21 22:23:12.033 handle_pending_updates DEBUG ] Delayed handling of events, entering critical section
[ 06/04/21 22:23:12.033 fill_win DEBUG ] Managing window 0x04c00001
[ 06/04/21 22:23:12.034 handle_pending_updates DEBUG ] Exited critical section
[ 06/04/21 22:23:12.054 ev_handle DEBUG ] event ShapeNotif serial 0x0000085c window 0x03200002 "Dunst"
[ 06/04/21 22:23:12.054 win_set_flags DEBUG ] Set flags 9 to window 0x03200002 (Dunst)
[ 06/04/21 22:23:12.054 win_on_factor_change DEBUG ] Window 0x03200002 (Dunst) factor change
[ 06/04/21 22:23:12.054 win_determine_shadow DEBUG ] Determining shadow of window 0x03200002 (Dunst)
[ 06/04/21 22:23:12.054 win_on_factor_change DEBUG ] Window mode changed to 0
[ 06/04/21 22:23:12.054 ev_handle DEBUG ] event ShapeNotif serial 0x0000085c window 0x03200002 "Dunst"
[ 06/04/21 22:23:12.054 win_set_flags DEBUG ] Set flags 9 to window 0x03200002 (Dunst)
[ 06/04/21 22:23:12.054 win_on_factor_change DEBUG ] Window 0x03200002 (Dunst) factor change
[ 06/04/21 22:23:12.054 win_determine_shadow DEBUG ] Determining shadow of window 0x03200002 (Dunst)
[ 06/04/21 22:23:12.054 win_on_factor_change DEBUG ] Window mode changed to 0
[ 06/04/21 22:23:12.054 handle_pending_updates DEBUG ] Delayed handling of events, entering critical section
[ 06/04/21 22:23:12.055 win_clear_flags DEBUG ] Clear flags 9 from window 0x03200002 (Dunst)
[ 06/04/21 22:23:12.055 handle_pending_updates DEBUG ] Exited critical section
[ 06/04/21 22:23:12.060 glx_bind_pixmap DEBUG ] depth 32, tgt 0x20dc, rgba 1
[ 06/04/21 22:23:12.061 glx_find_fbconfig DEBUG ] Looking for FBConfig for RGBA8888, depth 32
[ 06/04/21 22:23:12.067 glx_bind_pixmap DEBUG ] depth 32, tgt 0x20dc, rgba 1
[ 06/04/21 22:23:12.106 ev_handle DEBUG ] event CreateNoti serial 0x000008ab window 0x03a00004 "(Failed to get title)"
[ 06/04/21 22:23:12.106 add_win DEBUG ] Adding window 0x03a00004
[ 06/04/21 22:23:12.106 handle_pending_updates DEBUG ] Delayed handling of events, entering critical section
[ 06/04/21 22:23:12.107 fill_win DEBUG ] Managing window 0x03a00004
[ 06/04/21 22:23:12.108 handle_pending_updates DEBUG ] Exited critical section
[ 06/04/21 22:23:12.111 ev_handle DEBUG ] event DestroyNot serial 0x000008ae window 0x04200001 "(Failed to get title)"
[ 06/04/21 22:23:12.111 destroy_win_start DEBUG ] Destroying 0x04200001 "(null)", managed = 0
[ 06/04/21 22:23:12.118 ev_handle DEBUG ] event DestroyNot serial 0x000008b9 window 0x03a00004 "(Failed to get title)"
[ 06/04/21 22:23:12.118 destroy_win_start DEBUG ] Destroying 0x03a00004 "(null)", managed = 1
[ 06/04/21 22:23:12.119 ev_handle DEBUG ] event    Event 0 serial 0x000008ba window 0000000000 ""
[ 06/04/21 22:23:12.119 x_print_error DEBUG ] X error 152 DAMAGE_BAD_DAMAGE request 143 minor 2 serial 2208
[ 06/04/21 22:23:12.119 ev_handle DEBUG ] event CreateNoti serial 0x000008ba window 0x03a0000b "(Failed to get title)"
[ 06/04/21 22:23:12.119 add_win DEBUG ] Adding window 0x03a0000b
[ 06/04/21 22:23:12.119 handle_pending_updates DEBUG ] Delayed handling of events, entering critical section
[ 06/04/21 22:23:12.119 fill_win DEBUG ] Managing window 0x03a0000b
[ 06/04/21 22:23:12.119 handle_pending_updates DEBUG ] Exited critical section
[ 06/04/21 22:23:12.128 ev_handle DEBUG ] event CreateNoti serial 0x000008c3 window 0x03a00011 "(Failed to get title)"
[ 06/04/21 22:23:12.128 add_win DEBUG ] Adding window 0x03a00011
[ 06/04/21 22:23:12.128 handle_pending_updates DEBUG ] Delayed handling of events, entering critical section
[ 06/04/21 22:23:12.128 ev_handle DEBUG ] event ConfigureN serial 0x000008c3 window 0x03200002 "Dunst"
[ 06/04/21 22:23:12.128 ev_configure_notify DEBUG ] { send_event: 2356, id: 0x03200002, above: 0x03a00011, override_redirect: 1 }
[ 06/04/21 22:23:12.128 restack_above DEBUG ] Restack 0x03200002 (Dunst), old_below: 0x04c00001, new_below: 0x03a00011
[ 06/04/21 22:23:12.128 fill_win DEBUG ] Managing window 0x03a00011
[ 06/04/21 22:23:12.129 handle_pending_updates DEBUG ] Exited critical section
[ 06/04/21 22:23:12.164 ev_handle DEBUG ] event PropertyNo serial 0x000008cf window 0x00000934 "(Root window)"
[ 06/04/21 22:23:12.183 ev_handle DEBUG ] event PropertyNo serial 0x000008d2 window 0x00000934 "(Root window)"
[ 06/04/21 22:23:12.189 ev_handle DEBUG ] event PropertyNo serial 0x000008d5 window 0x00000934 "(Root window)"
[ 06/04/21 22:23:12.191 ev_handle DEBUG ] event PropertyNo serial 0x000008d5 window 0x00e00006 "i3bar for output eDP-1"
[ 06/04/21 22:23:12.200 ev_handle DEBUG ] event CreateNoti serial 0x000008d5 window 0x04400002 "(Failed to get title)"
[ 06/04/21 22:23:12.200 add_win DEBUG ] Adding window 0x04400002
[ 06/04/21 22:23:12.200 ev_handle DEBUG ] event ConfigureN serial 0x000008d5 window 0x03200002 "Dunst"
[ 06/04/21 22:23:12.200 ev_configure_notify DEBUG ] { send_event: 2356, id: 0x03200002, above: 0x04400002, override_redirect: 1 }
[ 06/04/21 22:23:12.200 restack_above DEBUG ] Restack 0x03200002 (Dunst), old_below: 0x03a00011, new_below: 0x04400002
[ 06/04/21 22:23:12.200 handle_pending_updates DEBUG ] Delayed handling of events, entering critical section
[ 06/04/21 22:23:12.200 fill_win DEBUG ] Managing window 0x04400002
[ 06/04/21 22:23:12.201 handle_pending_updates DEBUG ] Exited critical section
[ 06/04/21 22:23:12.207 ev_handle DEBUG ] event PropertyNo serial 0x000008e1 window 0x00000934 "(Root window)"
[ 06/04/21 22:23:12.207 ev_handle DEBUG ] event ClientMess serial 0x000008e1 window 0000000000 ""
[ 06/04/21 22:23:12.227 ev_handle DEBUG ] event PropertyNo serial 0x000008e4 window 0x00000934 "(Root window)"
[ 06/04/21 22:23:12.230 ev_handle DEBUG ] event ShapeNotif serial 0x000008e7 window 0x03200002 "Dunst"
[ 06/04/21 22:23:12.230 win_set_flags DEBUG ] Set flags 9 to window 0x03200002 (Dunst)
[ 06/04/21 22:23:12.230 win_on_factor_change DEBUG ] Window 0x03200002 (Dunst) factor change
[ 06/04/21 22:23:12.230 win_determine_shadow DEBUG ] Determining shadow of window 0x03200002 (Dunst)
[ 06/04/21 22:23:12.230 win_on_factor_change DEBUG ] Window mode changed to 0
[ 06/04/21 22:23:12.230 handle_pending_updates DEBUG ] Delayed handling of events, entering critical section
[ 06/04/21 22:23:12.233 win_clear_flags DEBUG ] Clear flags 9 from window 0x03200002 (Dunst)
[ 06/04/21 22:23:12.233 handle_pending_updates DEBUG ] Exited critical section
[ 06/04/21 22:23:12.234 glx_find_fbconfig DEBUG ] Looking for FBConfig for RGBA8888, depth 32
[ 06/04/21 22:23:12.239 glx_bind_pixmap DEBUG ] depth 32, tgt 0x20dc, rgba 1
[ 06/04/21 22:23:12.241 ev_handle DEBUG ] event DestroyNot serial 0x000008f5 window 0x04800001 "(Failed to get title)"
[ 06/04/21 22:23:12.241 destroy_win_start DEBUG ] Destroying 0x04800001 "(null)", managed = 0
[ 06/04/21 22:23:12.247 ev_handle DEBUG ] event CreateNoti serial 0x00000916 window 0x04e00001 "(Failed to get title)"
[ 06/04/21 22:23:12.247 add_win DEBUG ] Adding window 0x04e00001
[ 06/04/21 22:23:12.247 ev_handle DEBUG ] event ConfigureN serial 0x00000916 window 0x03200002 "Dunst"
[ 06/04/21 22:23:12.247 ev_configure_notify DEBUG ] { send_event: 2356, id: 0x03200002, above: 0x04e00001, override_redirect: 1 }
[ 06/04/21 22:23:12.247 restack_above DEBUG ] Restack 0x03200002 (Dunst), old_below: 0x04400002, new_below: 0x04e00001
[ 06/04/21 22:23:12.247 handle_pending_updates DEBUG ] Delayed handling of events, entering critical section
[ 06/04/21 22:23:12.247 fill_win DEBUG ] Managing window 0x04e00001
[ 06/04/21 22:23:12.247 handle_pending_updates DEBUG ] Exited critical section
[ 06/04/21 22:23:12.263 glx_bind_pixmap DEBUG ] depth 32, tgt 0x20dc, rgba 1
[ 06/04/21 22:23:12.264 ev_handle DEBUG ] event CreateNoti serial 0x00000920 window 0x04c00002 "(Failed to get title)"
[ 06/04/21 22:23:12.264 add_win DEBUG ] Adding window 0x04c00002
[ 06/04/21 22:23:12.264 ev_handle DEBUG ] event ConfigureN serial 0x00000920 window 0x03200002 "Dunst"
[ 06/04/21 22:23:12.264 ev_configure_notify DEBUG ] { send_event: 2356, id: 0x03200002, above: 0x04c00002, override_redirect: 1 }
[ 06/04/21 22:23:12.264 restack_above DEBUG ] Restack 0x03200002 (Dunst), old_below: 0x04e00001, new_below: 0x04c00002
[ 06/04/21 22:23:12.264 ev_handle DEBUG ] event ReparentNo serial 0x00000920 window 0x04c00002 "(Failed to get title)"
[ 06/04/21 22:23:12.264 ev_reparent_notify DEBUG ] Window 0x04c00002 has new parent: 0x00e00006, override_redirect: 0
[ 06/04/21 22:23:12.264 destroy_win_start DEBUG ] Destroying 0x04c00002 "(null)", managed = 0
[ 06/04/21 22:23:12.264 ev_reparent_notify DEBUG ] Window 0x04c00002 doesn't have WM_STATE property, it is probably not a client window. But we will listen for property change in case it gains one.
[ 06/04/21 22:23:12.264 ev_handle DEBUG ] event CreateNoti serial 0x00000920 window 0x04200004 "(Failed to get title)"
[ 06/04/21 22:23:12.264 add_win DEBUG ] Adding window 0x04200004
[ 06/04/21 22:23:12.264 ev_handle DEBUG ] event ConfigureN serial 0x00000920 window 0x03200002 "Dunst"
[ 06/04/21 22:23:12.264 ev_configure_notify DEBUG ] { send_event: 2356, id: 0x03200002, above: 0x04200004, override_redirect: 1 }
[ 06/04/21 22:23:12.264 restack_above DEBUG ] Restack 0x03200002 (Dunst), old_below: 0x04e00001, new_below: 0x04200004
[ 06/04/21 22:23:12.264 handle_pending_updates DEBUG ] Delayed handling of events, entering critical section
[ 06/04/21 22:23:12.264 fill_win DEBUG ] Managing window 0x04200004
[ 06/04/21 22:23:12.265 handle_pending_updates DEBUG ] Exited critical section
[ 06/04/21 22:23:12.280 ev_handle DEBUG ] event CreateNoti serial 0x0000093c window 0x02a00002 "(Failed to get title)"
[ 06/04/21 22:23:12.280 add_win DEBUG ] Adding window 0x02a00002
[ 06/04/21 22:23:12.280 ev_handle DEBUG ] event ConfigureN serial 0x0000093c window 0x03200002 "Dunst"
[ 06/04/21 22:23:12.280 ev_configure_notify DEBUG ] { send_event: 2356, id: 0x03200002, above: 0x02a00002, override_redirect: 1 }
[ 06/04/21 22:23:12.280 restack_above DEBUG ] Restack 0x03200002 (Dunst), old_below: 0x04200004, new_below: 0x02a00002
[ 06/04/21 22:23:12.280 handle_pending_updates DEBUG ] Delayed handling of events, entering critical section
[ 06/04/21 22:23:12.280 fill_win DEBUG ] Managing window 0x02a00002
[ 06/04/21 22:23:12.281 handle_pending_updates DEBUG ] Exited critical section
[ 06/04/21 22:23:12.305 ev_handle DEBUG ] event ReparentNo serial 0x0000094c window 0x02a00002 "(Failed to get title)"
[ 06/04/21 22:23:12.306 ev_reparent_notify DEBUG ] Window 0x02a00002 has new parent: 0x00e00006, override_redirect: 0
[ 06/04/21 22:23:12.306 destroy_win_start DEBUG ] Destroying 0x02a00002 "(null)", managed = 1
[ 06/04/21 22:23:12.306 ev_reparent_notify DEBUG ] Window 0x02a00002 doesn't have WM_STATE property, it is probably not a client window. But we will listen for property change in case it gains one.
[ 06/04/21 22:23:12.313 ev_handle DEBUG ] event PropertyNo serial 0x00000950 window 0x04c00002 "(Failed to get title)"
[ 06/04/21 22:23:12.335 ev_handle DEBUG ] event PropertyNo serial 0x00000959 window 0x02a00002 "(Failed to get title)"
[ 06/04/21 22:23:12.350 ev_handle DEBUG ] event PropertyNo serial 0x0000095c window 0x04c00002 "(Failed to get title)"
[ 06/04/21 22:23:12.351 ev_handle DEBUG ] event PropertyNo serial 0x0000095c window 0x04c00002 "(Failed to get title)"
[ 06/04/21 22:23:12.351 ev_handle DEBUG ] event UnmapNotif serial 0x0000095c window 0000000000 ""
[ 06/04/21 22:23:12.351 ev_handle DEBUG ] event PropertyNo serial 0x0000095c window 0x04c00002 "(Failed to get title)"
[ 06/04/21 22:23:12.382 ev_handle DEBUG ] event CreateNoti serial 0x00000961 window 0x04c00007 "(Failed to get title)"
[ 06/04/21 22:23:12.382 add_win DEBUG ] Adding window 0x04c00007
[ 06/04/21 22:23:12.382 ev_handle DEBUG ] event CreateNoti serial 0x00000961 window 0x04c0000a "(Failed to get title)"
[ 06/04/21 22:23:12.382 add_win DEBUG ] Adding window 0x04c0000a
[ 06/04/21 22:23:12.382 ev_handle DEBUG ] event ConfigureN serial 0x00000961 window 0x03200002 "Dunst"
[ 06/04/21 22:23:12.382 ev_configure_notify DEBUG ] { send_event: 2356, id: 0x03200002, above: 0x04c0000a, override_redirect: 1 }
[ 06/04/21 22:23:12.382 restack_above DEBUG ] Restack 0x03200002 (Dunst), old_below: 0x04200004, new_below: 0x04c0000a
[ 06/04/21 22:23:12.382 ev_handle DEBUG ] event PropertyNo serial 0x00000961 window 0x02a00002 "(Failed to get title)"
[ 06/04/21 22:23:12.382 ev_handle DEBUG ] event PropertyNo serial 0x00000961 window 0x02a00002 "(Failed to get title)"
[ 06/04/21 22:23:12.382 ev_handle DEBUG ] event ReparentNo serial 0x00000962 window 0x04c0000a "(Failed to get title)"
[ 06/04/21 22:23:12.382 ev_reparent_notify DEBUG ] Window 0x04c0000a has new parent: 0x00e00006, override_redirect: 0
[ 06/04/21 22:23:12.382 destroy_win_start DEBUG ] Destroying 0x04c0000a "(null)", managed = 0
[ 06/04/21 22:23:12.382 ev_reparent_notify DEBUG ] Window 0x04c0000a doesn't have WM_STATE property, it is probably not a client window. But we will listen for property change in case it gains one.
[ 06/04/21 22:23:12.382 ev_handle DEBUG ] event CreateNoti serial 0x00000963 window 0x02a00007 "(Failed to get title)"
[ 06/04/21 22:23:12.382 add_win DEBUG ] Adding window 0x02a00007
[ 06/04/21 22:23:12.382 handle_pending_updates DEBUG ] Delayed handling of events, entering critical section
[ 06/04/21 22:23:12.382 fill_win DEBUG ] Managing window 0x02a00007
[ 06/04/21 22:23:12.382 fill_win DEBUG ] Managing window 0x04c00007
[ 06/04/21 22:23:12.383 handle_pending_updates DEBUG ] Exited critical section
[ 06/04/21 22:23:12.413 ev_handle DEBUG ] event CreateNoti serial 0x0000097c window 0x04200006 "(Failed to get title)"
[ 06/04/21 22:23:12.413 add_win DEBUG ] Adding window 0x04200006
[ 06/04/21 22:23:12.414 ev_handle DEBUG ] event CreateNoti serial 0x0000097c window 0x04200008 "(Failed to get title)"
[ 06/04/21 22:23:12.414 add_win DEBUG ] Adding window 0x04200008
[ 06/04/21 22:23:12.414 ev_handle DEBUG ] event ConfigureN serial 0x0000097c window 0x03200002 "Dunst"
[ 06/04/21 22:23:12.414 ev_configure_notify DEBUG ] { send_event: 2356, id: 0x03200002, above: 0x04200008, override_redirect: 1 }
[ 06/04/21 22:23:12.414 restack_above DEBUG ] Restack 0x03200002 (Dunst), old_below: 0x04c00007, new_below: 0x04200008
[ 06/04/21 22:23:12.414 ev_handle DEBUG ] event ClientMess serial 0x0000097c window 0000000000 ""
[ 06/04/21 22:23:12.414 ev_handle DEBUG ] event ClientMess serial 0x0000097c window 0000000000 ""
[ 06/04/21 22:23:12.414 handle_pending_updates DEBUG ] Delayed handling of events, entering critical section
[ 06/04/21 22:23:12.414 fill_win DEBUG ] Managing window 0x04200008
[ 06/04/21 22:23:12.414 fill_win DEBUG ] Managing window 0x04200006
[ 06/04/21 22:23:12.414 handle_pending_updates DEBUG ] Exited critical section
[ 06/04/21 22:23:12.430 ev_handle DEBUG ] event ReparentNo serial 0x0000098e window 0x04200006 "(Failed to get title)"
[ 06/04/21 22:23:12.430 ev_reparent_notify DEBUG ] Window 0x04200006 has new parent: 0x00e00006, override_redirect: 1
[ 06/04/21 22:23:12.430 destroy_win_start DEBUG ] Destroying 0x04200006 "(null)", managed = 1
[ 06/04/21 22:23:12.430 ev_reparent_notify DEBUG ] Window 0x04200006 doesn't have WM_STATE property, it is probably not a client window. But we will listen for property change in case it gains one.
[ 06/04/21 22:23:12.763 ev_handle DEBUG ] event CreateNoti serial 0x000009ae window 0x04800001 "(Failed to get title)"
[ 06/04/21 22:23:12.763 add_win DEBUG ] Adding window 0x04800001
[ 06/04/21 22:23:12.763 ev_handle DEBUG ] event ConfigureN serial 0x000009ae window 0x03200002 "Dunst"
[ 06/04/21 22:23:12.763 ev_configure_notify DEBUG ] { send_event: 2356, id: 0x03200002, above: 0x04800001, override_redirect: 1 }
[ 06/04/21 22:23:12.763 restack_above DEBUG ] Restack 0x03200002 (Dunst), old_below: 0x04200008, new_below: 0x04800001
[ 06/04/21 22:23:12.763 handle_pending_updates DEBUG ] Delayed handling of events, entering critical section
[ 06/04/21 22:23:12.763 fill_win DEBUG ] Managing window 0x04800001
[ 06/04/21 22:23:12.763 handle_pending_updates DEBUG ] Exited critical section
[ 06/04/21 22:23:12.827 ev_handle DEBUG ] event CreateNoti serial 0x000009b8 window 0x04800003 "(Failed to get title)"
[ 06/04/21 22:23:12.827 add_win DEBUG ] Adding window 0x04800003
[ 06/04/21 22:23:12.827 handle_pending_updates DEBUG ] Delayed handling of events, entering critical section
[ 06/04/21 22:23:12.827 ev_handle DEBUG ] event ConfigureN serial 0x000009b8 window 0x03200002 "Dunst"
[ 06/04/21 22:23:12.827 ev_configure_notify DEBUG ] { send_event: 2356, id: 0x03200002, above: 0x04800003, override_redirect: 1 }
[ 06/04/21 22:23:12.827 restack_above DEBUG ] Restack 0x03200002 (Dunst), old_below: 0x04800001, new_below: 0x04800003
[ 06/04/21 22:23:12.827 fill_win DEBUG ] Managing window 0x04800003
[ 06/04/21 22:23:12.827 handle_pending_updates DEBUG ] Exited critical section
[ 06/04/21 22:23:12.964 ev_handle DEBUG ] event DestroyNot serial 0x000009c4 window 0x04800001 "(Failed to get title)"
[ 06/04/21 22:23:12.964 destroy_win_start DEBUG ] Destroying 0x04800001 "(null)", managed = 0
[ 06/04/21 22:23:12.964 ev_handle DEBUG ] event DestroyNot serial 0x000009c4 window 0x04800003 "(Failed to get title)"
[ 06/04/21 22:23:12.964 destroy_win_start DEBUG ] Destroying 0x04800003 "(null)", managed = 1
[ 06/04/21 22:23:12.966 ev_handle DEBUG ] event    Event 0 serial 0x000009c5 window 0000000000 ""
[ 06/04/21 22:23:12.966 x_print_error DEBUG ] X error 152 DAMAGE_BAD_DAMAGE request 143 minor 2 serial 2475
[ 06/04/21 22:23:13.903 ev_handle DEBUG ] event CreateNoti serial 0x000009cb window 0x00400060 "(Failed to get title)"
[ 06/04/21 22:23:13.903 add_win DEBUG ] Adding window 0x00400060
[ 06/04/21 22:23:13.903 ev_handle DEBUG ] event ClientMess serial 0x000009cb window 0000000000 ""
[ 06/04/21 22:23:13.903 ev_handle DEBUG ] event ClientMess serial 0x000009cb window 0000000000 ""
[ 06/04/21 22:23:13.903 ev_handle DEBUG ] event ClientMess serial 0x000009cb window 0000000000 ""
[ 06/04/21 22:23:13.903 ev_handle DEBUG ] event ClientMess serial 0x000009cb window 0000000000 ""
[ 06/04/21 22:23:13.903 handle_pending_updates DEBUG ] Delayed handling of events, entering critical section
[ 06/04/21 22:23:13.904 ev_handle DEBUG ] event ClientMess serial 0x000009cb window 0000000000 ""
[ 06/04/21 22:23:13.904 ev_handle DEBUG ] event ClientMess serial 0x000009cb window 0000000000 ""
[ 06/04/21 22:23:13.904 ev_handle DEBUG ] event DestroyNot serial 0x000009cb window 0x00400060 "(Failed to get title)"
[ 06/04/21 22:23:13.904 destroy_win_start DEBUG ] Destroying 0x00400060 "(null)", managed = 0
[ 06/04/21 22:23:13.905 handle_pending_updates DEBUG ] Exited critical section
[ 06/04/21 22:23:13.952 ev_handle DEBUG ] event CreateNoti serial 0x000009d1 window 0x04800001 "(Failed to get title)"
[ 06/04/21 22:23:13.952 add_win DEBUG ] Adding window 0x04800001
[ 06/04/21 22:23:13.952 handle_pending_updates DEBUG ] Delayed handling of events, entering critical section
[ 06/04/21 22:23:13.952 ev_handle DEBUG ] event ConfigureN serial 0x000009d1 window 0x03200002 "Dunst"
[ 06/04/21 22:23:13.952 ev_configure_notify DEBUG ] { send_event: 2356, id: 0x03200002, above: 0x04800001, override_redirect: 1 }
[ 06/04/21 22:23:13.952 restack_above DEBUG ] Restack 0x03200002 (Dunst), old_below: 0x04200008, new_below: 0x04800001
[ 06/04/21 22:23:13.952 fill_win DEBUG ] Managing window 0x04800001
[ 06/04/21 22:23:13.953 handle_pending_updates DEBUG ] Exited critical section
[ 06/04/21 22:23:14.071 ev_handle DEBUG ] event CreateNoti serial 0x000009db window 0x04800003 "(Failed to get title)"
[ 06/04/21 22:23:14.071 add_win DEBUG ] Adding window 0x04800003
[ 06/04/21 22:23:14.071 handle_pending_updates DEBUG ] Delayed handling of events, entering critical section
[ 06/04/21 22:23:14.071 fill_win DEBUG ] Managing window 0x04800003
[ 06/04/21 22:23:14.072 handle_pending_updates DEBUG ] Exited critical section
[ 06/04/21 22:23:14.073 ev_handle DEBUG ] event ConfigureN serial 0x000009e4 window 0x03200002 "Dunst"
[ 06/04/21 22:23:14.073 ev_configure_notify DEBUG ] { send_event: 2356, id: 0x03200002, above: 0x04800003, override_redirect: 1 }
[ 06/04/21 22:23:14.073 restack_above DEBUG ] Restack 0x03200002 (Dunst), old_below: 0x04800001, new_below: 0x04800003
[ 06/04/21 22:23:14.073 ev_handle DEBUG ] event CreateNoti serial 0x000009e5 window 0x04800009 "(Failed to get title)"
[ 06/04/21 22:23:14.073 add_win DEBUG ] Adding window 0x04800009
[ 06/04/21 22:23:14.073 handle_pending_updates DEBUG ] Delayed handling of events, entering critical section
[ 06/04/21 22:23:14.074 fill_win DEBUG ] Managing window 0x04800009
[ 06/04/21 22:23:14.075 handle_pending_updates DEBUG ] Exited critical section
[ 06/04/21 22:23:14.079 ev_handle DEBUG ] event ClientMess serial 0x000009f3 window 0000000000 ""
[ 06/04/21 22:23:14.079 ev_handle DEBUG ] event CreateNoti serial 0x000009f4 window 0x04800025 "(Failed to get title)"
[ 06/04/21 22:23:14.079 add_win DEBUG ] Adding window 0x04800025
[ 06/04/21 22:23:14.079 handle_pending_updates DEBUG ] Delayed handling of events, entering critical section
[ 06/04/21 22:23:14.079 fill_win DEBUG ] Managing window 0x04800025
[ 06/04/21 22:23:14.080 handle_pending_updates DEBUG ] Exited critical section
[ 06/04/21 22:23:14.095 ev_handle DEBUG ] event ConfigureN serial 0x000009ff window 0x04800003 "(Failed to get title)"
[ 06/04/21 22:23:14.095 ev_configure_notify DEBUG ] { send_event: 2356, id: 0x04800003, above: 0x04800025, override_redirect: 0 }
[ 06/04/21 22:23:14.095 restack_above DEBUG ] Restack 0x04800003 ((null)), old_below: 0x04800001, new_below: 0x04800025
[ 06/04/21 22:23:14.095 ev_handle DEBUG ] event ClientMess serial 0x000009ff window 0000000000 ""
[ 06/04/21 22:23:14.095 ev_handle DEBUG ] event ClientMess serial 0x000009ff window 0000000000 ""
[ 06/04/21 22:23:14.095 ev_handle DEBUG ] event ClientMess serial 0x000009ff window 0000000000 ""
[ 06/04/21 22:23:14.095 ev_handle DEBUG ] event DestroyNot serial 0x000009ff window 0x04800025 "(Failed to get title)"
[ 06/04/21 22:23:14.095 destroy_win_start DEBUG ] Destroying 0x04800025 "(null)", managed = 1
[ 06/04/21 22:23:14.095 ev_handle DEBUG ] event CreateNoti serial 0x000009ff window 0x00400061 "(Failed to get title)"
[ 06/04/21 22:23:14.095 add_win DEBUG ] Adding window 0x00400061
[ 06/04/21 22:23:14.095 ev_handle DEBUG ] event ReparentNo serial 0x000009ff window 0x04800003 "(Failed to get title)"
[ 06/04/21 22:23:14.095 ev_reparent_notify DEBUG ] Window 0x04800003 has new parent: 0x00400061, override_redirect: 0
[ 06/04/21 22:23:14.095 destroy_win_start DEBUG ] Destroying 0x04800003 "(null)", managed = 1
[ 06/04/21 22:23:14.096 ev_reparent_notify DEBUG ] parent 0x00400061 not found
[ 06/04/21 22:23:14.096 ev_handle DEBUG ] event ConfigureN serial 0x000009ff window 0x00400061 "(Failed to get title)"
[ 06/04/21 22:23:14.096 ev_configure_notify DEBUG ] { send_event: 2356, id: 0x00400061, above: 0x00400048, override_redirect: 1 }
[ 06/04/21 22:23:14.096 restack_above DEBUG ] Restack 0x00400061 ((unmanaged)), old_below: 0x04800009, new_below: 0x00400048
[ 06/04/21 22:23:14.096 ev_handle DEBUG ] event ConfigureN serial 0x000009ff window 0x0040005b "i3bar for output eDP-1"
[ 06/04/21 22:23:14.096 ev_configure_notify DEBUG ] { send_event: 2356, id: 0x0040005b, above: 0x00400046, override_redirect: 1 }
[ 06/04/21 22:23:14.096 restack_above DEBUG ] Restack 0x0040005b (i3bar for output eDP-1), old_below: 0x00e0000c, new_below: 0x00400046
[ 06/04/21 22:23:14.096 ev_handle DEBUG ] event PropertyNo serial 0x000009ff window 0x00000934 "(Root window)"
[ 06/04/21 22:23:14.096 ev_handle DEBUG ] event PropertyNo serial 0x000009ff window 0x00000934 "(Root window)"
[ 06/04/21 22:23:14.096 ev_handle DEBUG ] event ConfigureN serial 0x000009ff window 0x00400048 "(Failed to get title)"
[ 06/04/21 22:23:14.096 ev_configure_notify DEBUG ] { send_event: 2356, id: 0x00400048, above: 0x00400044, override_redirect: 1 }
[ 06/04/21 22:23:14.096 restack_above DEBUG ] Restack 0x00400048 ((null)), old_below: 0x00400044, new_below: 0x00400044
[ 06/04/21 22:23:14.096 ev_handle DEBUG ] event  MapNotify serial 0x000009ff window 0x00400048 "(Failed to get title)"
[ 06/04/21 22:23:14.096 win_set_flags DEBUG ] Set flags 64 to window 0x00400048 ((null))
[ 06/04/21 22:23:14.096 ev_handle DEBUG ] event ConfigureN serial 0x000009ff window 0x00400061 "(Failed to get title)"
[ 06/04/21 22:23:14.096 ev_configure_notify DEBUG ] { send_event: 2356, id: 0x00400061, above: 0x00400048, override_redirect: 1 }
[ 06/04/21 22:23:14.096 restack_above DEBUG ] Restack 0x00400061 ((unmanaged)), old_below: 0x00400048, new_below: 0x00400048
[ 06/04/21 22:23:14.096 ev_handle DEBUG ] event  MapNotify serial 0x000009ff window 0x00400061 "(Failed to get title)"
[ 06/04/21 22:23:14.096 ev_handle DEBUG ] event PropertyNo serial 0x000009ff window 0x00000934 "(Root window)"
[ 06/04/21 22:23:14.096 ev_handle DEBUG ] event    Event 0 serial 0x00000a03 window 0000000000 ""
[ 06/04/21 22:23:14.096 x_print_error DEBUG ] X error 152 DAMAGE_BAD_DAMAGE request 143 minor 2 serial 2475
[ 06/04/21 22:23:14.096 handle_pending_updates DEBUG ] Delayed handling of events, entering critical section
[ 06/04/21 22:23:14.096 fill_win DEBUG ] Managing window 0x00400061
[ 06/04/21 22:23:14.096 map_win_start DEBUG ] Mapping (0x00400061 "(null)")
[ 06/04/21 22:23:14.096 win_recheck_client DEBUG ] (0x00400061): client 0x04800003
[ 06/04/21 22:23:14.096 win_on_factor_change DEBUG ] Window 0x00400061 ((null)) factor change
[ 06/04/21 22:23:14.096 win_determine_shadow DEBUG ] Determining shadow of window 0x00400061 ((null))
[ 06/04/21 22:23:14.096 win_set_shadow DEBUG ] Updating shadow property of window 0x00400061 ((null)) to 1
[ 06/04/21 22:23:14.096 win_on_factor_change DEBUG ] Window mode changed to 0
[ 06/04/21 22:23:14.096 win_on_factor_change DEBUG ] Window 0x00400061 ((null)) factor change
[ 06/04/21 22:23:14.096 win_determine_shadow DEBUG ] Determining shadow of window 0x00400061 ((null))
[ 06/04/21 22:23:14.096 win_on_factor_change DEBUG ] Window mode changed to 0
[ 06/04/21 22:23:14.096 win_on_factor_change DEBUG ] Window 0x00400061 ((null)) factor change
[ 06/04/21 22:23:14.096 win_determine_shadow DEBUG ] Determining shadow of window 0x00400061 ((null))
[ 06/04/21 22:23:14.096 win_on_factor_change DEBUG ] Window mode changed to 0
[ 06/04/21 22:23:14.097 map_win_start DEBUG ] Window (0x00400061) has type normal
[ 06/04/21 22:23:14.097 win_determine_shadow DEBUG ] Determining shadow of window 0x00400061 ((null))
[ 06/04/21 22:23:14.097 map_win_start DEBUG ] Window 0x00400061 has opacity 0,000000, opacity target is 0,800000
[ 06/04/21 22:23:14.097 win_set_flags DEBUG ] Set flags 9 to window 0x00400061 ((null))
[ 06/04/21 22:23:14.097 win_on_factor_change DEBUG ] Window 0x00400061 ((null)) factor change
[ 06/04/21 22:23:14.097 win_determine_shadow DEBUG ] Determining shadow of window 0x00400061 ((null))
[ 06/04/21 22:23:14.097 win_on_factor_change DEBUG ] Window mode changed to 0
[ 06/04/21 22:23:14.097 map_win_start DEBUG ] Mapping (0x00400048 "(null)")
[ 06/04/21 22:23:14.097 win_recheck_client DEBUG ] (0x00400048): client self (override-redirected)
[ 06/04/21 22:23:14.097 win_on_factor_change DEBUG ] Window 0x00400048 ((null)) factor change
[ 06/04/21 22:23:14.097 win_determine_shadow DEBUG ] Determining shadow of window 0x00400048 ((null))
[ 06/04/21 22:23:14.097 win_set_shadow DEBUG ] Updating shadow property of window 0x00400048 ((null)) to 1
[ 06/04/21 22:23:14.097 win_on_factor_change DEBUG ] Window mode changed to 0
[ 06/04/21 22:23:14.097 win_on_factor_change DEBUG ] Window 0x00400048 ([i3 con] workspace 1) factor change
[ 06/04/21 22:23:14.097 win_determine_shadow DEBUG ] Determining shadow of window 0x00400048 ([i3 con] workspace 1)
[ 06/04/21 22:23:14.097 win_on_factor_change DEBUG ] Window mode changed to 0
[ 06/04/21 22:23:14.097 map_win_start DEBUG ] Window (0x00400048) has type normal
[ 06/04/21 22:23:14.097 win_determine_shadow DEBUG ] Determining shadow of window 0x00400048 ([i3 con] workspace 1)
[ 06/04/21 22:23:14.097 map_win_start DEBUG ] Window 0x00400048 has opacity 0,000000, opacity target is 1,000000
[ 06/04/21 22:23:14.097 win_set_flags DEBUG ] Set flags 9 to window 0x00400048 ([i3 con] workspace 1)
[ 06/04/21 22:23:14.097 win_on_factor_change DEBUG ] Window 0x00400048 ([i3 con] workspace 1) factor change
[ 06/04/21 22:23:14.097 win_determine_shadow DEBUG ] Determining shadow of window 0x00400048 ([i3 con] workspace 1)
[ 06/04/21 22:23:14.097 win_on_factor_change DEBUG ] Window mode changed to 0
[ 06/04/21 22:23:14.097 win_clear_flags DEBUG ] Clear flags 64 from window 0x00400048 ([i3 con] workspace 1)
[ 06/04/21 22:23:14.097 win_on_factor_change DEBUG ] Window 0x00400061 ((null)) factor change
[ 06/04/21 22:23:14.097 win_determine_shadow DEBUG ] Determining shadow of window 0x00400061 ((null))
[ 06/04/21 22:23:14.097 win_on_factor_change DEBUG ] Window mode changed to 0
[ 06/04/21 22:23:14.097 win_on_factor_change DEBUG ] Window 0x00400061 ((null)) factor change
[ 06/04/21 22:23:14.097 win_determine_shadow DEBUG ] Determining shadow of window 0x00400061 ((null))
[ 06/04/21 22:23:14.097 win_on_factor_change DEBUG ] Window mode changed to 0
[ 06/04/21 22:23:14.097 win_clear_flags DEBUG ] Clear flags 9 from window 0x00400061 ((null))
[ 06/04/21 22:23:14.097 win_clear_flags DEBUG ] Clear flags 9 from window 0x00400048 ([i3 con] workspace 1)
[ 06/04/21 22:23:14.097 handle_pending_updates DEBUG ] Exited critical section
[ 06/04/21 22:23:14.129 glx_bind_pixmap DEBUG ] depth 32, tgt 0x20dc, rgba 1
[ 06/04/21 22:23:14.129 glx_find_fbconfig DEBUG ] Looking for FBConfig for RGBA8888, depth 32
[ 06/04/21 22:23:14.135 glx_bind_pixmap DEBUG ] depth 32, tgt 0x20dc, rgba 1
[ 06/04/21 22:23:14.143 glx_bind_pixmap DEBUG ] depth 32, tgt 0x20dc, rgba 1
[ 06/04/21 22:23:14.144 glx_find_fbconfig DEBUG ] Looking for FBConfig for RGBA8888, depth 32
[ 06/04/21 22:23:14.148 glx_bind_pixmap DEBUG ] depth 32, tgt 0x20dc, rgba 1
[ 06/04/21 22:23:14.151 ev_handle DEBUG ] event CreateNoti serial 0x00000a48 window 0x03a00017 "(Failed to get title)"
[ 06/04/21 22:23:14.151 add_win DEBUG ] Adding window 0x03a00017
[ 06/04/21 22:23:14.152 handle_pending_updates DEBUG ] Delayed handling of events, entering critical section
[ 06/04/21 22:23:14.152 fill_win DEBUG ] Managing window 0x03a00017
[ 06/04/21 22:23:14.152 handle_pending_updates DEBUG ] Exited critical section
[ 06/04/21 22:23:14.156 ev_handle DEBUG ] event CreateNoti serial 0x00000aa2 window 0x03a0001c "(Failed to get title)"
[ 06/04/21 22:23:14.157 add_win DEBUG ] Adding window 0x03a0001c
[ 06/04/21 22:23:14.157 handle_pending_updates DEBUG ] Delayed handling of events, entering critical section
[ 06/04/21 22:23:14.157 fill_win DEBUG ] Managing window 0x03a0001c
[ 06/04/21 22:23:14.157 handle_pending_updates DEBUG ] Exited critical section
[ 06/04/21 22:23:14.161 ev_handle DEBUG ] event ConfigureN serial 0x00000aad window 0x03a0001c "(Failed to get title)"
[ 06/04/21 22:23:14.161 ev_configure_notify DEBUG ] { send_event: 2356, id: 0x03a0001c, above: 0x03a00017, override_redirect: 1 }
[ 06/04/21 22:23:14.162 restack_above DEBUG ] Restack 0x03a0001c ((null)), old_below: 0x03a00017, new_below: 0x03a00017
[ 06/04/21 22:23:14.162 ev_handle DEBUG ] event ClientMess serial 0x00000aad window 0000000000 ""
[ 06/04/21 22:23:14.162 ev_handle DEBUG ] event  MapNotify serial 0x00000aad window 0x03a0001c "(Failed to get title)"
[ 06/04/21 22:23:14.162 win_set_flags DEBUG ] Set flags 64 to window 0x03a0001c ((null))
[ 06/04/21 22:23:14.162 handle_pending_updates DEBUG ] Delayed handling of events, entering critical section
[ 06/04/21 22:23:14.162 map_win_start DEBUG ] Mapping (0x03a0001c "(null)")
[ 06/04/21 22:23:14.162 win_recheck_client DEBUG ] (0x03a0001c): client self (override-redirected)
[ 06/04/21 22:23:14.162 win_on_factor_change DEBUG ] Window 0x03a0001c ((null)) factor change
[ 06/04/21 22:23:14.162 win_determine_shadow DEBUG ] Determining shadow of window 0x03a0001c ((null))
[ 06/04/21 22:23:14.162 win_set_shadow DEBUG ] Updating shadow property of window 0x03a0001c ((null)) to 1
[ 06/04/21 22:23:14.162 win_on_factor_change DEBUG ] Window mode changed to 0
[ 06/04/21 22:23:14.162 win_on_factor_change DEBUG ] Window 0x03a0001c ((null)) factor change
[ 06/04/21 22:23:14.162 win_determine_shadow DEBUG ] Determining shadow of window 0x03a0001c ((null))
[ 06/04/21 22:23:14.162 win_on_factor_change DEBUG ] Window mode changed to 0
[ 06/04/21 22:23:14.162 win_on_factor_change DEBUG ] Window 0x03a0001c (antler-keyboard) factor change
[ 06/04/21 22:23:14.162 win_determine_shadow DEBUG ] Determining shadow of window 0x03a0001c (antler-keyboard)
[ 06/04/21 22:23:14.162 win_on_factor_change DEBUG ] Window mode changed to 0
[ 06/04/21 22:23:14.163 map_win_start DEBUG ] Window (0x03a0001c) has type normal
[ 06/04/21 22:23:14.163 win_determine_shadow DEBUG ] Determining shadow of window 0x03a0001c (antler-keyboard)
[ 06/04/21 22:23:14.163 map_win_start DEBUG ] Window 0x03a0001c has opacity 0,000000, opacity target is 1,000000
[ 06/04/21 22:23:14.163 win_set_flags DEBUG ] Set flags 9 to window 0x03a0001c (antler-keyboard)
[ 06/04/21 22:23:14.163 win_on_factor_change DEBUG ] Window 0x03a0001c (antler-keyboard) factor change
[ 06/04/21 22:23:14.163 win_determine_shadow DEBUG ] Determining shadow of window 0x03a0001c (antler-keyboard)
[ 06/04/21 22:23:14.163 win_on_factor_change DEBUG ] Window mode changed to 0
[ 06/04/21 22:23:14.163 win_clear_flags DEBUG ] Clear flags 64 from window 0x03a0001c (antler-keyboard)
[ 06/04/21 22:23:14.163 win_clear_flags DEBUG ] Clear flags 9 from window 0x03a0001c (antler-keyboard)
[ 06/04/21 22:23:14.163 handle_pending_updates DEBUG ] Exited critical section
[ 06/04/21 22:23:14.212 ev_handle DEBUG ] event PropertyNo serial 0x00000ad8 window 0x04800003 "(Failed to get title)"
[ 06/04/21 22:23:14.212 win_on_factor_change DEBUG ] Window 0x00400061 (qiraht@Inspiron:~) factor change
[ 06/04/21 22:23:14.212 win_determine_shadow DEBUG ] Determining shadow of window 0x00400061 (qiraht@Inspiron:~)
[ 06/04/21 22:23:14.212 win_on_factor_change DEBUG ] Window mode changed to 0
[ 06/04/21 22:23:14.212 ev_handle DEBUG ] event PropertyNo serial 0x00000ad8 window 0x04800003 "qiraht@Inspiron:~"
[ 06/04/21 22:23:14.212 ev_handle DEBUG ] event PropertyNo serial 0x00000ad8 window 0x04800003 "qiraht@Inspiron:~"
[ 06/04/21 22:23:14.212 ev_handle DEBUG ] event PropertyNo serial 0x00000ad8 window 0x04800003 "qiraht@Inspiron:~"
[ 06/04/21 22:23:14.758 ev_handle DEBUG ] event   FocusOut serial 0x00000b17 window 0x00400061 "qiraht@Inspiron:~"
[ 06/04/21 22:23:14.758 ev_focus_out DEBUG ] { mode: NotifyGrab, detail: NotifyVirtual }

[ 06/04/21 22:23:14.758 handle_pending_updates DEBUG ] Delayed handling of events, entering critical section
[ 06/04/21 22:23:14.761 ev_handle DEBUG ] event CreateNoti serial 0x00000b17 window 0x0040006d "(Failed to get title)"
[ 06/04/21 22:23:14.761 add_win DEBUG ] Adding window 0x0040006d
[ 06/04/21 22:23:14.761 ev_handle DEBUG ] event ClientMess serial 0x00000b17 window 0000000000 ""
[ 06/04/21 22:23:14.761 ev_handle DEBUG ] event ClientMess serial 0x00000b17 window 0000000000 ""
[ 06/04/21 22:23:14.761 ev_handle DEBUG ] event ClientMess serial 0x00000b17 window 0000000000 ""
[ 06/04/21 22:23:14.761 ev_handle DEBUG ] event ClientMess serial 0x00000b17 window 0000000000 ""
[ 06/04/21 22:23:14.761 ev_handle DEBUG ] event ClientMess serial 0x00000b17 window 0000000000 ""
[ 06/04/21 22:23:14.761 ev_handle DEBUG ] event ClientMess serial 0x00000b17 window 0000000000 ""
[ 06/04/21 22:23:14.761 ev_handle DEBUG ] event DestroyNot serial 0x00000b17 window 0x0040006d "(Failed to get title)"
[ 06/04/21 22:23:14.761 destroy_win_start DEBUG ] Destroying 0x0040006d "(null)", managed = 0
[ 06/04/21 22:23:14.762 handle_pending_updates DEBUG ] Exited critical section
[ 06/04/21 22:23:14.766 ev_handle DEBUG ] event UnmapNotif serial 0x00000b2c window 0x03a0001c "antler-keyboard"
[ 06/04/21 22:23:14.766 unmap_win_start DEBUG ] Unmapping 0x03a0001c "antler-keyboard"
[ 06/04/21 22:23:14.766 win_clear_flags DEBUG ] Clear flags 1 from window 0x03a0001c (antler-keyboard)
[ 06/04/21 22:23:14.778 ev_handle DEBUG ] event UnmapNotif serial 0x00000b2c window 0000000000 ""
[ 06/04/21 22:23:14.813 ev_handle DEBUG ] event CreateNoti serial 0x00000b35 window 0x04800034 "(Failed to get title)"
[ 06/04/21 22:23:14.813 add_win DEBUG ] Adding window 0x04800034
[ 06/04/21 22:23:14.813 handle_pending_updates DEBUG ] Delayed handling of events, entering critical section
[ 06/04/21 22:23:14.813 ev_handle DEBUG ] event ConfigureN serial 0x00000b35 window 0x03200002 "Dunst"
[ 06/04/21 22:23:14.813 ev_configure_notify DEBUG ] { send_event: 2356, id: 0x03200002, above: 0x04800034, override_redirect: 1 }
[ 06/04/21 22:23:14.813 restack_above DEBUG ] Restack 0x03200002 (Dunst), old_below: 0x04800001, new_below: 0x04800034
[ 06/04/21 22:23:14.813 fill_win DEBUG ] Managing window 0x04800034
[ 06/04/21 22:23:14.813 handle_pending_updates DEBUG ] Exited critical section
[ 06/04/21 22:23:14.814 ev_handle DEBUG ] event   FocusOut serial 0x00000b3e window 0x00400061 "qiraht@Inspiron:~"
[ 06/04/21 22:23:14.814 ev_focus_out DEBUG ] { mode: NotifyUngrab, detail: NotifyPointer }

[ 06/04/21 22:23:14.814 ev_handle DEBUG ] event    FocusIn serial 0x00000b3e window 0x00400061 "qiraht@Inspiron:~"
[ 06/04/21 22:23:14.814 ev_focus_in DEBUG ] { mode: NotifyUngrab, detail: NotifyVirtual }

[ 06/04/21 22:23:14.814 handle_pending_updates DEBUG ] Delayed handling of events, entering critical section
[ 06/04/21 22:23:14.814 handle_pending_updates DEBUG ] Exited critical section
[ 06/04/21 22:23:14.831 ev_handle DEBUG ] event ClientMess serial 0x00000b47 window 0000000000 ""
[ 06/04/21 22:23:14.831 ev_handle DEBUG ] event CreateNoti serial 0x00000b47 window 0x04800042 "(Failed to get title)"
[ 06/04/21 22:23:14.831 add_win DEBUG ] Adding window 0x04800042
[ 06/04/21 22:23:14.831 ev_handle DEBUG ] event ClientMess serial 0x00000b47 window 0000000000 ""
[ 06/04/21 22:23:14.831 ev_handle DEBUG ] event ClientMess serial 0x00000b47 window 0000000000 ""
[ 06/04/21 22:23:14.831 ev_handle DEBUG ] event ClientMess serial 0x00000b47 window 0000000000 ""
[ 06/04/21 22:23:14.831 ev_handle DEBUG ] event DestroyNot serial 0x00000b47 window 0x04800042 "(Failed to get title)"
[ 06/04/21 22:23:14.831 destroy_win_start DEBUG ] Destroying 0x04800042 "(null)", managed = 0
[ 06/04/21 22:23:14.831 ev_handle DEBUG ] event ConfigureN serial 0x00000b47 window 0x04800034 "(Failed to get title)"
[ 06/04/21 22:23:14.831 ev_configure_notify DEBUG ] { send_event: 2356, id: 0x04800034, above: 0x03200002, override_redirect: 0 }
[ 06/04/21 22:23:14.831 restack_above DEBUG ] Restack 0x04800034 ((null)), old_below: 0x03a0001c, new_below: 0x03200002
[ 06/04/21 22:23:14.831 ev_handle DEBUG ] event CreateNoti serial 0x00000b47 window 0x0040006e "(Failed to get title)"
[ 06/04/21 22:23:14.831 add_win DEBUG ] Adding window 0x0040006e
[ 06/04/21 22:23:14.831 ev_handle DEBUG ] event ReparentNo serial 0x00000b47 window 0x04800034 "(Failed to get title)"
[ 06/04/21 22:23:14.831 ev_reparent_notify DEBUG ] Window 0x04800034 has new parent: 0x0040006e, override_redirect: 0
[ 06/04/21 22:23:14.831 destroy_win_start DEBUG ] Destroying 0x04800034 "(null)", managed = 1
[ 06/04/21 22:23:14.831 ev_reparent_notify DEBUG ] parent 0x0040006e not found
[ 06/04/21 22:23:14.831 ev_handle DEBUG ] event ConfigureN serial 0x00000b47 window 0x0040006e "(Failed to get title)"
[ 06/04/21 22:23:14.831 ev_configure_notify DEBUG ] { send_event: 2356, id: 0x0040006e, above: 0x00400061, override_redirect: 1 }
[ 06/04/21 22:23:14.831 restack_above DEBUG ] Restack 0x0040006e ((unmanaged)), old_below: 0x03200002, new_below: 0x00400061
[ 06/04/21 22:23:14.831 ev_handle DEBUG ] event PropertyNo serial 0x00000b47 window 0x00000934 "(Root window)"
[ 06/04/21 22:23:14.831 ev_handle DEBUG ] event PropertyNo serial 0x00000b47 window 0x00000934 "(Root window)"
[ 06/04/21 22:23:14.831 ev_handle DEBUG ] event ConfigureN serial 0x00000b47 window 0x0040006e "(Failed to get title)"
[ 06/04/21 22:23:14.831 ev_configure_notify DEBUG ] { send_event: 2356, id: 0x0040006e, above: 0x00400061, override_redirect: 1 }
[ 06/04/21 22:23:14.831 restack_above DEBUG ] Restack 0x0040006e ((unmanaged)), old_below: 0x00400061, new_below: 0x00400061
[ 06/04/21 22:23:14.831 ev_handle DEBUG ] event  MapNotify serial 0x00000b47 window 0x0040006e "(Failed to get title)"
[ 06/04/21 22:23:14.831 ev_handle DEBUG ] event ConfigureN serial 0x00000b47 window 0x00400061 "qiraht@Inspiron:~"
[ 06/04/21 22:23:14.831 ev_configure_notify DEBUG ] { send_event: 2356, id: 0x00400061, above: 0x00400048, override_redirect: 1 }
[ 06/04/21 22:23:14.831 restack_above DEBUG ] Restack 0x00400061 (qiraht@Inspiron:~), old_below: 0x00400048, new_below: 0x00400048
[ 06/04/21 22:23:14.831 win_set_flags DEBUG ] Set flags 9 to window 0x00400061 (qiraht@Inspiron:~)
[ 06/04/21 22:23:14.831 win_set_flags DEBUG ] Set flags 9 to window 0x00400061 (qiraht@Inspiron:~)
[ 06/04/21 22:23:14.832 win_on_factor_change DEBUG ] Window 0x00400061 (qiraht@Inspiron:~) factor change
[ 06/04/21 22:23:14.832 win_determine_shadow DEBUG ] Determining shadow of window 0x00400061 (qiraht@Inspiron:~)
[ 06/04/21 22:23:14.832 win_on_factor_change DEBUG ] Window mode changed to 0
[ 06/04/21 22:23:14.832 win_on_factor_change DEBUG ] Window 0x00400061 (qiraht@Inspiron:~) factor change
[ 06/04/21 22:23:14.832 win_determine_shadow DEBUG ] Determining shadow of window 0x00400061 (qiraht@Inspiron:~)
[ 06/04/21 22:23:14.832 win_on_factor_change DEBUG ] Window mode changed to 0
[ 06/04/21 22:23:14.832 ev_handle DEBUG ] event ConfigureN serial 0x00000b47 window 0x04800003 "qiraht@Inspiron:~"
[ 06/04/21 22:23:14.832 ev_configure_notify DEBUG ] { send_event: 4194401, id: 0x04800003, above: 0000000000, override_redirect: 0 }
[ 06/04/21 22:23:14.832 ev_handle DEBUG ] event   FocusOut serial 0x00000b47 window 0x00400061 "qiraht@Inspiron:~"
[ 06/04/21 22:23:14.832 ev_focus_out DEBUG ] { mode: NotifyNormal, detail: NotifyNonlinearVirtual }

[ 06/04/21 22:23:14.832 ev_handle DEBUG ] event PropertyNo serial 0x00000b47 window 0x00000934 "(Root window)"
[ 06/04/21 22:23:14.832 ev_handle DEBUG ] event PropertyNo serial 0x00000b47 window 0x04800003 "qiraht@Inspiron:~"
[ 06/04/21 22:23:14.832 handle_pending_updates DEBUG ] Delayed handling of events, entering critical section
[ 06/04/21 22:23:14.832 fill_win DEBUG ] Managing window 0x0040006e
[ 06/04/21 22:23:14.832 map_win_start DEBUG ] Mapping (0x0040006e "(null)")
[ 06/04/21 22:23:14.833 win_recheck_client DEBUG ] (0x0040006e): client 0x04800034
[ 06/04/21 22:23:14.833 win_on_factor_change DEBUG ] Window 0x0040006e ((null)) factor change
[ 06/04/21 22:23:14.833 win_determine_shadow DEBUG ] Determining shadow of window 0x0040006e ((null))
[ 06/04/21 22:23:14.833 win_set_shadow DEBUG ] Updating shadow property of window 0x0040006e ((null)) to 1
[ 06/04/21 22:23:14.833 win_on_factor_change DEBUG ] Window mode changed to 0
[ 06/04/21 22:23:14.833 win_on_factor_change DEBUG ] Window 0x0040006e ((null)) factor change
[ 06/04/21 22:23:14.833 win_determine_shadow DEBUG ] Determining shadow of window 0x0040006e ((null))
[ 06/04/21 22:23:14.833 win_on_factor_change DEBUG ] Window mode changed to 0
[ 06/04/21 22:23:14.833 win_on_factor_change DEBUG ] Window 0x0040006e ((null)) factor change
[ 06/04/21 22:23:14.833 win_determine_shadow DEBUG ] Determining shadow of window 0x0040006e ((null))
[ 06/04/21 22:23:14.833 win_on_factor_change DEBUG ] Window mode changed to 0
[ 06/04/21 22:23:14.833 map_win_start DEBUG ] Window (0x0040006e) has type normal
[ 06/04/21 22:23:14.833 win_determine_shadow DEBUG ] Determining shadow of window 0x0040006e ((null))
[ 06/04/21 22:23:14.833 map_win_start DEBUG ] Window 0x0040006e has opacity 0,000000, opacity target is 1,000000
[ 06/04/21 22:23:14.833 win_set_flags DEBUG ] Set flags 9 to window 0x0040006e ((null))
[ 06/04/21 22:23:14.833 win_on_factor_change DEBUG ] Window 0x0040006e ((null)) factor change
[ 06/04/21 22:23:14.833 win_determine_shadow DEBUG ] Determining shadow of window 0x0040006e ((null))
[ 06/04/21 22:23:14.833 win_on_factor_change DEBUG ] Window mode changed to 0
[ 06/04/21 22:23:14.833 win_on_factor_change DEBUG ] Window 0x00400061 (qiraht@Inspiron:~) factor change
[ 06/04/21 22:23:14.833 win_determine_shadow DEBUG ] Determining shadow of window 0x00400061 (qiraht@Inspiron:~)
[ 06/04/21 22:23:14.833 win_on_factor_change DEBUG ] Window mode changed to 0
[ 06/04/21 22:23:14.833 win_on_factor_change DEBUG ] Window 0x0040006e ((null)) factor change
[ 06/04/21 22:23:14.833 win_determine_shadow DEBUG ] Determining shadow of window 0x0040006e ((null))
[ 06/04/21 22:23:14.833 win_on_factor_change DEBUG ] Window mode changed to 0
[ 06/04/21 22:23:14.833 win_clear_flags DEBUG ] Clear flags 9 from window 0x0040006e ((null))
[ 06/04/21 22:23:14.833 win_clear_flags DEBUG ] Clear flags 9 from window 0x00400061 (qiraht@Inspiron:~)
[ 06/04/21 22:23:14.834 handle_pending_updates DEBUG ] Exited critical section
[ 06/04/21 22:23:14.849 glx_bind_pixmap DEBUG ] depth 32, tgt 0x20dc, rgba 1
[ 06/04/21 22:23:14.851 glx_find_fbconfig DEBUG ] Looking for FBConfig for RGBA8888, depth 32
[ 06/04/21 22:23:14.855 glx_bind_pixmap DEBUG ] depth 32, tgt 0x20dc, rgba 1
[ 06/04/21 22:23:14.857 glx_bind_pixmap DEBUG ] depth 32, tgt 0x20dc, rgba 1
[ 06/04/21 22:23:14.859 glx_find_fbconfig DEBUG ] Looking for FBConfig for RGBA8888, depth 32
[ 06/04/21 22:23:14.865 glx_bind_pixmap DEBUG ] depth 32, tgt 0x20dc, rgba 1
[ 06/04/21 22:23:14.867 ev_handle DEBUG ] event ConfigureN serial 0x00000b80 window 0x03a0001c "antler-keyboard"
[ 06/04/21 22:23:14.867 ev_configure_notify DEBUG ] { send_event: 2356, id: 0x03a0001c, above: 0x03a00017, override_redirect: 1 }
[ 06/04/21 22:23:14.867 restack_above DEBUG ] Restack 0x03a0001c (antler-keyboard), old_below: 0x03a00017, new_below: 0x03a00017
[ 06/04/21 22:23:14.867 ev_handle DEBUG ] event ClientMess serial 0x00000b80 window 0000000000 ""
[ 06/04/21 22:23:14.867 ev_handle DEBUG ] event ConfigureN serial 0x00000b80 window 0x03a0001c "antler-keyboard"
[ 06/04/21 22:23:14.867 ev_configure_notify DEBUG ] { send_event: 2356, id: 0x03a0001c, above: 0x03200002, override_redirect: 1 }
[ 06/04/21 22:23:14.867 restack_above DEBUG ] Restack 0x03a0001c (antler-keyboard), old_below: 0x03a00017, new_below: 0x03200002
[ 06/04/21 22:23:14.867 ev_handle DEBUG ] event  MapNotify serial 0x00000b80 window 0x03a0001c "antler-keyboard"
[ 06/04/21 22:23:14.867 win_set_flags DEBUG ] Set flags 64 to window 0x03a0001c (antler-keyboard)
[ 06/04/21 22:23:14.867 ev_handle DEBUG ] event UnmapNotif serial 0x00000bbf window 0x03a0001c "antler-keyboard"
[ 06/04/21 22:23:14.867 unmap_win_start DEBUG ] Unmapping 0x03a0001c "antler-keyboard"
[ 06/04/21 22:23:14.867 win_clear_flags DEBUG ] Clear flags 64 from window 0x03a0001c (antler-keyboard)
[ 06/04/21 22:23:14.867 ev_handle DEBUG ] event UnmapNotif serial 0x00000bbf window 0000000000 ""
[ 06/04/21 22:23:14.867 ev_handle DEBUG ] event ConfigureN serial 0x00000bbf window 0x03a0001c "antler-keyboard"
[ 06/04/21 22:23:14.867 ev_configure_notify DEBUG ] { send_event: 2356, id: 0x03a0001c, above: 0x03200002, override_redirect: 1 }
[ 06/04/21 22:23:14.867 restack_above DEBUG ] Restack 0x03a0001c (antler-keyboard), old_below: 0x03200002, new_below: 0x03200002
[ 06/04/21 22:23:14.867 ev_handle DEBUG ] event ClientMess serial 0x00000bc9 window 0000000000 ""
[ 06/04/21 22:23:14.867 ev_handle DEBUG ] event  MapNotify serial 0x00000bc9 window 0x03a0001c "antler-keyboard"
[ 06/04/21 22:23:14.867 win_set_flags DEBUG ] Set flags 64 to window 0x03a0001c (antler-keyboard)
[ 06/04/21 22:23:14.867 ev_handle DEBUG ] event ConfigureN serial 0x00000bd2 window 0x03a0001c "antler-keyboard"
[ 06/04/21 22:23:14.867 ev_configure_notify DEBUG ] { send_event: 2356, id: 0x03a0001c, above: 0x03200002, override_redirect: 1 }
[ 06/04/21 22:23:14.867 restack_above DEBUG ] Restack 0x03a0001c (antler-keyboard), old_below: 0x03200002, new_below: 0x03200002
[ 06/04/21 22:23:14.867 handle_pending_updates DEBUG ] Delayed handling of events, entering critical section
[ 06/04/21 22:23:14.867 map_win_start DEBUG ] Mapping (0x03a0001c "antler-keyboard")
[ 06/04/21 22:23:14.867 win_skip_fading DEBUG ] Skipping fading process of window 0x03a0001c (antler-keyboard)
[ 06/04/21 22:23:14.867 win_clear_flags DEBUG ] Clear flags 4 from window 0x03a0001c (antler-keyboard)
[ 06/04/21 22:23:14.868 win_on_factor_change DEBUG ] Window 0x03a0001c (antler-keyboard) factor change
[ 06/04/21 22:23:14.868 win_determine_shadow DEBUG ] Determining shadow of window 0x03a0001c (antler-keyboard)
[ 06/04/21 22:23:14.868 win_on_factor_change DEBUG ] Window mode changed to 0
[ 06/04/21 22:23:14.868 map_win_start DEBUG ] Window (0x03a0001c) has type normal
[ 06/04/21 22:23:14.868 win_determine_shadow DEBUG ] Determining shadow of window 0x03a0001c (antler-keyboard)
[ 06/04/21 22:23:14.868 map_win_start DEBUG ] Window 0x03a0001c has opacity 0,000000, opacity target is 1,000000
[ 06/04/21 22:23:14.868 win_set_flags DEBUG ] Set flags 9 to window 0x03a0001c (antler-keyboard)
[ 06/04/21 22:23:14.868 win_on_factor_change DEBUG ] Window 0x03a0001c (antler-keyboard) factor change
[ 06/04/21 22:23:14.868 win_determine_shadow DEBUG ] Determining shadow of window 0x03a0001c (antler-keyboard)
[ 06/04/21 22:23:14.868 win_on_factor_change DEBUG ] Window mode changed to 0
[ 06/04/21 22:23:14.868 win_clear_flags DEBUG ] Clear flags 64 from window 0x03a0001c (antler-keyboard)
[ 06/04/21 22:23:14.868 win_clear_flags DEBUG ] Clear flags 9 from window 0x03a0001c (antler-keyboard)
[ 06/04/21 22:23:14.868 handle_pending_updates DEBUG ] Exited critical section
[ 06/04/21 22:23:14.929 ev_handle DEBUG ] event PropertyNo serial 0x00000c05 window 0x04800034 "(Failed to get title)"
[ 06/04/21 22:23:14.929 win_on_factor_change DEBUG ] Window 0x0040006e (qiraht@Inspiron:~) factor change
[ 06/04/21 22:23:14.929 win_determine_shadow DEBUG ] Determining shadow of window 0x0040006e (qiraht@Inspiron:~)
[ 06/04/21 22:23:14.929 win_on_factor_change DEBUG ] Window mode changed to 0
[ 06/04/21 22:23:14.929 ev_handle DEBUG ] event PropertyNo serial 0x00000c05 window 0x04800034 "qiraht@Inspiron:~"
[ 06/04/21 22:23:14.930 ev_handle DEBUG ] event PropertyNo serial 0x00000c05 window 0x04800034 "qiraht@Inspiron:~"
[ 06/04/21 22:23:14.930 ev_handle DEBUG ] event PropertyNo serial 0x00000c05 window 0x04800034 "qiraht@Inspiron:~"
[ 06/04/21 22:23:15.374 ev_handle DEBUG ] event   FocusOut serial 0x00000c60 window 0x0040006e "qiraht@Inspiron:~"
[ 06/04/21 22:23:15.374 ev_focus_out DEBUG ] { mode: NotifyGrab, detail: NotifyVirtual }

[ 06/04/21 22:23:15.374 ev_handle DEBUG ] event    FocusIn serial 0x00000c60 window 0x00400061 "qiraht@Inspiron:~"
[ 06/04/21 22:23:15.375 ev_focus_in DEBUG ] { mode: NotifyGrab, detail: NotifyPointer }

[ 06/04/21 22:23:15.375 handle_pending_updates DEBUG ] Delayed handling of events, entering critical section
[ 06/04/21 22:23:15.377 ev_handle DEBUG ] event CreateNoti serial 0x00000c60 window 0x00400076 "(Failed to get title)"
[ 06/04/21 22:23:15.377 add_win DEBUG ] Adding window 0x00400076
[ 06/04/21 22:23:15.377 ev_handle DEBUG ] event ClientMess serial 0x00000c60 window 0000000000 ""
[ 06/04/21 22:23:15.377 ev_handle DEBUG ] event ClientMess serial 0x00000c60 window 0000000000 ""
[ 06/04/21 22:23:15.378 ev_handle DEBUG ] event ClientMess serial 0x00000c60 window 0000000000 ""
[ 06/04/21 22:23:15.378 ev_handle DEBUG ] event ClientMess serial 0x00000c60 window 0000000000 ""
[ 06/04/21 22:23:15.378 ev_handle DEBUG ] event ClientMess serial 0x00000c60 window 0000000000 ""
[ 06/04/21 22:23:15.378 ev_handle DEBUG ] event ClientMess serial 0x00000c60 window 0000000000 ""
[ 06/04/21 22:23:15.378 ev_handle DEBUG ] event DestroyNot serial 0x00000c60 window 0x00400076 "(Failed to get title)"
[ 06/04/21 22:23:15.378 destroy_win_start DEBUG ] Destroying 0x00400076 "(null)", managed = 0
[ 06/04/21 22:23:15.379 handle_pending_updates DEBUG ] Exited critical section
[ 06/04/21 22:23:15.383 ev_handle DEBUG ] event UnmapNotif serial 0x00000c76 window 0x03a0001c "antler-keyboard"
[ 06/04/21 22:23:15.383 unmap_win_start DEBUG ] Unmapping 0x03a0001c "antler-keyboard"
[ 06/04/21 22:23:15.383 win_clear_flags DEBUG ] Clear flags 1 from window 0x03a0001c (antler-keyboard)
[ 06/04/21 22:23:15.383 ev_handle DEBUG ] event UnmapNotif serial 0x00000c76 window 0000000000 ""
[ 06/04/21 22:23:15.427 ev_handle DEBUG ] event CreateNoti serial 0x00000c81 window 0x04800065 "(Failed to get title)"
[ 06/04/21 22:23:15.427 add_win DEBUG ] Adding window 0x04800065
[ 06/04/21 22:23:15.427 handle_pending_updates DEBUG ] Delayed handling of events, entering critical section
[ 06/04/21 22:23:15.427 ev_handle DEBUG ] event ConfigureN serial 0x00000c81 window 0x03200002 "Dunst"
[ 06/04/21 22:23:15.427 ev_configure_notify DEBUG ] { send_event: 2356, id: 0x03200002, above: 0x04800065, override_redirect: 1 }
[ 06/04/21 22:23:15.427 restack_above DEBUG ] Restack 0x03200002 (Dunst), old_below: 0x03a00017, new_below: 0x04800065
[ 06/04/21 22:23:15.427 fill_win DEBUG ] Managing window 0x04800065