Here's a beaut!
I have been slowly converting my six computers, which formerly ran Antergos, to EndeavourOS. I have been doing clean installations.
So far, I have converted three of those computers to EndeavourOS, two of them without even a single hitch.
But I have one problem with the third computer. My wife and I like the Breeze-Snow-Cursor-Theme, found in the AUR, for our cursors. On the first two converted machines, I was able to download and install it (yay -S breeze-snow-cursor-theme) with no problem.
But on my wife's computer, which I converted three days ago, this cursor theme just will not work. The Build process starts but then I receive an error message stating that it cannot be downloaded.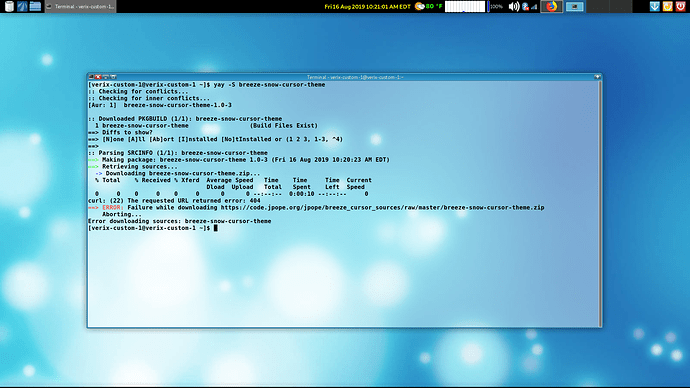 (Note: This screenshot was taken from a computer still running Antergos but the result is exactly the same.)
I tried using pamac-aur-git but of course got the same result.
There are other white cursors available but, so far, I have not found one which we both like.
Does anyone know the reason for this problem with the Breeze Snow cursor (the regular Breeze cursor - a black one - downloads and installs easily just as before but we want the white one)?
Now here's some more - I have the Breeze Snow Cursor Theme installed on several computers including those still running Antergos. Is there a way to find the file(s) containing that (so far I have had no luck in finding it or them) and transferring and installing the file(s) onto my wife's computer (and all our other computers not yet converted)? Is that possible? If so, what are the steps involved?
Thanks for any help which members can supply.
Lawrence