Due to some core system updates, the server will be rebooted at 13:00 CET.
See you on the other side… If it ever boots up.

I never doubted we'd be back!

And now (18:00) Arch itself is down for maintenance.
Ok, I should probably read the announcements more often. I already feared something bad, because reflector-simple just gave me a strange error message.
That's how I noticed it. I was wiping my / and reinstalling Xfce (Offline option) when I couldn't refresh the mirrors after the install. Hence why I am spending the evening on W10 without gaming.
Arch site is temporarily unavailable, so reflector (and reflector-simple) will fail.
Users of programs like akm and reflector-simple, please update your system. You'll get a more informative error message about the Arch site.
New versions:
  akm 2.7.4-1
  reflector-simple 1.9.1-1
this?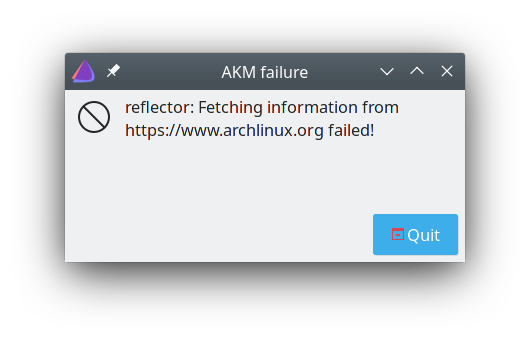 Yes.

Oh! The title is wrong, thanks for reporting! Will fix it soon.
Now reflector-simple 1.9.2-1 is on its way to mirrors near you!


And now Arch site seems to work again…