I have an Asus Vivobook with a Ryzen 3200u processor and Vega graphics. I've had some issues with stability and OpenGL I could use some help on.
When I bought the laptop, I purchased an additional 8gb memory stick and installed it for a total of 12gb. The laptop however had a periodic hard freeze issue. I tried updating the bios to the latest version (I think it's April 2020) but that did not solve the issue. I pulled the memory out and that did seem to make it better but now we are stuck with 4gb. That being said, it runs stable and fine for most of what my daughter needs to do anyway.
Memory issue aside, my daughter wants to play some Team Fortress2 from my Steam account. I installed Steam and the game and launched it. There appears to be a problem with OpenGL however. Difficult to describe but the screenshot shows it well.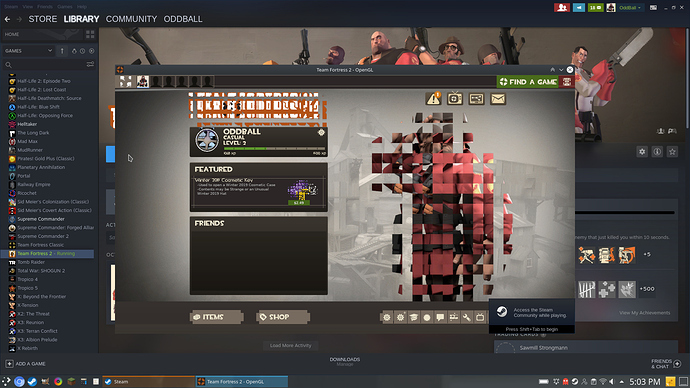 We can't even get the game to start, it just sort of freezes in the menus. We can kill the game and return back to the desktop. I believe this is happening to all of the games that require OpenGL but I could not say for certain. GLGears will run without issue but a benchmark like unigine-heaven has all sorts of screen corruption and horrible framerates.
Now, I've used Linux for almost 20 years but I will profess, when it comes to troubleshooting graphics issues, I'm at a complete loss. I believe I am using the AMDGPU driver but I have no idea how to change drivers if I wanted. Sorry for my total noob status in this arena. Any assistance to troubleshoot would be greatly appreciated.
Forgot to add… I am running all of the latest updates for Arch as of today.
Kernel version is 5.6.14.
X.org 1.20.8
DRM 3.36.0