I just installed Endeavour this morning and noticed that the download speed with pacman was very slow and unstable (something around 10.000kb/s and sometimes it just drops to 0b/s) but my connection was actually fine, so i figured out that it might be some kind of mirror problem and tried to use reflector.
I runned reflector --latest 5 --sort rate and this error happened:
error: failed to retrieve mirrorstatus data: URLError: <urlopen error _ssl.c:985: The handshake operation timed out>

I searched for it and coudn't find a solution, i tried to increase the download-timeout but the same error happens. reflector-simple doesn't work either, this error occurs: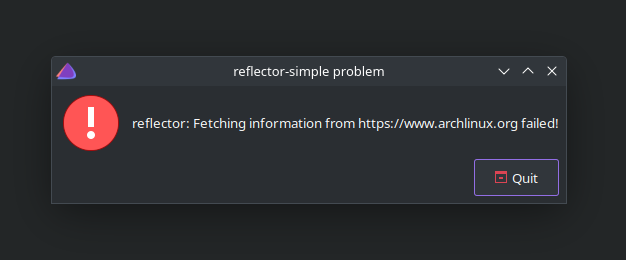 I'm using USB tethering to get internet, cause there's no internet cable in my room yet, maybe this is the problem but everything else works fine. I usually get 10mb/s of download speed, and that's enough.
Sorry if there are some english mistakes or if something sounds strange, i'm brazilian and my english is bad.