Hello!
Sorry if I use wrong category for it. I have a problem with installing EndeavourOS on my laptop. I used dd command as well as SUSE Image writer to create a live boot stick. I manage to boot using the stick and then start the installation, but as soon as I start, I am greeted with following screen: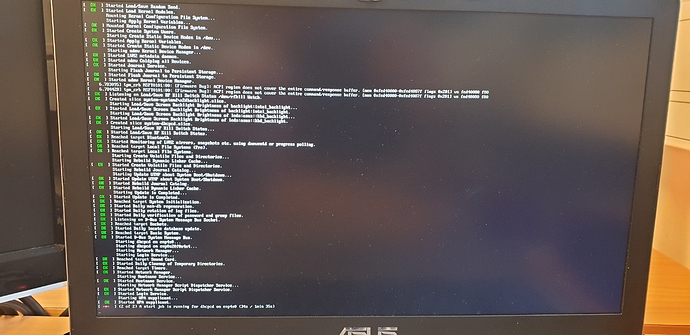 I think the most important is the last line. After a few seconds this screen dissapears and I am greeted with a similar screen that pops up for around a second and then the whole PC shuts down. I am unable to proceed further than that.
Do any of you have an idea what might be the issue? I wanted to try out that OS as Manjaro which I switched to after Antergos (Big mistake) does not support my GPU, when I try to install NVIDIA drivers my whole PC crashes and I end up with unusable OS. I didn't have this problem with Antergos OS, and hope that Endeavour won't have it either.
Some general info about my laptop:
https://www.asus.com/Laptops/ASUS-VivoBook-Pro-15-N580VD/
Processor:Intel® Core™ i7-7700HQ CPU @ 2.80GHz
Dedicated GPU: NVIDIA GP107M [GeForce GTX 1050 Mobile]
Integrated GPU: Intel HD Graphics 630
RAM: Samsung DDR4 16GB
Link to detail system info: https://filedn.com/l1KgwH5p2EW4VNE6LGR1JL0/hardwareinfo.html