Greetings lovely community,
There was a gnome-shell update recently within the past 2-3 days (along with a mutter update as well), and I didn't notice it right away, but I believe I've come across an easily verifiable bug and would appreciate if anyone else that is on EndeavourOS Gnome to let me know if they have this bug as well. Please be fully up to date before checking since I believe it is a bug result from the recent gnome-shell.
To see the bug, open a window or two of any program (Terminal, System Monitor, Files, etc) and go into Overview Mode (windows key or click activities). You'll see something normal like this: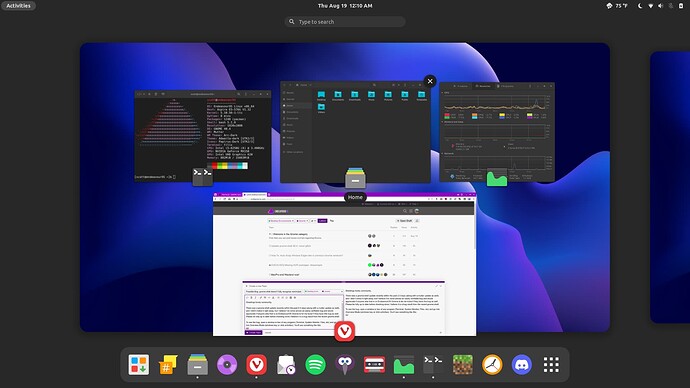 Notice when I hover over Files, I'm greeted by an "X" close button in the top right corner.
Now, minimize ALL the applications (either by clicking the minimize button if you have it enabled or by clicking windows key + H to 'hide' the application). Go back into Overview Mode and hover over Files again and you'll see something a bit different like this:
You'll notice when an application is minimized and when in Overview Mode, the "X" close button in the top right corner gets cut off. This was not an issue a couple of days ago, hence why I suspect it was from the result of the recent gnome-shell update. This happens on the Adwaita theme, but also happens when I try the Arc and Yaru themes that I also have installed, so it is not theme specific, but more than likely related to gnome-shell.
I would appreciate if any fully up to date EndeavourOS Gnome (v40.4 btw) users here can just do this quick simple test for me and report back if they have the issue as well or if somehow it's just me. If it's not just me, then I'll file a bug report on gnome-shell and hopefully they can revert and/or patch a fix for it. Appreciate any help, thank you very much for your time!