Hello
As the title says. My system's nvidia graphics card driver stopped working after a recent update.
Until yesterday, the driver had no problems and both the driver and optimus-manager were working without problems. But today, after the system update sudo pacman -Syu , which caused the linux-lts and linux-lts-headers update, both graphic driver and optimus-manager stopped working.
To install the operating system, I used the EndeavorOS with nvidia driver option, and then I downloaded and installed the nvidia 470.161.03 graphic card driver from the nvidia website.
As for optimus-manager, I followed this guide to install optimus-manager
I've been searching for a solution for the last 5 hour and got no luck. so here I am. It'll be great if you could help me, cause at this moment the only solution that I can think of is to reinstall the OS and everything.
Output of nvidia-smi and etc.
$ nvidia-smi:
  NVIDIA-SMI has failed because it couldn't communicate with the NVIDIA driver. Make sure that the latest NVIDIA driver is installed and running.

$ nvidia-settings:
   ERROR: NVIDIA driver is not loaded
   ERROR: Unable to load info from any available system

$ inxi -G:
  Graphics:
      Device-1: Intel HD Graphics 620 driver: i915 v: kernel
      Device-2: NVIDIA GK208BM [GeForce 920M] driver: N/A
      Device-3: Bison EasyCamera type: USB driver: uvcvideo
      Display: x11 server: X.Org v: 21.1.7 driver: X: loaded: intel
          unloaded: modesetting dri: i965 gpu: i915 resolution: 1920x1080~60Hz
      API: OpenGL v: 4.6 Mesa 22.3.6 renderer: Mesa Intel HD Graphics 620 (KBL GT2)


neofetch: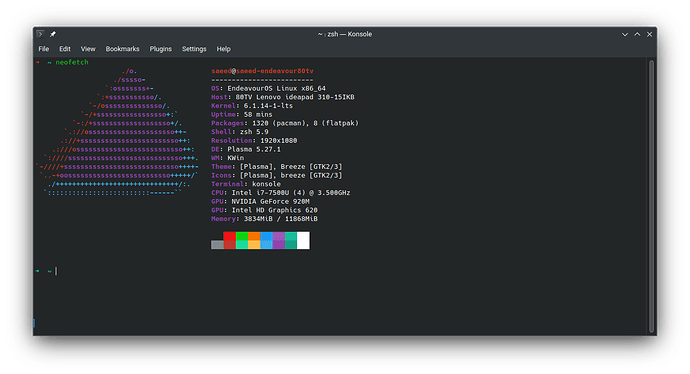 Thanks in advance.