Hi everyone, hope you're all doing well. I'm new to linux and am trying to install arch linux by way of Endeavour OS and I seem to be having some problems with my desktop KDE. I'm wanting to use Plasma, however, I've been unable to use SDDM due to my login screen always appearing like Image 1 (see end of post).
To fix this, I've changed to GDM and then switched to plasma on the login screen. With this being said, I'm able to login, but now my icons are jittering around and stacked onto of one another. See image 2, apologies for the quality. Additionally, I've tried changing the wallpaper in the hopes that it would be able to refresh something or otherwise allow me to use the environment like normal. However, when accessing my settings menu, it jitters similar to the attached video and doesn't actually render me clicking anything. I was able to somehow change the wallpaper through the settings menu, but to no avail with the graphical glitches.
I've also already attempted to install the nvidia-installer-dkms and the graphical issues are still present. Below is a truncated list of my computer specs, I will be posting my neofetch later today when Im on my desktop and if there are any other commands that you would like run to hopefully get a better idea of the system, please let me know what they are so I can provide you with their outputs. I really appreciate your patience! Hopefully this is the correct section, please let me know if it is not!
neofetch
                     ./o.                  tucker@arch-eos 
                   ./sssso-                --------------- 
                 `:osssssss+-              OS: EndeavourOS Linux x86_64 
               `:+sssssssssso/.            Kernel: 5.18.12-arch1-1 
             `-/ossssssssssssso/.          Uptime: 12 mins 
           `-/+sssssssssssssssso+:`        Packages: 1005 (pacman) 
         `-:/+sssssssssssssssssso+/.       Shell: bash 5.1.16 
       `.://osssssssssssssssssssso++-      Resolution: 2560x1440, 1360x768 
      .://+ssssssssssssssssssssssso++:     DE: Plasma 5.25.3 
    .:///ossssssssssssssssssssssssso++:    WM: KWin 
  `:////ssssssssssssssssssssssssssso+++.   Theme: [Plasma], Breeze [GTK2/3] 
`-////+ssssssssssssssssssssssssssso++++-   Icons: [Plasma], breeze [GTK2/3] 
 `..-+oosssssssssssssssssssssssso+++++/`   Terminal: konsole 
   ./++++++++++++++++++++++++++++++/:.     CPU: 12th Gen Intel i5-12600K (16) @ 6.300GHz 
  `:::::::::::::::::::::::::------``       GPU: Intel AlderLake-S GT1 
                                           GPU: NVIDIA GeForce GTX 1060 6GB 
                                           Memory: 2848MiB / 31846MiB 

                                                                   
                                                                   



Image 1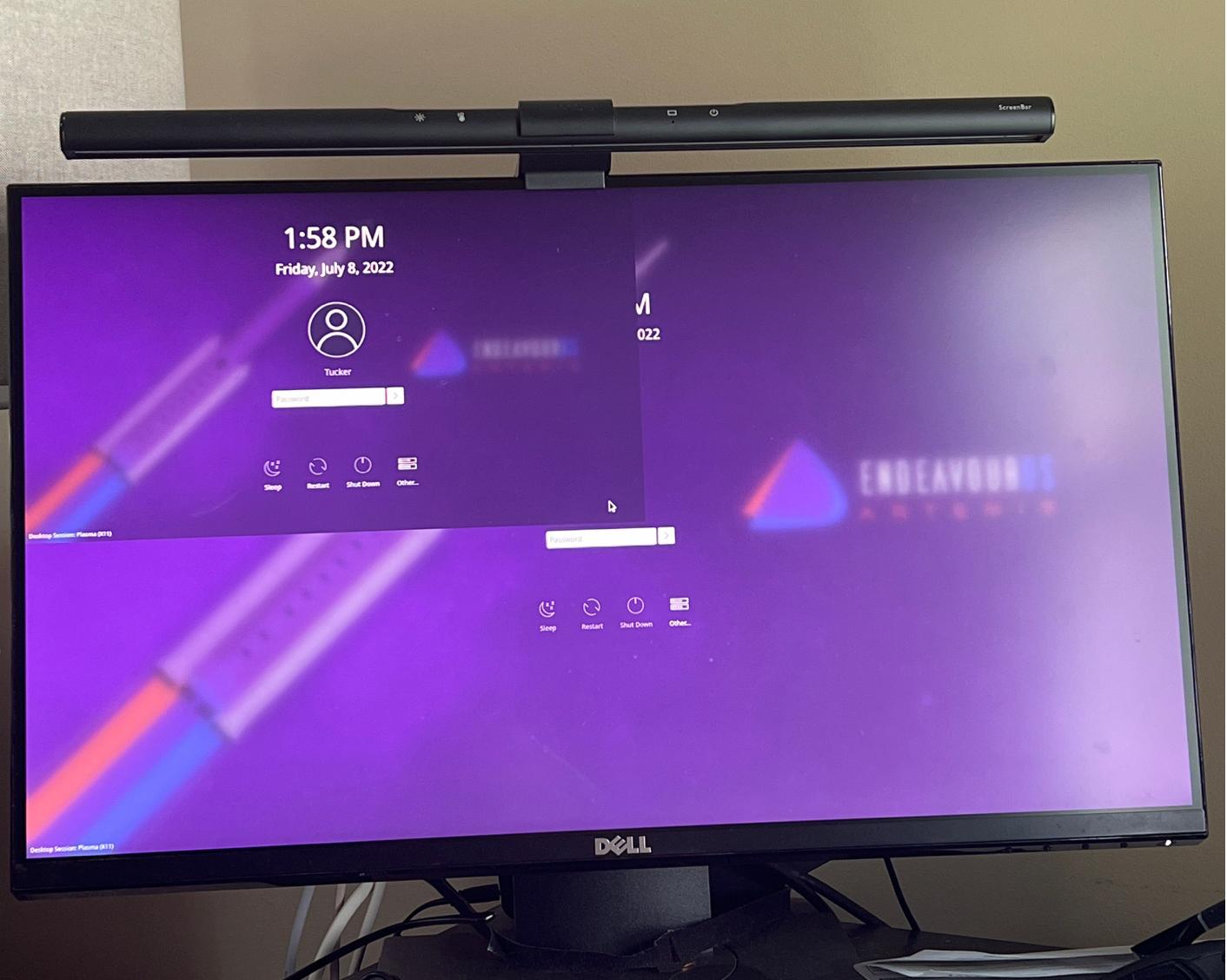 Image 2