Hello everyone,
I tried to install EndeavourOS on a framework laptop (i7-1165G7).
The installation completed with no error but when I reboot, the laptop display only a black screen and I can't have a tty.
The black screen appear after I enter my disk encryption password.
The ISO I used is the lastest available : EndeavourOS_Artemis_nova_22_9.iso
I used Rufus to create the bootable USB.
I followed this tutorial for the installation.
I chose Online installation and KDE as desktop environment.
I already tried to uncheck the xf86-video-intel driver in the calamares installer without success.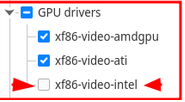 I managed one time to boot successfully (without knowing why) but after a reboot the black screen came back.
Thanks.