Greetings lovely community,
I recently booted up the Atlantis .iso in a Boxes VM to see what is installed by default with the new .iso release when using the Gnome online install. I compared the list with my own system and got a few differences that I noticed. My own Gnome install is the April .iso from earlier this year, so a few differences are to be expected. I am simply wondering if the packages that I'll list below that are missing from my current system setup, if it's recommended I install some of them or not, please let me know. Appreciate any input and helpful feedback! I have a feeling I probably should install some of these, but I'm not sure exactly so any assistance is much apprecaited!
Note: I installed Gnome using Ext4, no encryption, on an Intel/Nvidia hybrid laptop if that helps, since I know I wouldn't need any AMD/ATI packages for example.
Under the Desktop portion of the installer, if a checklist of the Base-devel + Common packages and within that list were certain sections that I had a few differences with my own system. I'm aware my system is working just fine, I'm just curious if it's a good idea if I include some of the packages I'm missing below or not, so please let me know.
For a quick reference this is the selection settings I'm referring to: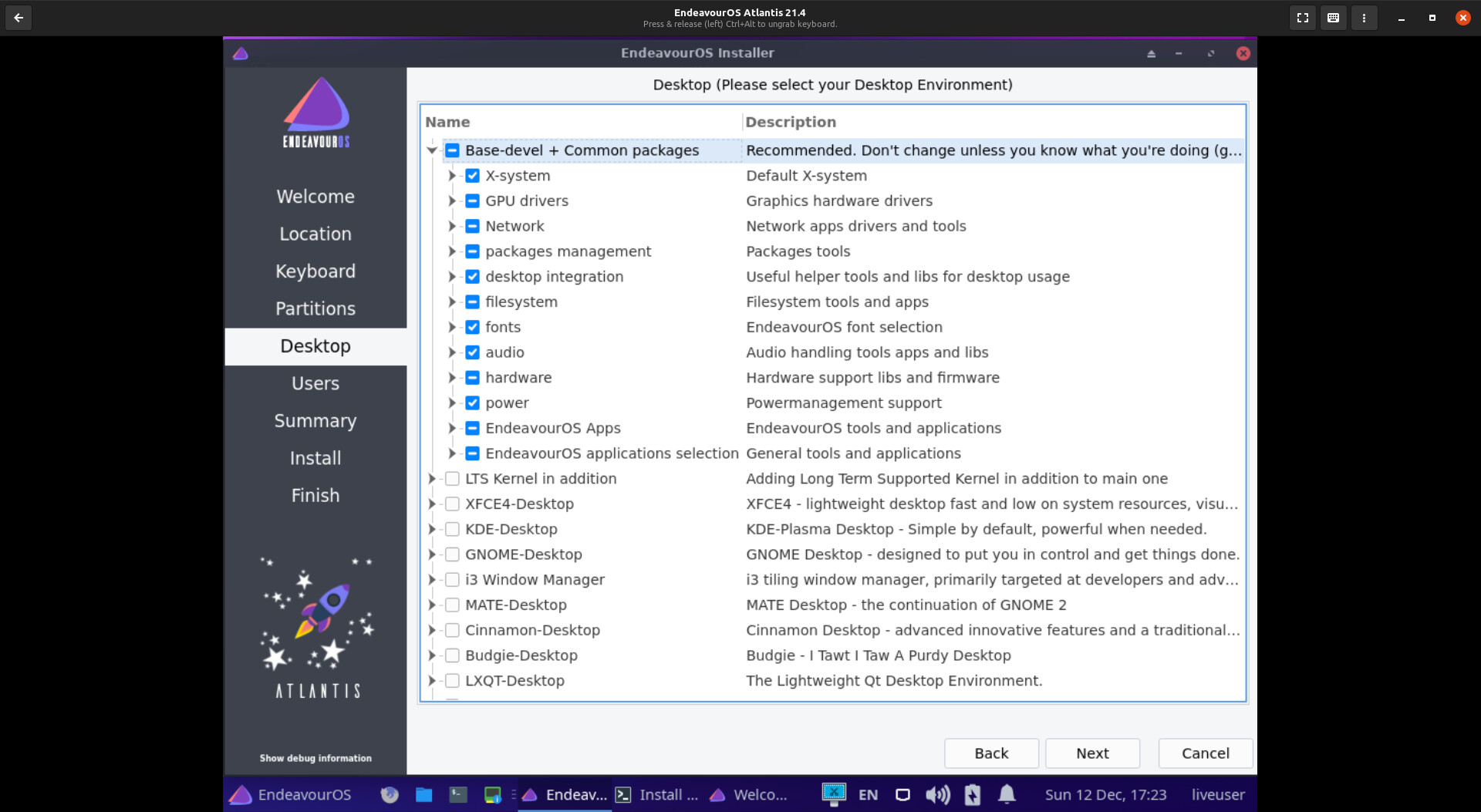 Under GPU drivers, missing on my system are:
xf86-video-amdgpu
xf86-video-ati

*I assume since I selected the Nvidia setup at boot for my Intel/Nvidia hybrid, I can safely ignore these packages. Please feel free to correct me if my assumption is inaccurate.
Under Network, missing from my system are:
broadcom-wl-dkms
crda
nbd
nmap
sshfs

*No clue if I need or should have these installed, so please let me know.
Under Packages Management, missing from my system are:
pkgfile

Under Filesystem, missing from my system are:
efitools
haveged
nfs-utils
nilf-utils
ntp

Under Hardware, missing from my system are:
amd-ucode
dmidecode 
hwdetect
isscsi
sg3_utils

Under EndeavourOS Apps, missing from my system are:
eos-rankmirrors

Under EndeavourOS Applications Selection, missing from my system are:
duf
fsarchiver
nano-syntax-highlighting
pcurses
pv

Here's my system info in case it helps determine if some of these packages should be installed on my system or not:
[scott@endeavourOS ~]$ inxi -Fxxxza --no-host
System:
  Kernel: 5.15.7-arch1-1 x86_64 bits: 64 compiler: gcc v: 11.1.0
  parameters: BOOT_IMAGE=/boot/vmlinuz-linux
  root=UUID=2c6a8f39-939c-47a4-9d95-dabf69e6f5c6 rw nvidia-drm.modeset=1
  quiet loglevel=3 nowatchdog
  Desktop: GNOME 41.2 tk: GTK 3.24.30 wm: gnome-shell dm: GDM 41.0
  Distro: EndeavourOS base: Arch Linux
Machine:
  Type: Laptop System: Acer product: Aspire E5-576G v: V1.32
  serial: <superuser required>
  Mobo: KBL model: Ironman_SK v: V1.32 serial: <superuser required>
  UEFI: Insyde v: 1.32 date: 10/24/2017
Battery:
  ID-1: BAT1 charge: 15.4 Wh (100.0%) condition: 15.4/62.2 Wh (24.8%)
  volts: 12.7 min: 11.1 model: PANASONIC AS16B5J type: Li-ion
  serial: <filter> status: Full
CPU:
  Info: Quad Core model: Intel Core i5-8250U bits: 64 type: MT MCP
  arch: Kaby Lake note: check family: 6 model-id: 8E (142) stepping: A (10)
  microcode: EA cache: L1: 256 KiB L2: 1024 KiB L3: 6 MiB
  flags: avx avx2 ht lm nx pae sse sse2 sse3 sse4_1 sse4_2 ssse3 vmx
  bogomips: 28808
  Speed: 3329 MHz min/max: 400/3400 MHz Core speeds (MHz): 1: 3329 2: 3377
  3: 3304 4: 3292 5: 3095 6: 3400 7: 3400 8: 3400
  Vulnerabilities: Type: itlb_multihit status: KVM: VMX disabled
  Type: l1tf
  mitigation: PTE Inversion; VMX: conditional cache flushes, SMT vulnerable
  Type: mds mitigation: Clear CPU buffers; SMT vulnerable
  Type: meltdown mitigation: PTI
  Type: spec_store_bypass
  mitigation: Speculative Store Bypass disabled via prctl and seccomp
  Type: spectre_v1
  mitigation: usercopy/swapgs barriers and __user pointer sanitization
  Type: spectre_v2 mitigation: Full generic retpoline, IBPB: conditional,
  IBRS_FW, STIBP: conditional, RSB filling
  Type: srbds mitigation: Microcode
  Type: tsx_async_abort status: Not affected
Graphics:
  Device-1: Intel UHD Graphics 620 vendor: Acer Incorporated ALI driver: i915
  v: kernel bus-ID: 00:02.0 chip-ID: 8086:5917 class-ID: 0300
  Device-2: NVIDIA GP108M [GeForce MX150] vendor: Acer Incorporated ALI
  driver: nvidia v: 495.44 alternate: nouveau,nvidia_drm bus-ID: 01:00.0
  chip-ID: 10de:1d10 class-ID: 0302
  Device-3: Chicony HD WebCam type: USB driver: uvcvideo bus-ID: 1-7:4
  chip-ID: 04f2:b571 class-ID: 0e02
  Display: x11 server: X.Org 1.21.1.1 compositor: gnome-shell driver:
  loaded: modesetting,nvidia display-ID: :1 screens: 1
  Screen-1: 0 s-res: 1920x1080 s-dpi: 96 s-size: 508x286mm (20.0x11.3")
  s-diag: 583mm (23")
  Monitor-1: eDP-1-1 res: 1920x1080 hz: 60 dpi: 142
  size: 344x194mm (13.5x7.6") diag: 395mm (15.5")
  OpenGL: renderer: NVIDIA GeForce MX150/PCIe/SSE2 v: 4.6.0 NVIDIA 495.44
  direct render: Yes
Audio:
  Device-1: Intel Sunrise Point-LP HD Audio vendor: Acer Incorporated ALI
  driver: snd_hda_intel v: kernel alternate: snd_soc_skl bus-ID: 00:1f.3
  chip-ID: 8086:9d71 class-ID: 0403
  Sound Server-1: ALSA v: k5.15.7-arch1-1 running: yes
  Sound Server-2: JACK v: 1.9.19 running: no
  Sound Server-3: PulseAudio v: 15.0 running: no
  Sound Server-4: PipeWire v: 0.3.40 running: yes
Network:
  Device-1: Intel Dual Band Wireless-AC 3168NGW [Stone Peak] driver: iwlwifi
  v: kernel bus-ID: 03:00.0 chip-ID: 8086:24fb class-ID: 0280
  IF: wlan0 state: up mac: <filter>
  Device-2: Realtek RTL8111/8168/8411 PCI Express Gigabit Ethernet
  vendor: Acer Incorporated ALI driver: r8168 v: 8.049.02-NAPI modules: r8169
  port: 3000 bus-ID: 04:00.1 chip-ID: 10ec:8168 class-ID: 0200
  IF: enp4s0f1 state: down mac: <filter>
Bluetooth:
  Device-1: Intel Wireless-AC 3168 Bluetooth type: USB driver: btusb v: 0.8
  bus-ID: 1-5:3 chip-ID: 8087:0aa7 class-ID: e001
  Report: rfkill ID: hci0 rfk-id: 2 state: up address: see --recommends
Drives:
  Local Storage: total: 238.47 GiB used: 138.18 GiB (57.9%)
  SMART Message: Unable to run smartctl. Root privileges required.
  ID-1: /dev/sda maj-min: 8:0 vendor: SK Hynix model: HFS256G39TND-N210A
  size: 238.47 GiB block-size: physical: 4096 B logical: 512 B
  speed: 6.0 Gb/s type: SSD serial: <filter> rev: 1P10 scheme: GPT
Partition:
  ID-1: / raw-size: 237.97 GiB size: 233.17 GiB (97.99%)
  used: 138.18 GiB (59.3%) fs: ext4 dev: /dev/sda2 maj-min: 8:2
  ID-2: /boot/efi raw-size: 512 MiB size: 511 MiB (99.80%)
  used: 296 KiB (0.1%) fs: vfat dev: /dev/sda1 maj-min: 8:1
Swap:
  Kernel: swappiness: 10 (default 60) cache-pressure: 100 (default)
  ID-1: swap-1 type: file size: 512 MiB used: 0 KiB (0.0%) priority: -2
  file: /swapfile
Sensors:
  System Temperatures: cpu: 67.0 C pch: 61.0 C mobo: N/A gpu: nvidia
  temp: 59 C
  Fan Speeds (RPM): N/A
Info:
  Processes: 292 Uptime: 1h 40m wakeups: 1 Memory: 15.51 GiB
  used: 4.55 GiB (29.3%) Init: systemd v: 249 tool: systemctl Compilers:
  gcc: 11.1.0 Packages: pacman: 1300 lib: 298 flatpak: 0 Shell: Bash
  v: 5.1.12 running-in: tilix inxi: 3.3.09
[scott@endeavourOS ~]$