There is this very useful Android app called Notebloc which takes as input a photo of a document and outputs an image with fixed perspective and lighting, so that the final product looks like a properly scanned document.
I am looking for a GNU/Linux program (should be FOSS) that does that, preferably from the terminal, but GUI is also okay, if it can do batch jobs. Now, I can do this manually in GIMP, but it is slow and cumbersome. I want something automatic and specialised.
Here is a photo of a piece of A4 paper with some hieratic1 calligraphy practice and then the result of running it through the Android app.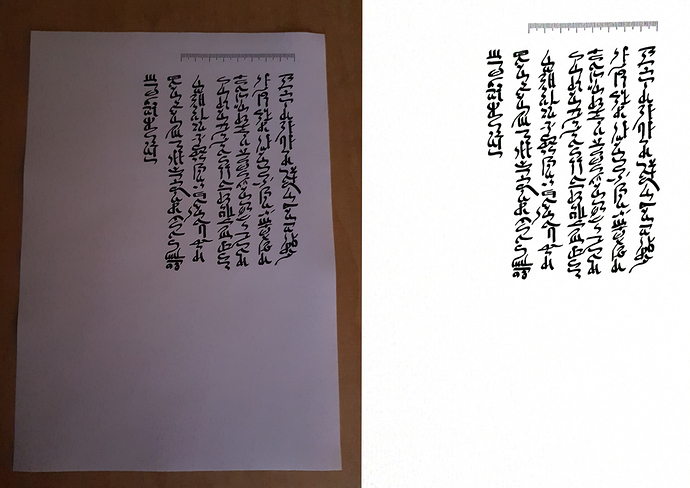 I really want something like that on GNU/Linux.
---
1 Off-topic footnote: Hieratic script is nothing but a very cursive, handwritten form of Egyptian hieroglyphic script, which was used to write stuff with ink on papyrus, as drawing more elaborate hieroglyphs would be cumbersome and time consuming, a bit like using GIMP for turning photographed documents into scanned ones… For anyone interested, this is a very brief excerpt from The Tale of Sinuhe, a heroic, epic Middle Egyptian (around 1900 B.C.) story written in the form of a tomb autobiography, comparable in beauty and literary craftsmanship to the works of Shakespeare. The Biblical story of David vs. Goliath probably originates from this story.