I installed virtualization support by installing the following packages:
qemu ---- (generic and open source machine emulator and virtualizer)
libvirt ---- (API for controlling virtualization engines)
virt-manager ---- (desktop user interface for managing virtual machines)
ebtables ---- (ethernet bridge filtering utilities)
bridge-utils ---- (utilities for configuring the Linux ethernet bridge)
dnsmasq ---- (lightweight, easy to configure DNS forwarder and DHCP server)
Afterwards I have added my user to the libvirt-group and enabled libvirtd-service:
$ sudo usermod -a -G libvirt $(whoami)

$ sudo systemctl enable libvirtd.service
$ sudo systemctl start libvirtd.service
Anyhow, when starting virt-manager and trying to create a new virtual machine, I receive the following warning (that I never had before on previous Debian systems):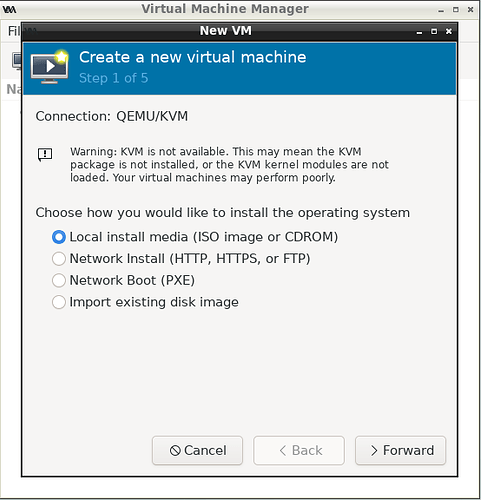 Therefore I have checked…
$ LC_ALL=C lscpu | grep Virtualization
Virtualization type: full
… what looks fine, but anyhow…
$ lsmod | grep kvm
… does not bring any output.
Where is my mistake?

Do I need to install KVM differently on Arch-systems?