Hi everyone!
I'm a longtime Antergos user from back in the day that decided to revert my system to vanilla Arch when the project ended. I'm hoping you guys can help with an issue I'm having recently…
This week I began having kernel panics and I'm trying to pinpoint the cause. Seems to me to be related to CPU overheating? This is just an observation though; the panic happens within 20 minutes of a cold boot, then subsequent boots/restarts immediately after result in another panic. Only when I wait an hour or so can I boot again. Here are my laptop specs:
Toshiba Qosmio
Intel Core i7 2670QM 2.2 GHz
Terminal output when these panics happen: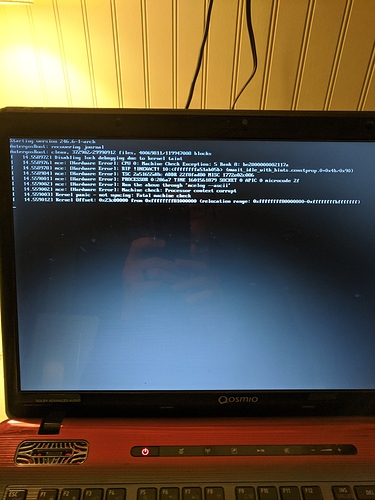 Unfortunately mcelog is a deprecated tool to analyze these, so I have rasdaemon instead but it doesn't record these panics because they tend to happen after a successful boot.
Can anyone help interpret what is causing the panic? My only other thought is to post this on the Intel support forum as well…
Let me know what other information I can provide.
Thanks!