I have recently discovered that the bottom right calendar (see screenshot) supports importing events like holidays: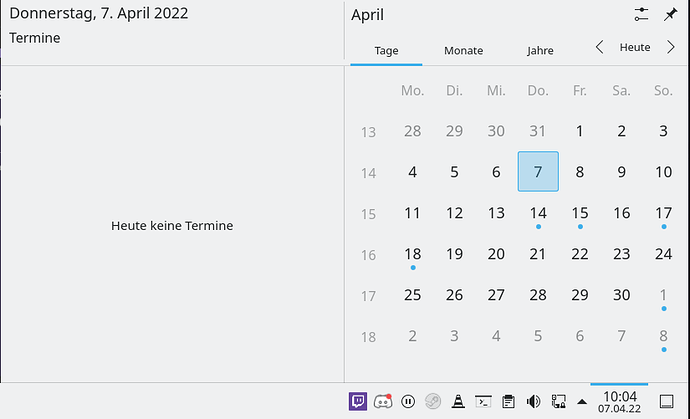 At the moment, I am using Thunderbird with CalDAV synch to be notified of my appointments. However, that is a little flawed, if Thunderbird is not open I get no warnings (it happens). And since holiday calendars seems to be importable into KDE Plasma, it stands to reason that a CalDAV calendar supplied by my email provider should be importable as well.
Searching for information about that however has the problem I always have when looking up KDE functionality. I find a hodge-podge of information spread over multiple KDE applications: I can find how to import into Kontact, into KOrganizer, and in both I am not sure I want that. Is the bottom right calendar either of these two applications, or do I have to then open either of these applications for notifications about appointments?
So, I have two questions:
Is there a way to import a CalDAV calendar into KDE Plasma in a way that no specific additional application needs to be open to get appointment notifications? And if so:
Which applications do I need to install and synchronize to my CalDAV instance so that KDE Plasma itself notifies me of appointments as currently Thunderbird does?