If I were to install the Plasma package when installing endeavourOS, then is there an endeavourOS them for it?
As far as I know, what there is consists of an opportunity to provide something for possible inclusion in EndeavourOS - or at least to make a wiki entry on how to do it! There are potential users who would love a better starting point - but no devs with the time to put in on it,
Just as a tiny bit of incentive, if a reasonable theming and/or theming tutorial/example existed, I MIGHT be tempted off XFCE…
But - the only current EndeavourOS theming is for XFCE, and a good starting point it is!
Most custom distro themes usually fork Breeze and configure with their own color scheme anyway.
someone could do a "global Theme" or not? this can be installed easily over plasma settings tool if uploaded to plasmas infrastructure there ?
While it wouldn't be a full

theme, you can get a purple theme based on Breeze with purple folders, by using the colour schemes section in System Settings: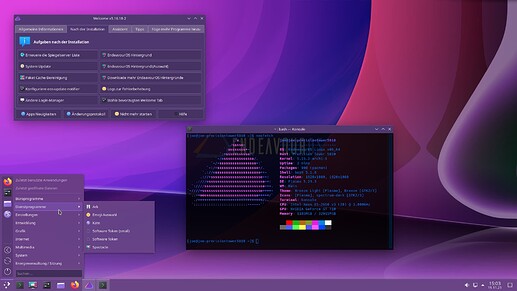 This looks somehow … purple?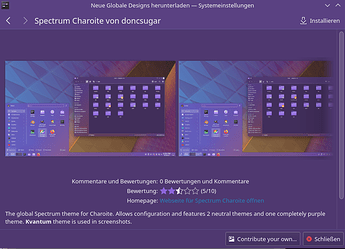 The theme used by CachyOS is also very nice. It's a grey theme, not sure where it's located though. I am liking that Purple though.
If there is enough interest in it I could probably figure out how to put one together for kde at least.
For those who want a more dark theme with a slightly EndeavourOS twist, here's mine: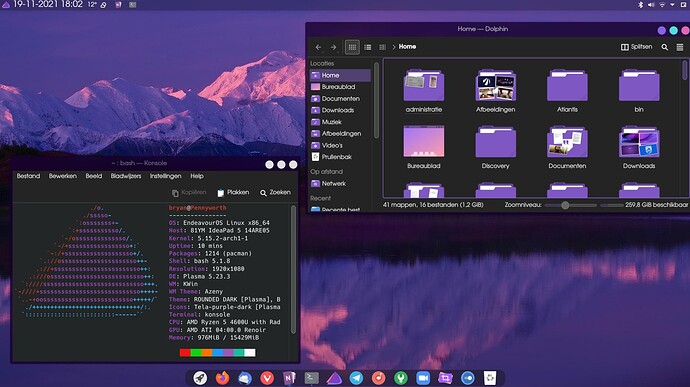 It's not an out of the box theme but this is what I used:
Theme: Rounded dark
Style of applications: Breeze
Plasma style: WhiteSur Dark
Colour scheme: WhiteSur Dark
Icons: Tela Purple Dark
Wm theme: Azeny
Fonts: URW Gothic
Cursor: LyRa R cursors
I have taken a few of the suggested items from this thread and from other sources, here is my "theme" - but I do hate the icons I have set, only like the folder style in this icon theme.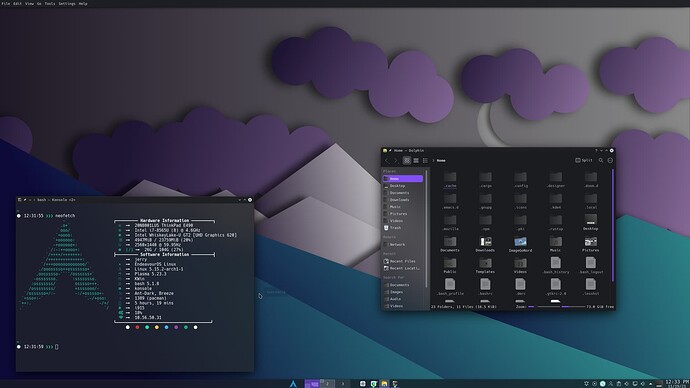 Both @Bryanpwo & @anon42914143 themes are very nice indeed. @Elloquin it would be very cool IF you put something together for KDE, I would greatly appreciate it.

@anon42914143 that neofetch is very cool.
Wow mate looks great

Hello all
I used this Orchis kde theme as a basis to do my theming… Pretty close to Endeavour's colors…
I'll post a screenshot when I finish…

Theodore
This looks pretty good mate