Greetings lovely community,
There was a recent update to pamac-aur recently (currently at v10.2.0-1), and right away I noticed the way packages were displayed looked a little bit different. It just looked to me like they had adjusted the padding or something to make the packages displayed better in their scrolling format. I always use pamac in a windowed type mode, so I never noticed anything out of the ordinary, but the other day I took pamac full screen and discovered part of what the update was all about. When in windowed mode, it just displayed one long list of packages, but in full screen mode now inside of a single list, you get multiple rows and columns of packages listed, which I think is a great addition to pamac as it puts the screen real estate to much better use this way and allowing for less scrolling and more of a chance for your eyes to find the package you're looking for. From my understanding before the recent update, in full screen mode, it would just be a single column of packages to view, so this new addition is a welcome change in my opinion.
Just thought that was something kind of neat that I noticed after the recent update. I know only those few users that use 'pamac' too might find this a little interesting, but still I wanted to share my discovery with you all in the hopes maybe I helped show someone something new today! Below are just a few quick screenshots of what I tried my best to articulate in regards to the latest update. Thanks for reading and hope you have a great Friday!
Normal package list view in windowed mode: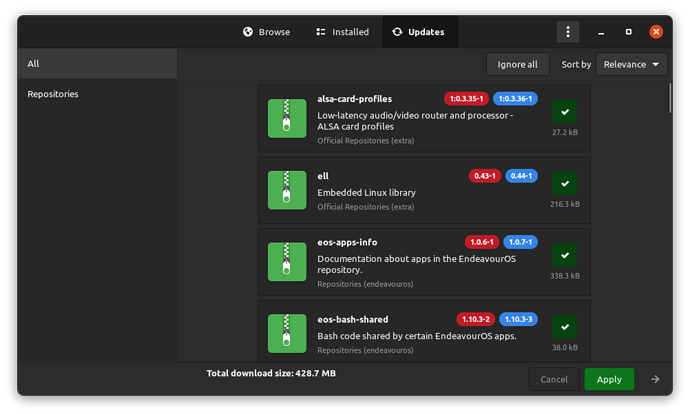 Package list view in full screen mode for updates: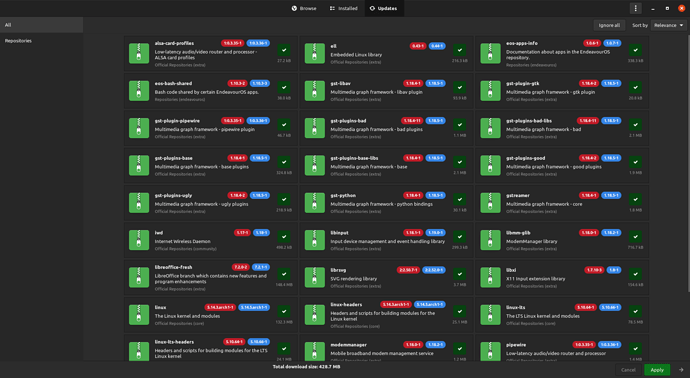 Package list view of installed packages in full screen mode too: