Something weird happened with this package "anime-downloader-git" in the AUR repo. When installed it gives me a version number that is newer than the one in the author's git page.
$ anime --version
anime, version 5.0.15

This doesn't show up on the author's git page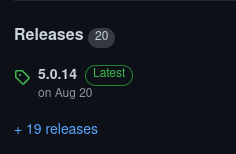 However according to the creator's git page the latest release is 5.0.14 and the newer version does not exist. It also seems the new 5.0.15 version is broken as well.
$ anime watch
ERROR: Another instance of "anime watch" is already running!

It is not running, I even rebooted made sure there was nothing running.
Is there a way I can install the 5.0.14 package? as was working for me all along on my other computer until this 5.0.15 version showed up in the AUR.